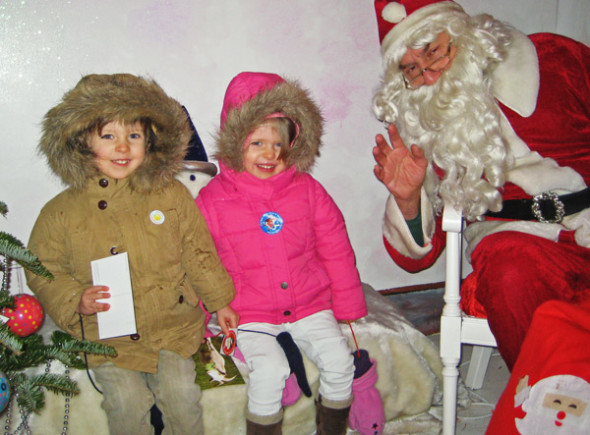 Live in London, tourist in London or visiting relatives in London, there's something special about Christmas in London with kids. And don't miss out on the UK Black Friday Christmas shopping deals below! My husband misses the days when London actually shut down for a couple days during the Christmas period but for me the city came alive when I could share its festive season with our kids. And 2013 looks especially magical for children.
"For it is good to be children sometimes, and never better at Christmas…" Charles Dickens A Christmas Carol
Thank goodness Santa likes to take a break from the North Pole and pops over to London to meet his young fans and hear their Christmas wishes. Mine have met the big jolly man himself at…
A Santa's Grotto in our local pub.
At Battersea Park Children's Zoo. He's back this year December 7 & 8, 14 & 15, 20- 24. Have a fun day visiting the animals and receiving Christmas treats from Santa himself. (The picture above is my kids meeting Santa at the zoo a couple of years ago 🙂 )
At Harrod's Santa Grotto.  Sorry, it's already sold out this year. I managed to get tickets in the past by signing up for Harrods rewards card which means you're first in line to pre-book. Harrods also has special 10% off weekends in-store and online just for its reward customers – such as this weekend November 30th and December 1st. (Tip for Mums: I used to buy all my make-up and face creams at Harrods during these reward weekends as I also earned reward points)
This year if you're in London with kids during the Christmas period you also can have a fun day outdoors and meet Santa at…
The amazing Winter Wonderland in Hyde Park. Have a look at Actually Mummy's post with photos and video on Dad's visit with the kids!
Or London's Wetland Centre. I would love to take my kids on one of their sleigh rides pulled by huskies! Children can also meet the Polar Explorer at his Base Camp and make their own explorer's equipment from recycled material or get a fun science lesson at the Winter Wetland Show.
And for the first time this year Kew Gardens will be open after dark for you to take the kids on a one-mile long illuminated trail through their enchanted winter landscape. Check out my facebook page for their video.
But, if you prefer to stay indoors, then…
Check out the Enchanted Christmas House. See the stage adaption of the Raymond Briggs book and film The Snowman at the Peacock Theatre in the West End.
Or get your kids to shout, sing and join in the fun at the Panto Puss in Boots vs Jack and the Beanstalk at the Hackney Empire in London E8.
Then head back outdoors and go skating at Somerset House. Feel the Christmas spirit on Tuesday evenings with mince pies and toffee apples for the kids and mulled wines for the parents served rink-side. There's also a pop-up Christmas arcade for you to shop for British brands or from independent artisans. 
And it even gets better this Christmas in London with the Frostival at the London Eye on the Southbank. Ice carving demonstrations of the city's landmarks every weekend from 30th November to 29th December. Plus themed capsules in which parents can enjoy champagne, cocktails or mulled wine. And the family can put on skates at the Eyeskate ice rink. (Thank you Charlotte at WinegumsandWatermelons for letting me know about this not-to-be-missed event!)
And for a change…shopping with kids can be fun if you take them to view the Christmas lights and the window decorations on Oxford Street.
UK Black Friday shopping deals
It looks like Britain is echoing 'Black Friday' in the US by kicking off the Christmas holiday shopping season with special sales offers for the next couple of days. One of the biggest shopping days in the US every year is Friday after Thanksgiving when retailers offer huge discounts. British retailers hope to boost their sales by adopting this American tradition.
And here are some of the UK Black Friday deals…
Debenhams has a special sale this week only – the Big Gift Event – with up to 30% off in every department. Also get an extra 10% off (exclusions apply) with code: TM76. Huge savings in toys and other departments at Very.co.uk (ends 1st December) as well as at Littlewoods (also ends 1st December). Country Attire – which sells stylish British brands – has special offers as part of their Black Friday Weekend. (I also discovered they currently have some great sales deals for Barbour's children clothing – a fab British brand which I recently wrote about) John Lewis is holding a one day Black Friday sale (29th November) across all their electrical departments. Atterley Road is offering 25% off with full orders with code FRIENDS25 (valid thru 1st December).  GLTC also has a flash sale. Asda's Big Friday sales event (29th November) will be in stores only and not online.
But even if you can't visit Selfridges & Co in person – including its wonderful holiday window displays – you can still enjoy its festive perks. Starting 28th November get 20% off your Christmas shopping  at Selfridges as well as 10% off beauty, fragrance, wine and toys if you use the code: SELF2013. (T&Cs apply)
As I write this I've become all nostalgic. London does know how to make the winter holiday season special for kids.
Do you have special memories of Christmas in London with your children?
Please also have a look at Verily Victoria Vocalises PoCoLo. (The badge is in the footer if you want to find some wonderful posts)
Disclosure: I have included some links to my British affiliate partners in this post. And I do love and miss Christmas in London!