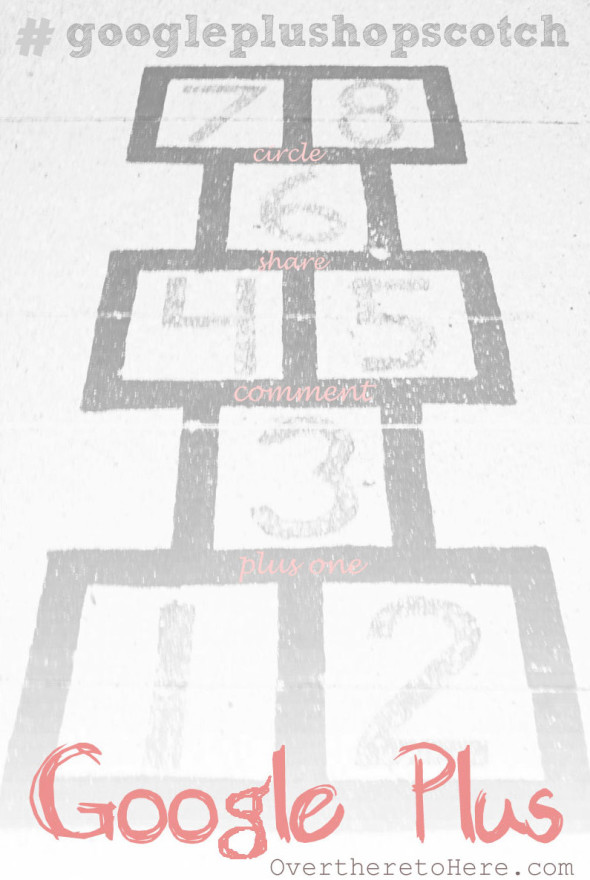 Whether you're new or active on Google Plus, welcome aboard the Google Plus Hopscotch April!
Today is the #googleplushopscotch premiere! It will take place the first Monday of every month.
The aim of the hopscotch is for you to enjoy, meet and find other bloggers on Google Plus, learn the G+ etiquette rules while giving exposure to your posts.
Learn how to engage the Google Plus way by reading my post and etiquette tips in my page about the Hopscotch. These tips will help you interact and grow on G+. For example, when you add someone's G+ name (such as +KrissMacDonald) in a comment they will be notified.
And remember Google Plus is not just another social platform but is part of Google. There are SEO benefits for you.
Just click on the image below to find posts in my ongoing series on Google Plus tips or you can find them here.

When you find the G+ profiles and/or pages of entrants in the Hopscotch linky then have a look at what they're about to decide which of your circles to include them in. (I've written posts on circles if you need to know more about them).
Here's what to do to join the Google Plus Hopscotch:
In the link add your Google+ url. (Don't link your website nor a specific post).
You will need to circle me: https://plus.google.com/+KrissMacDonald/posts. If there's a cohost in the future also circle them.
Add a new or old post in Google+ including the hashtag #googleplushopscotch and share it to PUBLIC. I recommend that it has an image with some text explaining what the post is about as this will lead to more engagement.  If you're uploading a large image (which are more popular on G+) then just add a link in your introduction.
If you're sharing a photograph (you need to own copyright) then upload a large image so we can enjoy it properly. Just add an introduction to the photo and a link as well as the hashtag #googleplushopscotch.
Then go party! Meet and chat with others who've joined in. Click on their G+ name in the linky and look for their post marked with the #googleplushopscotch hashtag. Sprinkle around some +1s. Comment on and share posts that you enjoy. Try to comment on and reshare at least two posts. The more you comment and share the likelier you'll be added to more circles.
Don't tell someone you're following them as part of the G+ Hopscotch. (In fact that's considered a no-no on G+) Leave a lovely or interesting comment or share their post or give them some +1s. Hopefully they'll be visiting you to do the same!
You can also look for posts by just typing in #googleplushopscotch in the G+ search box.
If you share or reshare someone else's post also then include the #googleplushopscotch so others can find it.
It would be lovely if you added the GooglePlus Hopscotch Badge below to your footer or sidebar or the post you're sharing then more people will find all of us and join in.
Sorry but no G+ blue heads allowed on this linky. Make sure your G+ profile has a photo or image. (This is for your benefit. If you want to be active on G+ then you need to get rid of the default blue head and replace it with a photo  )
I will leave this linky open for five days. Then you have time to see who else has joined in and find more people to engage with and potentially circle or be circled by on Google Plus. Also it will maximize your post getting commented on and shared.
Alert me and others on Twitter that you've joined with the slightly shortened hashtag #gphopscotch
Kids Company:   I would love it if you also would follow the wonderful British charity Kids Company who has recently joined Google Plus:  +KidsCompany. If you want to know more about the amazing work that this charity does to help vulnerable inner-city children then read here. Please show them some love on G+!
If you have any questions just let me know! The hopscotch will be a way to engage with other Google Plussers and have content that gets plussed, commented on and shared. I'd love for all of us to find more bloggers with whom we can socialize and share interests on G+ while giving exposure to posts. When your posts get shared and commented on Google Plus you're basically sending a message to Google to take notice of them.
Hopefully you'll also feel more confident about interacting with the help of the posting and Google Plus etiquette tips. Content and engagement are one of the keys to G+.
I'm also hoping in the future to have one or more cohosts for the Google Plus Hopscotch who enjoy and are active engagers on Google Plus.
I'm currently based in the US (EST timezone = GMT +5) so my apologies to UK participants if I seem quiet at some of your busier times. I might be asleep or on the school run but will be checking in regularly to comment, plus and share! Look forward to meeting new friends on the Google+ Hopscotch April!