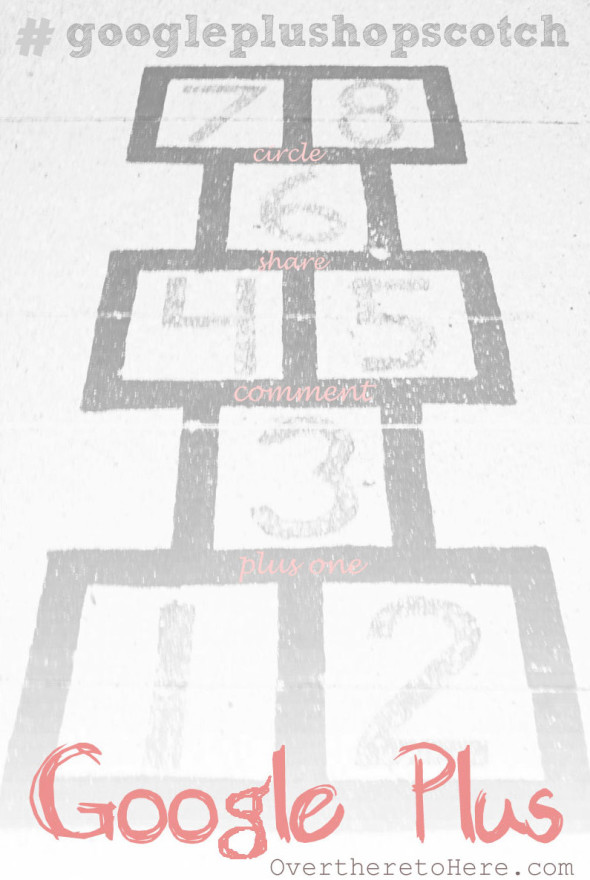 Whether you're new or active on Google Plus, welcome aboard the May Google Plus Hopscotch! You can share an old or new post or even your own photo.
One of the best things about April's Hopscotch is that there is a great group of bloggers that I've been engaging with ever since on Google+. And I love that so many of you who joined are enjoying and commenting and sharing on Google+.
Google Plus Ripples
It was also great seeing the "ripples" from all of us sharing content. If someone shares your G+ post you can actually check out the 'ripple' effect. How do see the ripples? On the top right hand of a G+ post click on the V menu and then click on "View Ripples."
Here are just 3 examples of the ripples from last month's Hopscotch: A photo of a beautiful flower by Podcast Dove, A Family Day Out post on Things to do with the family in UK in April, and 20 Traditional Outdoor Games for Kids by Our Little House in the Country.
You'll notice too that they each used images that people wanted to share. Like Pinterest, pictures are important on Google+ if you want someone to stop, plus one, comment and even share a post. Also try to engage with active Google Plussers because if they share your content then some of their followers may reshare it too.
G+ Post Engagement
And as I keep repeating in my G+ series, you need to engage on Google Plus. My advice is don't link litter. You need to POST FOR ENGAGEMENT ON GOOGLE+. Don't expect people to click through. Give them value and tell them what your post is about.
Explain in the introduction – putting an asterisk *before and after the headline* to make it bold – what the post is about without expecting people to click through to your blog. If you want people to plus one, comment and share then tell them what the post is about. Use images to grab people's attention. Underline _ before and after_ the words you want in italics.
Google Plus is Google
There recently has been a lot of press about the change of leadership on Google Plus and whether it would affect G+'s future. Chief Architect of Google Plus Yonatan Zunger responded with this comment:
"G+ is just as much a crucial asset as it was a month ago: social is critical to our success. It doesn't compete for ad-watching time; people aren't thinking "gee, I could either spend time with my friends, or go click on some ads." Instead, it boosts people's investment in the system, helps them know other people better, and helps us in turn know them better, so that we can help them do a wide range of things."
The aim of the hopscotch is for you to enjoy, meet and find other bloggers on Google Plus, learn the G+ etiquette rules while giving exposure to your posts.
Google Plus Hopscotch rules:
In the link add your Google+ url. (Don't link your website nor a specific post).
Please find me at: https://plus.google.com/+KrissMacDonald/posts. If there's a cohost in the future also circle them.
Add a new or old post in Google+ including the hashtag #googleplushopscotch and share it to PUBLIC.
If you're sharing a photograph (you need to own copyright) then upload a large image so we can enjoy it properly. Just add an introduction to the photo and a link as well as the hashtag #googleplushopscotch.
Then go party! Meet and chat with others who've joined in. Click on their G+ name in the linky and look for their post marked with the #googleplushopscotch hashtag. Sprinkle around some +1s. Comment on and share posts that you enjoy. Try to comment on and reshare at least two posts. The more you comment and share the likelier you'll be added to more circles.
Don't tell someone you're following them as part of the G+ Hopscotch. (In fact that's considered a no-no on G+) Leave a lovely or interesting comment or share their post or give them some +1s. Hopefully they'll be visiting you to do the same!
You can also look for posts by just typing in #googleplushopscotch in the G+ search box.
If you share or reshare someone else's post also then include the #googleplushopscotch so others can find it.
It would be lovely if you added the GooglePlus Hopscotch Badge below to your footer or sidebar or the post you're sharing then more people will find all of us and join in. But this is not mandatory. (It's also a 'no follow' link as I don't want to risk being penalized by Google).
Sorry but no G+ blue heads allowed on this linky. Make sure your G+ profile has a photo or image. (This is for your benefit. If you want to be active on G+ then you need to get rid of the default blue head and replace it with a photo  )
I will leave this linky open for five days. Then you have time to see who else has joined in and find more people to engage with and potentially circle or be circled by on Google Plus. Also it will maximize your post getting commented on and shared.
Alert me and others on Twitter that you've joined with the slightly shortened hashtag #gphopscotch
Kids Company:   I would love it if you also would follow the wonderful British charity Kids Company who has recently joined Google Plus:  +KidsCompany. If you want to know more about the amazing work that this charity does to help vulnerable inner-city children then read here. Please show them some love on G+!
I also have a Pinterest Google Plus Tips board if you want to find more posts on using Google Plus.
If you have any questions just let me know! The hopscotch will be a way to engage with other Google Plussers and have content that gets plussed, commented on and shared. I'd love for all of us to find more bloggers with whom we can socialize and share interests on G+ while giving exposure to posts. When your posts get shared and commented on Google Plus you're basically sending a message to Google to take notice of them.
I'm currently based in the US (EST timezone = GMT +5) so my apologies to UK participants if I seem quiet at times. I might be asleep or on the school run but will be checking in regularly to comment, plus and share! Look forward to meeting and sharing on the May Google Plus Hopscotch!