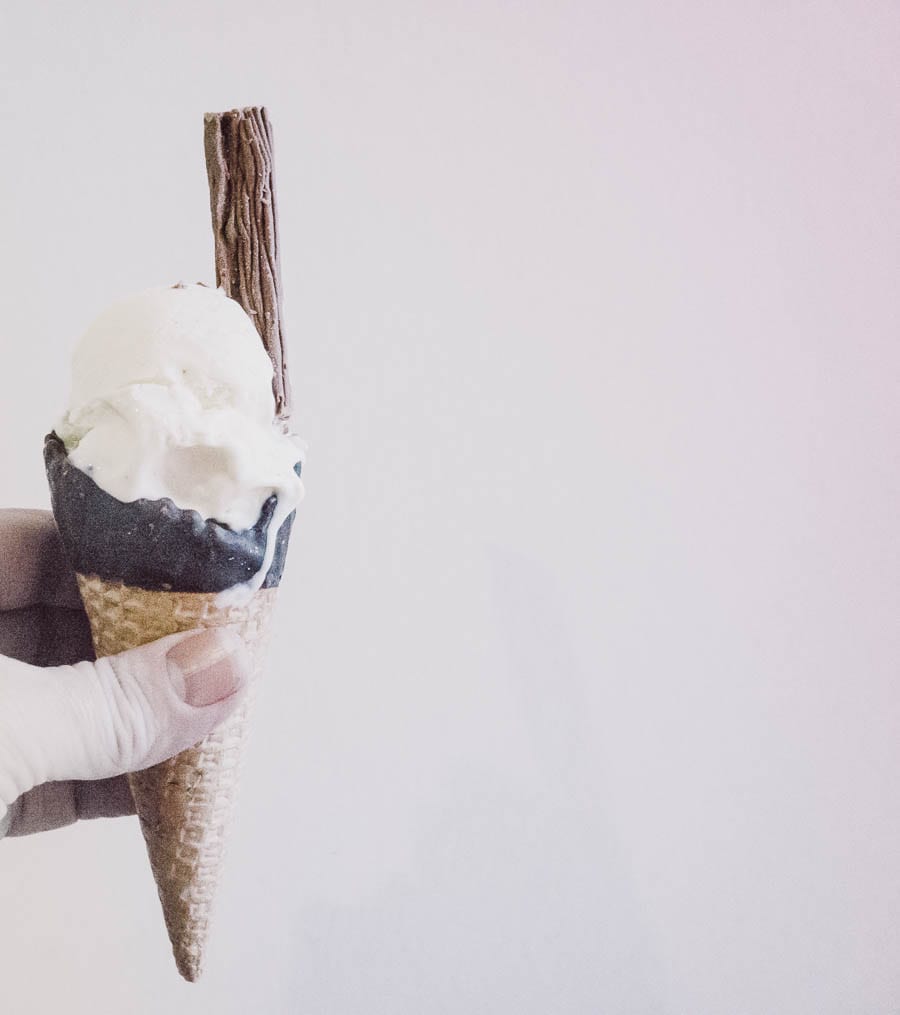 I don't care whether it's summer or winter, I try and always have fresh homemade vanilla ice cream in our home. When it's warm, a few scoopfuls in a cone with a chocolate flake results in two very happy children. When it's cold, a scoop with a hot apple pie or fruit crumble just out of the oven makes a happy family. It's a must every season.
I admit I didn't even contemplate making homemade ice cream until I was given my first ice cream maker. There's just not enough hours in the day!
Vanilla ice cream is rather simple as just five ingredients are needed: vanilla bean, milk, cream, sugar and eggs. But I faced a dilemma. Every single recipe for vanilla ice cream was different. And so the experimenting began with my husband, Luce, Theo and any guests being very willing tasters. After months of different versions, I finally I came up with my best vanilla ice cream recipe. I also made it simple for me to remember by using six tablespoons of caster sugar. Three tablespoons are heated with the milk, cream and vanilla bean. Three tablespoons are whisked with the egg yolk. I have equal amounts of cream and milk. Four eggs are just the right amount to make it rich but not too eggy. This is the recipe I now always use.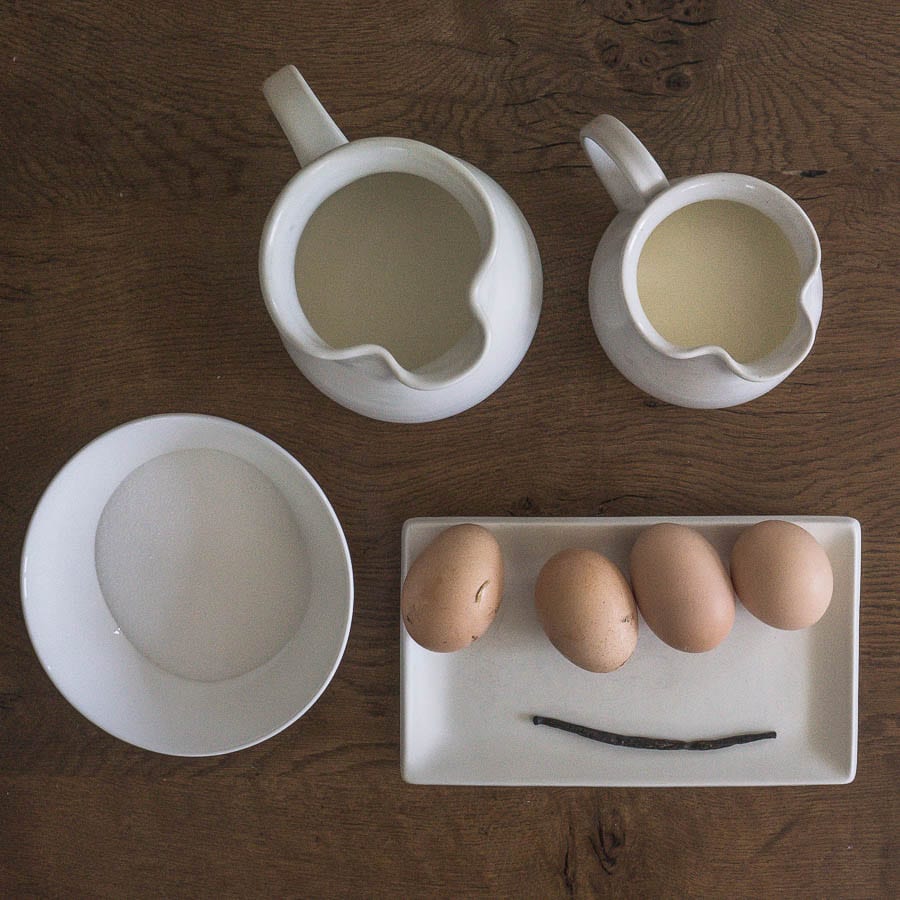 Vanilla Ice Cream
Print recipe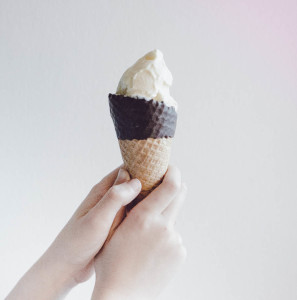 Ingredients
300ml Whole milk (1 1/3 cups)
300ml Double cream (Heavy cream 1 1/3 cups)
1 vanilla pod
4 egg yolks
6 tablespoons caster sugar (superfine sugar - divide into 2 x 3 tablespoons)
Directions
Score down middle of vanilla bean scraping seeds from pod. Add milk, cream, 3 tablespoons of sugar, vanilla bean and seeds to saucepan. Stir while slowly bringing to boiling point. When it just begins to bubble then remove immediately from heat. Set aside for the vanilla to infuse and the mix to slightly cool down (about 20 minutes).
Mix 3 tablespoons of sugar with the egg yolks. Whisk until pale yellow and light. Remove the vanilla bean then add the milk/cream/sugar a ladleful at the time to the sugar/yolks while continuing to whisk. Set a fine mesh strainer over a saucepan and then pour in the whisked mixture.
Prepare an ice bath by having a large deep pan or bowl with ice and setting a bowl over it. Put cleaned mesh strainer on top.
Slowly heat the mixture in the saucepan while continually stirring with a large wooden spoon or rubber spatula. Keep the heat low in order not to scramble the mixture. When steam begins to rise and the mixture - now a shiny custard - thickens enough to stick to the back of the spoon, remove from heat. Strain straightaway into the bowl sitting in the ice bath, stirring from time to time.
Pour mixture into jug and let cool down. Refrigerate for at least 3 hours or overnight.
Pour the cooled custard into ice cream maker and make according to the machine's instructions. Once ready put the vanilla ice cream into a container and freeze.
Basically I make a custard, refrigerate it until it's beautifully cold and then put it into the ice cream maker. We're lucky as I now get fresh free range eggs every week from chickens kept at a local riding stables. My son knows many of the chickens by name as he hangs out with them while my daughter has her riding lesson.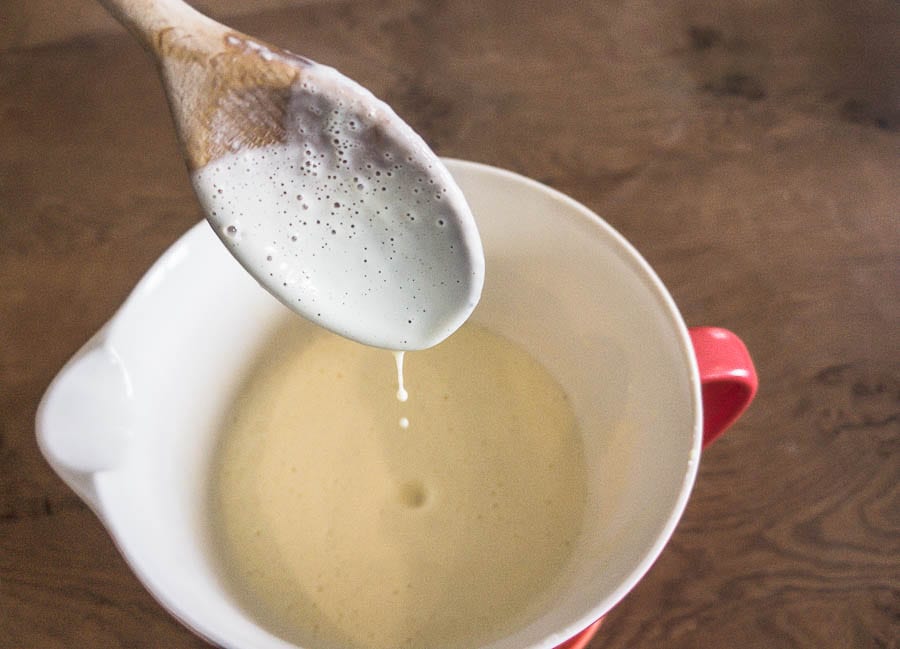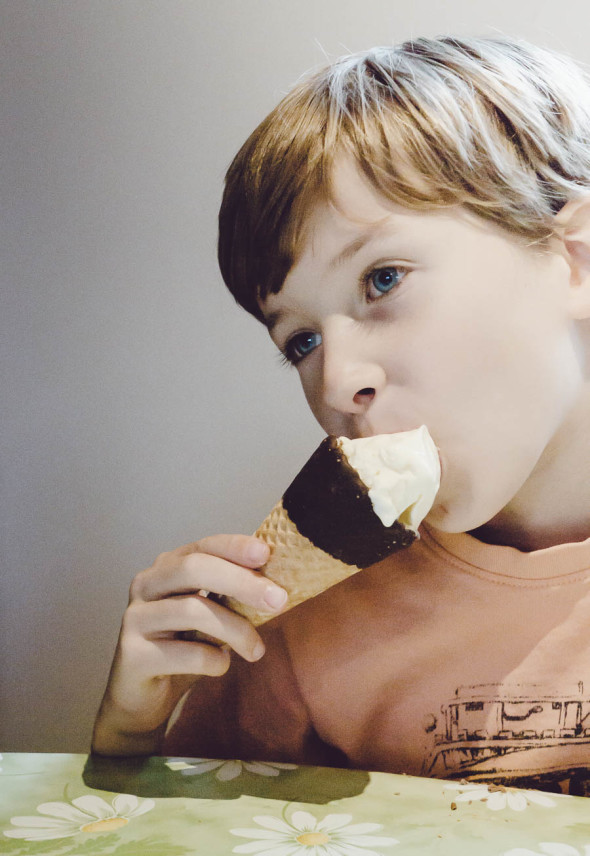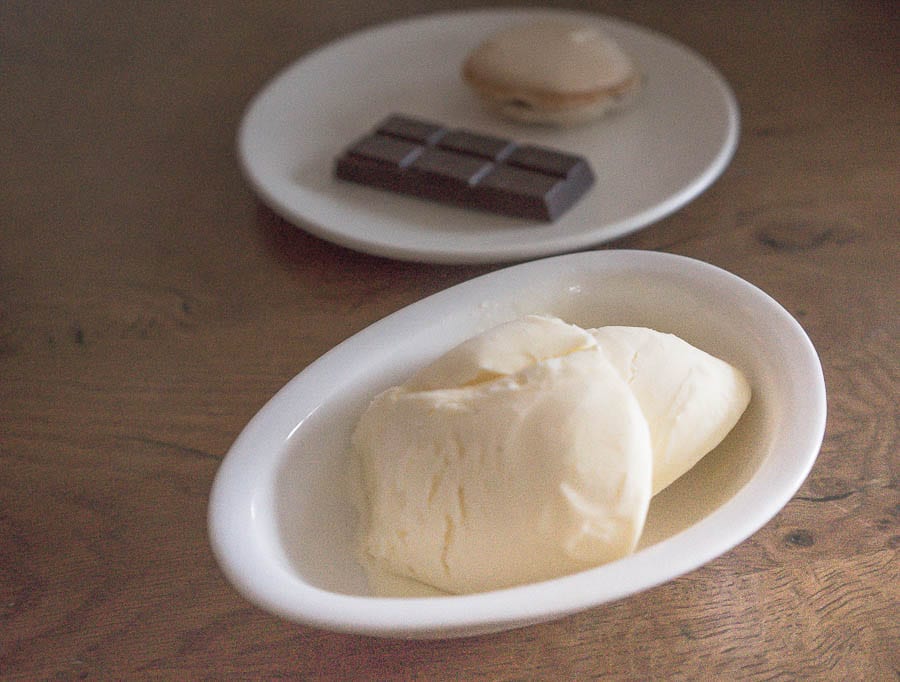 Another reason my children love it when I make ice cream is that I also usually make meringues or macaroons with the left over egg whites. Sometimes I add extra treats to the vanilla ice cream before putting it in the freezer, such as stirring in some chocolate chips or crumbled Oreo cookies or  caramel sauce.
In case you're wondering I'm really pleased with my latest ice cream maker by Andrew James which is available here (UK Amazon).
Last weekend Luce and Theo had a friend stay for a sleepover. As I served them ice cream with hot crumble I was rather chuffed when they told their friend that the vanilla ice cream was homemade and the best in the world. Actually I couldn't stop smiling for the next few hours and they scored extra scoops.