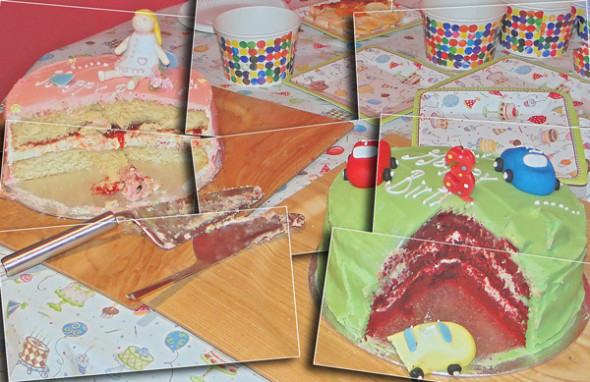 Where can you get the best children's birthday cakes in UK? First of all it depends on your budget and location. If you decide not to bake then here are some suggestions where to buy kids party cakes available across Britain or in London:

Local bakery or cake shop – Find out where the best birthday cakes are made locally. It's also great to support a local business.
Waitrose –  Personalised cakes can be ordered online but at least seven days in advance. Some of my favorites are the 'Out of Space' or 'Toadstool House' cakes. You can also arrange for them to deliver kids party food.
Sainsbury's, Tesco and Asda all do themed birthday cakes at budget prices – starting at £10 – which you can buy right off the shelf.
Marks and Spencers – You need to order at least seven days in advance, but M&S has a fun selection of cakes which you can get personalized. Check out their 'Racing Car' or 'Edward Elephant' cakes.
Party Pieces – Don't be surprised if Kate and William order a birthday cake for Prince George from Party Pieces.  After all it's owned by the Middletons, the Duchess of Cambridge's parents. Personalised kids birthday cakes can be ordered  online for delivery Tuesday to Friday.
Hummingbird Bakery – If you live in London and want a delicious American-style cake – and frosting – then contact one of the London Hummingbird Bakeries at least 48 hours in advance or order online.
The Cake Store – There's an amazing selection of birthday cakes available from London's The Cake Store, a favorite choice of many celebrities. Check out the 'Boy Band' or 'Buzz Lightyear' cake for starters. If you live outside London, don't despair as you can also choose cakes which are delivered UK wide through their sister company The Brilliant Bakers.

Jane Asher –  If you have a big budget and live in London, then Jane Asher's cake store in Chelsea might be what you're looking for. If you have 60 to 70 children to feed who are Harry Potter fans then look at the 'Magician School' for £875.
Are there any other cake companies that you recommend for children's birthday cakes in Britain? Have a look at PART 1 if you plan to bake and need some books for ideas – or even an easy buttercream frosting for a kid's birthday cake.