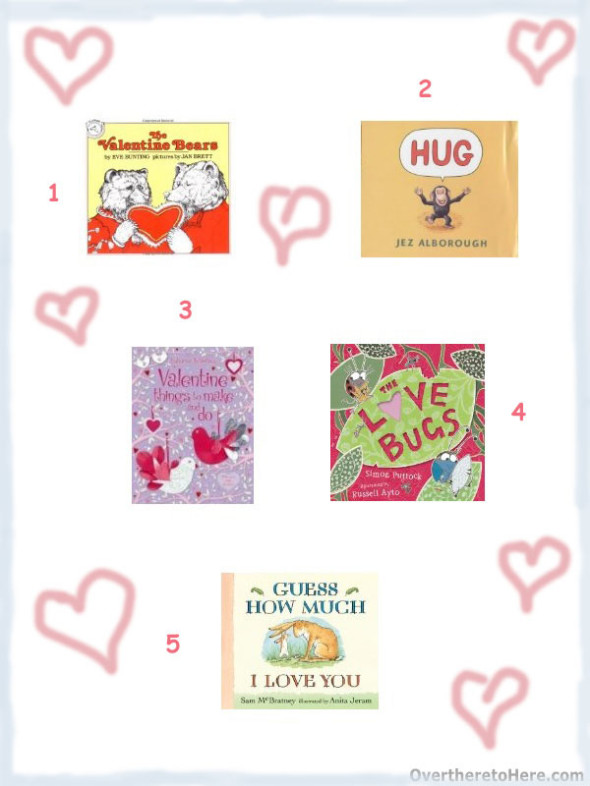 Do you like Valentine's Day books for children? I used to be rather jaded about February 14th believing it had become too commercial. But how things change. Now I love reading love themed books to my children on Valentine's Day. I'd much rather give them a kid's book than sweets (candy). And what better way to tell them you love them again and again than with words and pictures.
Here are five of my picks for children's books to read or give them on Valentine's Day.
1 The Valentine Bears by Eve Bunting and Jan Brett Because Valentine's Day takes place during the winter months of hibernation, Mr and Mrs Bear had never celebrated it together. But Mrs Bear sets her alarm clock so this season would be different. The sweet bond and love between the couple can be summed up by Mrs Bear's sign: 'It's nice to share Valentine's Day with someone you love.'  A timeless tale lovely for parents and kids.  Find it on US Amazon or UK Amazon.
2 Hug by Jes Alborough Perfect gem to read to a baby or young toddler. They might be too young to understand Valentine's Day but they'll adore Bobo searching for his hug.  There are only three words in this book but the tender illustrations tell the story. And don't be surprised if your little one puts out their arms and says 'Hug' to you. Find it on US Amazon or UK Amazon.
3 Valentine Things to Make and Do – Usborne Activities. Filled with ideas and instructions for young children (3+) to make for and on Valentine's Day. Usborne's acitivity books are always a winner with creative children. Perhaps inspire them to illustrate their own Valentine book? Find it on US Amazon or UK Amazon.
4 The Love Bugs by Simon Puttock and illustrated by Russell Ayto. I've chosen this comic and quirky tale as this year's children's Valentine Day book for my twins. Of course, a last minute order on my part.  My daughter will enjoy the love in the garden theme and my son will be entertained by its bug illustrations. This fun gem of a book won an award in Coventry, England after it was voted by readers for the 4-7 category. Find it on US Amazon and UK Amazon.
5 Guess How Much I Love You by Sam McBratney and illustrated by Anita Jeram. Guess how much I love this book?  Ever since the first time we read Big Nutbrown Hare telling Little Nutbrown Hare "I love you right to the moon – AND BACK" we've had an ongoing repertoire with our kids about how much we love each other. Current favourite is…"I love you all the way around every planet in the solar system – a thousand times and back." Find it on US Amazon and UK Amazon.
February 14th International Book Giving Day for children
One of the loveliest things about Valentine's Day now is that it is also International Book Giving Day dedicated "to getting new, used and borrowed books in the hands of as many children as possible." Some of the ideas suggested are to give a book to a friend or relative, leave a book in a waiting room or donate children's books that your kids are now too old for but may help other kids who need them. Perhaps a charity or a children's hospital or even a local library.
This is the perfect excuse for me to sort out my children's books and explain to them that we're giving them to other children who need them. Pass the love of books one from child to another.
What are your favourite Valentine's Day books for children? I'd love some new suggestions.