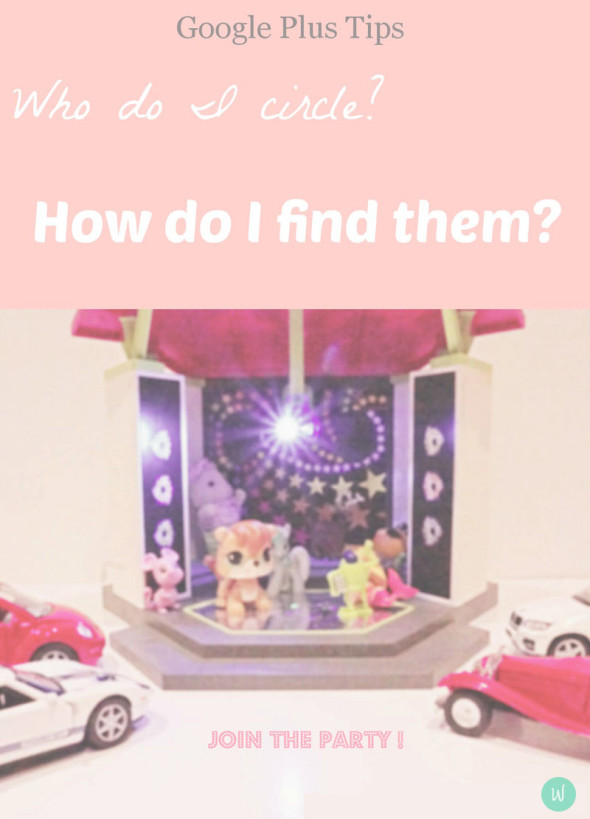 UPDATE:  G+ shut down!

Google+, (pronounced and sometimes written as Google Plus sometimes called G+), was a social network owned and operated by Google. The network was launched on June 28, 2011, in an attempt to challenge other social networks…. the Google+ developer API was discontinued on March 7, 2019, and Google+ was shut down for business use and consumers on April 2, 2019  – Wiki

I was a big fan for a while and wrote posts with tips to help others on Google+. My Outdoors & Nature Acitivites with Kids eventually grew to over 100,000 followers before G+ ended.
If you're looking for fascinating characters  or top experts to trust or people with shared interests or influencers to network with or brands you want to do business with or bloggers in your niche or even amazing photographers, then come and join the Google+ party. But…you might be wondering how do you find people on Google Plus?
And why do you need to find people? Once you start circling profiles and pages you will have a home stream filled with posts that you can comment on, plus one and share. Google Plussers then will start discovering you.
Who do you circle? How do you find them?
BLOGGERS
Since my series are aimed at parent bloggers, then search for bloggers you know.  Have a look at their Google Plus posts. Circle them if they're active on Google Plus.
G+ Discover
If you go to your People page, on the top menu Google+ provides you with ways of finding people. In the 'Find People' section they include suggestions of people you may want to circle. If you look in the 'Discover' section they provide suggested lists of people in different categories.
COMMUNITIES
A great way to find people with shared interests is by joining communities.  I recommend searching for communities where people are engaging with each other and not just link dumping. Make sure you look at the community rules. You'll find many communities are where people meet and have conversations. Under the Home menu you'll find communities. Search topics that interest you and G+ will list the private and public communities available.
SHARED CIRCLES
If you've just joined and don't want to have an empty stream you may want to search and add one of the 'shared circles.' For example, this could be a circle with all sorts of different people but who are 'top engagers' (meaning people who are active and comment and share). Or perhaps you love photography and want to add a shared circle of photographers. Or bloggers. Or scientists. Or…
BLOGS
Visit blogs and websites you like and click on their Google Plus button or badge. Make sure you also have one on your own blog so people can find you on G+.
HASHTAGS
You can find people with shared interests by searching Google Plus using a hashtag. For example, let's say you love yoga. Then in the search box write #yoga. You will then have a search stream with posts on yoga as well as other possible hashtags in this field to search under. Circle profiles or pages that you think will add interesting posts on yoga to your stream.
BLOG GROUPS
If you're a member of a blogging community you can look out for other members or join their Google Plus community.
CIRCLECOUNT
You can find top engagers, circle shares and all sorts of interesting pages and profiles on Circlecount.
EXPERTS AND INFLUENCERS
Look for the top experts and influencers in social media, SEO, G+ and other blogging topics. You will discover that most of them are really helpful and continually share top posts on Google Plus.
NEWS, CHARITIES, BUSINESSES, CELEBRITIES
Find news organisations or brands and circle them if you want to have their content in your stream. Support charities by following them and helping them in search.
Have fun reading this Huffington Post article about some of the awesome people you can meet on Google Plus.
Get friends and family to join by having private hangouts on air with them.
If you just drop links, don't circle anyone, then G+ will be lonely. If you circle, chat and share other people's content then you'll find that Google Plus is incredibly social, active and helpful. The best way to introduce yourself is to find people first and engage with them. Then they'll want to circle you back. So start circling and engaging!
Tip: If you want people to stop and read your post then include an image – upload a large image if possible from your computer. Write some commentary or a summary in the introduction explaining what it is about. Don't expect them to click through to your blog. Make it interesting so that people will comment or plus one or share even if they don't visit your blog. Make it shareable. And if you share someone's content explain why you are doing it. Link dropping is often viewed as spam which active Google Plussers don't want clogging up their home stream.
This is part of a series of Google Plus tips – including why bloggers should be on Google Plus, optimising your profile, circle basics and managing your circles.
If you have any questions about finding people on Google Plus let me know!