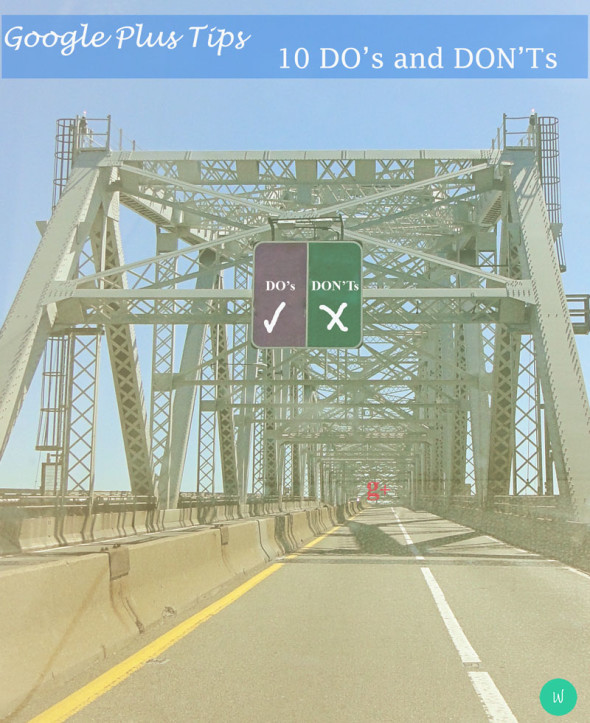 UPDATE:  G+ shut down!

Google+, (pronounced and sometimes written as Google Plus sometimes called G+), was a social network owned and operated by Google. The network was launched on June 28, 2011, in an attempt to challenge other social networks…. the Google+ developer API was discontinued on March 7, 2019, and Google+ was shut down for business use and consumers on April 2, 2019  – Wiki
I was a big fan for a while and wrote posts with tips to help others on Google+. My Outdoors & Nature Acitivites with Kids eventually grew to over 100,000 followers before G+ ended.
I was going to write a huge long post on Google Plus etiquette then decided to keep it simple and start off with 10 easy do's and don'ts.
These are basic do's and don'ts * but useful if you're trying to find your way on Google Plus.  I actually double checked that I had already done tip number 2 when I wrote this post!  I like to plus one lots of posts and don't want to inundate my circles with announcements about them.
Of course you can break the rules, but these tips hopefully will help you feel more confident about interacting on Google Plus. It's actually a very friendly platform when you start joining in rather than just adding a link then running.
1. DO +1 posts you like in your stream.
2. DON'T notify everyone in your stream about your +1s.
How do you turn off your +1 notifications?
In your left hand menu find and click account settings.
Scroll down to Apps & activities and click on the box "Manage apps & activities."
On the top menu you will see the headings "Apps Google Log." Click on Google.
A box opens up with Google +1s on post activity and a heading visible to. Edit this so it says Only you.
3. DO comment on posts you like and want to add to the conversation. It's a great way to make friends and engage on Google+.
4. DON'T ignore good comments on your posts. Join in on the conversation or +1 comments you like. If you +1 a comment you're telling them that you agree, you acknowledge it, you like it or you noticed it. You can also +1 comments on other people's posts.
5. DO post to public. When you write or share a post make sure you have the To: box clicked on *public.*
6. DON'T post to your circles and/or extended circles unless you've previously asked them if that's okay. If you share posts To: *your circles* then you might find people are muting you, blocking you or even uncircling you.
7. DO share posts with communities you've joined. Click inside the To: box and scroll down and choose one of your communities. Always make sure you check the community's rules before posting. Many of the great communities don't allow link litters and expect you to join in the conversation.
8. DON'T include your community posts in your profile posts. I've seen a profile's posts tab filled with the same post reshared and reshared to multiple communities. It just makes them look like a spammer.
How do you stop showing your community posts in your profile?
In your left hand menu find and click account settings.
Scroll down to the section called Profile.
Untick the box which says "Show your Google+ communities posts on the Posts tab of your Google+ profile."
9. DO share content and posts from your blog but explain why you're sharing the post! If you want people to +1 and comment, or even click on the link to your website, then write an introduction that encourages conversation. Don't expect people to go to your website, instead try to get them to engage with your post right on Google Plus. Let people know why it's worth reading.
10. DON'T link drop. It looks and feels like spam when a profile or page just has links to their website posts. Not surprisingly these posts often get no engagement whatsoever unless they're rather amazing.
I will be regularly writing posts with Google plus tips and how to's. I'm always learning new tips just by reading and following the top experts on Google Plus. I'll also be doing more on Google Plus etiquette but if there are any particular topics or questions you'd like me to cover then please let me know. If you're still nervous about G+ then ask me on twitter. I'm very keen on getting more bloggers crossing the bridge and getting aboard Google Plus.
If you're starting out or need a refresher then read up my Google Plus tips series.
Make sure you don't miss a post by subscribing to my weekly emails. (Box below and in the sidebar!)
Note *: I had a bit of a grammar 'etiquette' dilemma on how to write do's and don'ts. The online Oxford Dictionary spells it as dos and don'ts, the Associated Press (AP) Stylebook recommends do's and don'ts, whereas  Eats, Shoots, & Leaves apparently suggested do's and don't's. Since I'm a former AP journalist you can see by the title – Google Plus Tips 10 do's and don'ts – which one I chose.