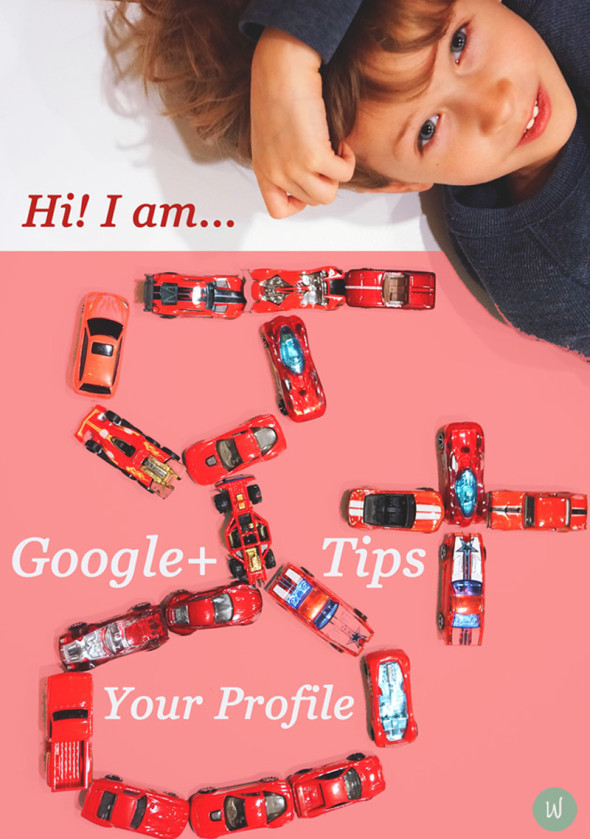 UPDATE:  G+ shut down!

Google+, (pronounced and sometimes written as Google Plus sometimes called G+), was a social network owned and operated by Google. The network was launched on June 28, 2011, in an attempt to challenge other social networks…. the Google+ developer API was discontinued on March 7, 2019, and Google+ was shut down for business use and consumers on April 2, 2019  – Wiki
I was a big fan for a while and wrote posts with tips to help others on Google+. My Outdoors & Nature Acitivites with Kids eventually grew to over 100,000 followers before G+ ended. 
How often do you look at someone's Google Plus profile and read more about them in the 'About' section? Do you look at their 'hovercard'? When I first joined G+ I felt a bit lost and would often randomly circle bloggers without finding out more about them.
As I explained in my first article on why parent bloggers should engage on Google Plus, I'm always learning the ropes about Google Plus. But thanks to G+ I've found top experts who have tips and articles to read and guide me. My series is aimed at sharing these basic Google Plus tips with Mum (and Mom) and Dad bloggers. (Non parent bloggers should also find them useful!)
UPDATE – There's been a lot of changes at Google+ since November 2015. Some of these tips only work in 'classic Google+.' Read my update on Google+ and collections.
Tip: Tens or hundreds or hundreds of thousands can circle you (equivalent to like or follow on other social media platforms) but the maximum number of profiles and /or pages you can circle is 5,000 on Google Plus.
Now I want to circle pages and profiles that add value to my stream (equivalent to your newsfeed). I don't want to have masses of Google Plussers who either last posted six months ago (and then maybe just for a day or two) or who only link drop and never ever engage. I also like to circle cool and fascinating people with diverse interests from all over the world. Some of them I've only met because they circled me and then commented on my posts. Or I got hooked by one of their posts. Or I've added people recommended in a circle share.
Generally I do three things now to find out more about a page or profile on Google Plus:
I look at their hovercard. If you position your mouse over someone's name their hovercard appears – like a pop up business card. What are they about? Photographer? Parent blogger? Social media expert? Business?
Then I go to their profile and click on their About tab. Who are they? What do they do? What are their interests? Which of my circles should I add them to?
Finally I check their Posts. Do they have interesting posts I want to read? Do they share and engage on Google Plus? Does their stream have content I'm interested in and might want to share?
Below I will give tips on the different sections for your Google Plus cover photo, hovercard and About section. I regularly tweak, update and make changes to mine. Have a look around at bloggers' hovercards and About sections on Google+ for ideas but edit it so that it suits you, your personality and your blog.  Just as many prefer to engage with profiles – including photos of real people – authenticity is also important on Google Plus.
Google Plus Page or Profile or both?
Before I go further you may be wondering whether to have a page or profile on Google Plus. A page is a business, brand or organisation and a profile is an individual. However, big celebrities are usually a page.
I use my profile (not page) for engaging on Google Plus. 

If you have a page for your blog then make sure you verify it with Google Plus.
Generally people on Google Plus prefer interacting with a profile – person – rather than a page unless it's a well-known brand, blog, business or such like.
Google Plus Profile Tips
I'm going to focus here on Google Plus profiles. Basically if you want to be active and grow on G+, you should try to optimize your profile.
Profile photo
You need a profile photo. Google Webmaster tools recommends a clear headshot. Remember this image is the one that may show up in a search if you've established authorship. If you want to be active and engage on Google Plus then people prefer a photo of a real person.
Once you've uploaded your personal profile photo make sure you 'tag' it. If you click open your profile photo, you'll see a large circle appear with the text underneath saying 'click face to tag.' Click it and write in your Google Plus name.  You'll also see in the top right hand corner of the page a small photo of yourself under which you can add a caption if you want.
Google Plus Cover photo.
On the top left hand corner click open your profile. Then hover your cursor over the cover photo and you'll see 'change cover.' You can then upload a new cover photo.
Choose a cover photo that you think represents you or your blog.  Don't keep the default image. The maximum size of a cover photo is 2120 x 1192 pixels (16:9 ratio). Google recommends 1080 x 608.  The minimum size you can use is 480 x 270 but the resolution might not be great.
The size is large enough that you could have a collage of images if you so desired. For example, if you blog about arts and crafts as well as food you may want to represent both of those in your cover photo. Perhaps you want the same image as on your blog's header so that people can straightaway visually link your name with your blog.
Now click the cover photo and you'll see on the top right, under your profile photo, 'add caption.' Once again you can add some information here about your blog.
If I click open my cover photo I can see how many views the photo has had. Currently there's just over 1,200 views on the new cover photo after 12 days. My previous cover photo had over 8,000 views. This is why I've also put some information about my blog in the 'add caption' area under my profile photo in the top right hand corner.
Google Plus Hovercard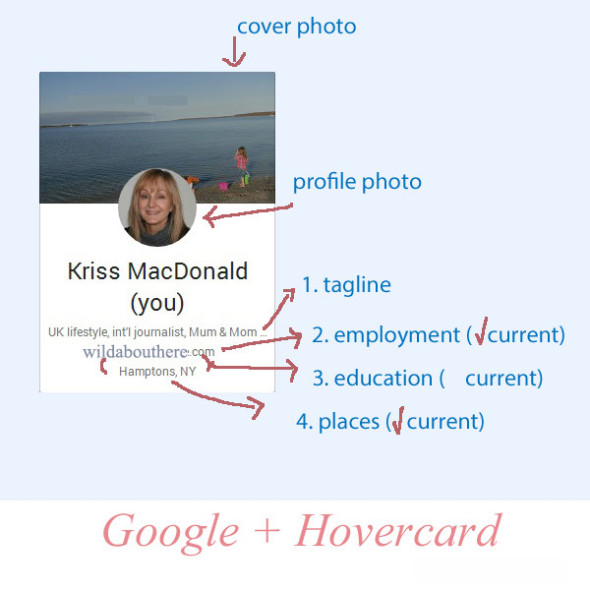 To edit your hovercard you need to go to your profile (click on the menu on the top left corner) and then click your About tab.
You can edit and change the information in your hovercard in the boxes found under your About tab. The image above is what appears if I'm viewing from a desktop. To make any changes just click on edit at the bottom of each box section under the About tab.
What shows up on your hovercard? Have a look at the image above for the corresponding numbers.
Your profile photo will be shown with your cover photo in the background.
The keywords describing you can be edited under (1) Tagline in the Story box when you click your About tab.
If you're a blogger you probably want to add your blog url address. This can be found and edited where you list (2) Employment in the Work box when you click your About tab. Only the first 'employment' name will show up on the hovercard. Make sure you tick the current box for it to show up.
You can edit your location in the (4) Places box when you click your About tab.  You don't need to put your exact location. Many parent bloggers put the nearest big city in case brands are interested in them and need to have a rough idea of their location. Make sure you tick the current box for it to show up.
Some Google Plussers put the name of a community they moderate or another website they own in the (3) Education section instead of a school. Tick the current box if you want this information to show up on your hovercard. In the image above I did not tick the current box which is why this information does not show up.
Google+ About Tab
Here are the possibilities for changes or updates in the boxes on your Google Plus profile About section (tab).
Story – Tagline
As I've explained above, what you write here appears on your hovercard. The tagline is the first entry in the Story box under your About tab. Some people make sure that this is short so nothing is cut off when someone views the hovercard. Others, including myself, make it a bit longer. If you look at my introductory post where I showed my image in Google search, my whole tagline showed up when I clicked on my author name.
Story – Introduction
When I first joined Google Plus I only put a brief description in the Introduction part in the Story box. Then I started reading the introductions of top engagers and influencers on G+ and realized it was the chance for me to promote my blog as well as reveal some of my personality. For example, I explain I was an international journalist and senior news editor. That's part of my story.
You can also let people who circle you know what sorts of posts to expect in your public stream. As I'm fascinated learning about Google Plus, I'm always searching for good tips and articles from the experts. But I rather like trying on all sorts of hats! So in my stream you'll also find I'm sharing about social media, blogging, GooglePlus tips, photography, architecture, design, recipes, UK life, arts and crafts, children's books, outdoors activities, and, of course, parenting and other kid related topics.
Some Google Plussers specify what  types of circles they would fit into.
This is your chance to let people know what your blog is all about and discover your content. Maybe you want to list some of your most popular or favourite posts. Google Plus allows you to include the links! Do you want to spread the word about a linky?As Google Plus grows in influence, don't be surprised if some brands or sponsors start searching for bloggers here.
If you're a moderator on a community, why not give some more information about it so more people will join.
View the About tab boxes, including the introduction, as having an "about page" on a blog. But if you have other interests not covered by your blog, you can also tell people about them here. In fact it really is like having your own website as you have your own Google Plus url. You can edit and add to it whenever you want.
Work
In the work box you have three segments you can fill out: occupation, skills, employment.
In the occupation section you could write blogger and any other details you think are pertinent.
If you're a freelance writer or a web designer or a social media consultant you may want to add this to the skills section.
Under employment you should list your blog name if you want this to show up on your hovercard (remember to click the current box). Only the first entry will appear. If you have other work that you'd like to make public then include it here. Any other websites then include them here too.
Links 
You can add all your other social media profiles in the other profiles in the links section. For example include your links for Pinterest, Twitter, Facebook, Instagram, Goodreads, etc.. You can also add your G+ page link for your blog.
In the contributor to section add the links to your blog and any other websites or publications which you write for or own.
Note: For all these sections you have the option of making them public to everyone, visible to your circles or extended circles (your circles' circles) or only you.
Tip: I've recently created a Pinterest board on which I'll regularly be pinning Google Plus tips and resources.

Tip: Are you a Pinterest fan? I recently discovered on Google Plus that if you have the 'Pin it' Chrome extension on your browser then if you hover over a Google Plus image the 'pin it' button will appear.
Hi! I am…
Whenever you see someone's name on Google Plus, whether in a comment, a post or even a 'plus one' if you hover your cursor over their name then their 'hovercard' will pop up.  If you like what you see straightaway then you can just click on 'add' and include them in one of your circles. Or, as I described above, find out more about them by looking at their About section.
Once you've fixed up your hovercard and about section, start engaging and introducing yourself on Google Plus.
Update: If you're wondering why I use the phrase "Hi! I am…" Remember how in Dr Seuss's Green Eggs and Ham throughout we hear 'I am Sam' 'Sam-I-am' and how he does not eat 'Green Eggs and Ham.' Well, just think of your hovercard as popping up all over G+ where your name appears. It's your chance to introduce yourself and tell people who you are  as well as get them to visit your 'about' page to find out what your blog is all about.
What are some of the key points that I've learnt from the top Google Plussers? It's all about engagement. The majority of the time you need to plus one, comment and share posts. The minority of time share your own posts. Make it a two-way conversation on Google Plus…or three or ten or more!