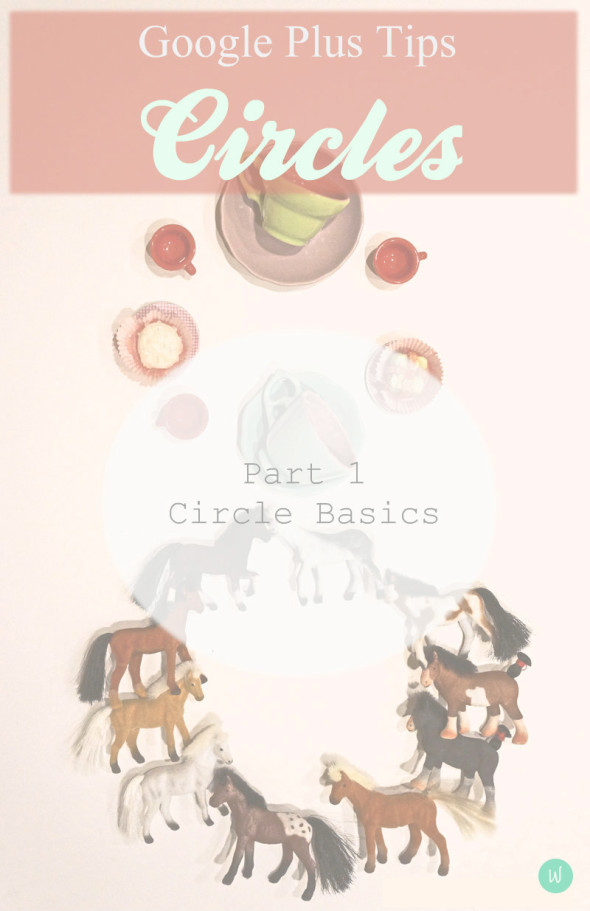 UPDATE:  G+ shut down!

Google+, (pronounced and sometimes written as Google Plus sometimes called G+), was a social network owned and operated by Google. The network was launched on June 28, 2011, in an attempt to challenge other social networks…. the Google+ developer API was discontinued on March 7, 2019, and Google+ was shut down for business use and consumers on April 2, 2019  – Wiki
I was a big fan for a while and wrote posts with tips to help others on Google+. My Outdoors & Nature Acitivites with Kids eventually grew to over 100,000 followers before G+ ended. 
One of the cool things about Google Plus is circles. But you may be wondering what are Google Plus circles? Are they public or private? What's so special about circles? What can you do with your G+ circles?
UPDATE – There's been quite a few changes on Google+ since I originally wrote this post. Find out more here.
Let's talk about Google Plus Circles is in three parts:
Part 1: Circle Basics. How do I create circles? Can anyone see them? How do I add to or edit my circles? What do I share with my circles?
Part 2: Curating your Home Stream. How to manage your Google Plus Circles. How to turn down the noise. Find it here.
Part 3: Who do I circle? How do I find them?
I've previously also written on why Mum (and Mom) and Dad bloggers should engage on G+ as well as how to optimise your profile. In every post you'll also find some additional Google+ tips.
So let's learn and talk about Google Plus circles.
On Google Plus every time you ADD a person or page they are included in your circles. You can then create, name and choose which circle you want to file them under.
Your stream (visible under

 Home) will allow you to see the content of anyone you circle depending on what they share. So if you don't circle anyone your stream is going to be pretty empty unless you look at 'what's hot' on Google Plus.
Tips:
The content of your circles is visible to you only in the  Home tab. If you share content publicly then it will show up in your Post stream and everyone can see it including search results.
Your posts to public communities will also be visible on your profile unless you change your settings.
You can adjust your settings so that when you +1 a comment it doesn't show up in the stream of your circles and extended circles.
You can see what is public in your stream on your   Profile page. Next to this icon is a line saying "view profile as:" then tick either yourself or public.
But…what's brilliant about circles is that you can organize who you are following and how much of their content you want to see in your stream (more details on this in Part 2).  And you can keep this private.
Maybe you're crazy about tea. Well, you can have a 'tea' circle where you just add tea experts. Maybe you're wild about horses. Well, you can have a 'horse' circle.  Maybe one of those tea experts also has a horse. Well, you can have them in both circles.
And before you think I'm a bit nutty, the point is that you can name your circles anything you want. You can add whoever you want into these circles.  You can create, label, customize and organize them to suit you.
For example, as a parent blogger you could create circles according to your interests whether it's fashion, arts and crafts, social media, food, etc…  The names of your circles remain private.
If you have a page, you might want to organize your circles according to your business needs and goals. For example, a charity might have circles that are donors, fundraisers, potential donors, volunteers and so on.
Tips:
The names of your Google Plus circles are private not public. People or pages will only know you're following them. They will not know which circle you've included them in nor will they know the names you've given your circles.
Except if you share privately to a circle then those in the circle can see who else it was shared with by clicking on shared privately in the post. 
If you +mention someone in a post, then they will be able to read and see it.
Depending on your settings, you can make private or public who you've followed.
G+ CIRCLE BASICS
MAXIMUM 5,000 IN YOUR CIRCLES. You can circle a maximum of 5,000 people and/or pages. However, hundreds or thousands or millions can circle you. G+ also limits how many profiles or pages you can circle in a day.
ONE PERSON OR PAGE CAN BE IN MULTIPLE CIRCLES.  Even if they're in multiple circles they just count as one of the 5,000 you can circle.
PRIVATE OR PUBLIC. You can keep private who you've added to circles if you change the settings.  

WHERE DO I FIND MY CIRCLES ON G+? Click on the

 People icon on the top left hand of your Google Plus navigation bar. Then choose 'Your circles.'
DEFAULT CIRCLES. When you join Google Plus you will have default circles with names such as 'Friends, Following, Family, Customers' depending if you have a page or profile. You can keep them, rename them or delete them. Where do you do that? Head over to 

 People > Your circles. If you click on the circle image it gives you the option of editing, sharing or deleting.
HOW DO I CREATE A GOOGLE PLUS CIRCLE? In your circles section (

  People > Your circles ) there will be an empty circle image with a + sign. Just click on this to create a circle. Or when you add someone then the dropdown menu on the hovercard will allow you to create a new circle to put them in.
HOW DO I ADD SOMEONE TO MY CIRCLE? Go to

 People > Your circles. Then just drag and drop. When you hover over someone's hovercard, you can add them to whatever circles you have or even create a new one in the dropdown box. Or go to the about or post section of a profile and add them there.
CAN I CHANGE WHO IS IN A CIRCLE? Two easy ways are to just click on their hovercard and change it in the drop down menu or edit them 'in your circles' page (

 People > Your circles).
SHARE OR DON'T SHARE WITH CIRCLES. If you have a circle of best friends, then you could share a post that's only visible to them. Or perhaps you're a page and just want to share with a specific circle such as work colleagues.  Don't share with circles unless they've given you the okay. Most active Google Plussers will mute someone or uncircle or even block someone who keeps sharing with a circle. When you post then try to share with Public or within a community (depending on the community's rules). Some Google Plus experts specifically ask their circles to tell them in a comment if they would like to be notified in the future about certain posts.
Circles are what make Google Plus so different from other social media platforms. In Part 2 I explain how you can curate and manage your circles.
Last but not least, when you start commenting and chatting with people in your Google Plus circles (after all lots of them should have shared interests) you'll soon find they're adding you to their circles too.