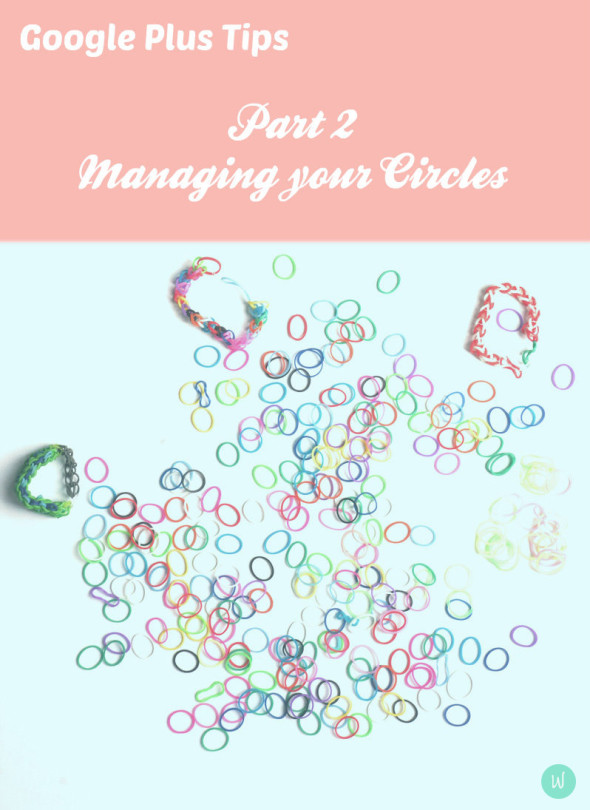 UPDATE:  G+ shut down!

Google+, (pronounced and sometimes written as Google Plus sometimes called G+), was a social network owned and operated by Google. The network was launched on June 28, 2011, in an attempt to challenge other social networks…. the Google+ developer API was discontinued on March 7, 2019, and Google+ was shut down for business use and consumers on April 2, 2019  – Wiki
I was a big fan for a while and wrote posts with tips to help others on Google+. My Outdoors & Nature Acitivites with Kids eventually grew to over 100,000 followers before G+ ended. 
It's easy to get overwhelmed and even distracted by the content in your home stream on Google Plus. But I discovered I could change what I viewed by managing my G+ circles. I admit, as a former senior news editor, I like to be in control of what posts – and by whom – I focus on and read. Google Plus experts often call this stream management.
Well, Google Plus allows you to be the chief editor of your home stream. How do you do this? By customising, filtering and managing your circles. Think of your stream as editing your own newspaper. Whose content do you want to be on the front page? What topics do you only occasionally want to read? How can you make sure you don't miss an article (post) by someone? How do you mute the link spammers that you've circled?
On Google Plus you have the option of viewing the posts of everyone you've circled or maybe just your favourite bloggers. Or perhaps you're just in the mood at looking at some beautiful photographs. Or you want to have a look at 'what's hot' on Google Plus. Or…
And, now for a brief intermission to say this is Part 2 in Let's Talk about Google Plus Circles.
Part 1: Circle Basics. How do I create circles? Can anyone see them? How do I add to or edit my circles? What do I share with my circles?
Part 2: Curating your Google Plus Home Stream. How to manage your circles. How to turn down the noise.
Part 3: Who do I circle? How do I find them?
So…how do you manage your circles?
Your 

  Home stream contains content depending on your settings.  It can show posts of people you circle and communities you've joined. You can also just check out 'what's hot' on Google Plus by clicking on the 'Explore' tab.
CIRCLES IN YOUR STREAM.

If you click on the  

  Home icon you'll see a list on the navigation bar.
If you click ALL then the posts from all your circles will show up in your home stream.
If you click on EXPLORE then you can browse 'what's hot' on Google Plus.
If you click on one of your circles then you will only see the content of this circle in your stream.
If you have lots of circles only the first three or four will be named on this bar and the rest will be in a drop down menu under the MORE tab.
REORDER YOUR CIRCLES.
If you have lots of circles only a few of them will be named on the navigation menu under the 

   Home tab and the rest will be under MORE.
How do you change the order of which circle names you see on the menu? Go to your circles page (

 People > Your circles) and then drag and reorder your circles. The first three or four circles will then show up on the 

  Home navigation bar and the rest under MORE.
NOTIFICATIONS.
A great way of managing your circles is by turning on or off notifications of posts. Maybe you have a circle of people whose content you always want to see? Then make sure the red bell is switched on.
How do you do this? Click on that circle on the 

  Home navigation bar: you'll see a CIRCLE CARD on your screen with information about this circle. You then have the option of turning the BELL on or off depending if you want to be notified whenever anyone posts.
EXCLUDE A CIRCLE.
If you don't want to see a circle's content in your home stream you can exclude them.  Go to 

  Home and click one of your circles on your navigation bar. You'll see the  

  SETTINGS GEAR TOOL on the circle  card which you can tick or untick so you can choose whether or not to show the circle's content in your home stream.
ADJUST CONTENT FROM A CIRCLE. (Noisy or quiet in your stream!)
You can also adjust your stream so you can see more, standard or fewer posts in your home stream from a circle. Maybe one of your circles is too noisy – then you can set it to showing fewer posts in your home stream. Maybe another circle is your favourite  – then set it to show more posts.
Go to 

  Home and click the circle on your navigation bar. You'll see the 

 SETTINGS GEAR TOOL on the CIRCLE CARD where you can make these changes. (You can do the same with communities by visiting the community page and altering the settings)
And that's how you can manage your circles to edit what shows up in your home stream.
I also included a bunch of Google Plus tips in Part 1 on circle basics. As I explained you can also rename your circles anytime. And the names are private. Also find out why bloggers need to be on Google Plus – it's not just a social platform. And make sure you optimise your profile.
And you can find me here on Google Plus. Let me know if you have any more questions about managing circles in your home stream.
One of the reasons I'm writing these circle posts is that I didn't organize my circles properly when I first joined Google Plus. Now I'm in the midst of curating them to get better control of my home stream.
And I'm actually now keeping track of posts by some of my favourite bloggers, or discovering some fab news ones, because I'm learning how to manage my circles.