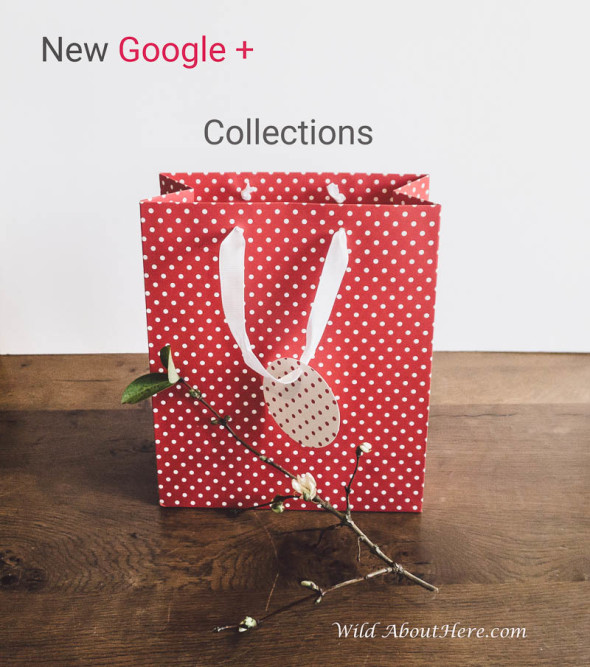 UPDATE:  G+ shut down!

Google+, (pronounced and sometimes written as Google Plus sometimes called G+), was a social network owned and operated by Google. The network was launched on June 28, 2011, in an attempt to challenge other social networks…. the Google+ developer API was discontinued on March 7, 2019, and Google+ was shut down for business use and consumers on April 2, 2019  – Wiki
I was a big fan for a while and wrote posts with tips to help others on Google+. My Outdoors & Nature Acitivites with Kids eventually grew to over 100,000 followers before G+ ended.
At the same time as a sudden surge of traffic to my blog, I received a message from the Google+ team that they had featured one of my Collections. Since then I've had a constant flow of new followers to my Collection Outdoors & Nature Activities with Kids on my Google+ Profile as well as new visitors on this website.
Welcome to the New Google Plus!
Many of you might now be wondering what are Collections? What do they have to do with Google+? I've previously written a series of Google Plus Tips to help parent and lifestyle bloggers but never mentioned Collections. I'll be explaining below, including how to create a Collection and how to move old G+ posts into a Collection.
Basically in the new Google+ you can just follow a person's Collections. For example, perhaps a blogger writes brilliant blogging tips but also has posts on their passion for fencing. If both these themes are in Collections you can choose which one to follow. Collections are where you can find niche content and subjects that you're interested in.
In fact Collections were introduced earlier in 2015 but are now one of the main features of the new Google+ launched on November 17, 2015.
"Today, we're starting to introduce a fully redesigned Google+ that puts Communities and Collections front and center. Now focused around interests, the new Google+ is much simpler. And it's more mobile-friendly—we've rebuilt it across web, Android and iOS so that you'll have a fast and consistent experience whether you are on a big screen or small one." November 17, 2015 announcement by Google
In the new Google+ there are three main areas:
Your Home Stream – your news feed where you can see posts by your circles as well as the latest posts in Collections you follow.
Collections – a curated collection of posts by topic, theme or interest created by a profile or page.
Communities – Where you share posts and engage with others on a particular topic or interest.
In sum Google+ is now where you can find, share and follow your interests.
Some other changes…Photos are now in photos.google.com. Google+ Pages are now managed by Google My Business. Hangouts have moved to hangouts.google.com.
New Google+ or Classic Google+
If you're already on Google Plus then on your desktop you might have seen a notice 'Try the new Google+.' On mobile you might have found yourself on the new G+ when your App was updated.
Tip: On desktop you can move back and forth between 'classic G+' and 'new Google+.' If you're in the POSTS section of your profile on the bottom left of your screen you will see a notice 'Try the new Google+.' Click on this and it will take you to the new G+ screen.  If you want to return to the old (classic) version then in the same bottom left corner you'll see 'Back to classic G+.' Click on this to return to the older version. You can go back and forth easily. As Google is still making changes and encouraging feedback this option might be there for a while – but I can't tell you if and how long it will remain.
In this post I will use the term click/touch when explaining a step as it depends if you're on a desktop (click) or mobile (touch). You can also find Google+ instructions here. My examples with images are from my desktop so may be different from mobile viewing.
What are Collections?
You can now group together your posts on a theme or topic by creating a Collection.
You can follow a Collection without following a profile or page.
Your followers automatically follow all of your public Collections.
When you follow a Collection then new posts from it will show up in your home stream.
Collections show up in Google+ search. (The latest I'm reading is that Collections might also show up in general Google search…not just G+!)
You can customise who sees a Collection but once you've chosen the visibility you cannot change it.
Where are collections?
In new Google+ click/touch the Home menu and you'll see Collections. Once you're in Collections you'll see a top menu with three options:
Featured – These are Collections featured by G+. If you see a topic you're interested in then just click/touch Follow. Search results now include Collections.
Followed – This lists all the Collections you follow including 'Collections from Your Circles.'
Yours – Here you'll see the boxes with the Collections you've created. This is where you also create a Collection (and I'll give you step by step instructions below).
If you click on my new G+ profile you'll now see the boxes displaying my Collections under my cover photo as "Kriss's interests" – you will have to click/touch View All to see the full list. In classic G+ Collections are listed on a profile's tab with 'about' and 'posts'.
How do I create a Collection?

On your Home menu choose the Collections tab. You will then see a box "Create a Collection." A new box for your Collection will then appear which you need to fill out and edit:
Name – Write the main title for your Collection.
Visible to – Options are Public, Your Circles, Only You, Custom (Choose which circles). Once you choose and save an option you can't change it. So if you make it private then you're not able to make it public in future.
On or off switch – People that have you in circles automatically follow this Collection.
Box colour – Choose one of the colours provided by G+ to showcase your Collection box.
Photo – click/touch camera icon to choose a G+ photo or upload your own.
Edit Collection – You can go back and edit your Collection. Just click/touch the box to open it and you'll see the triple dot menu at the top right. Click/touch the triple dot and it will give you the option to edit your Collection such as change the name, tagline and photo. However you will not be able to change the visibility.
Tip: Cover photos for Collections should be minimum 1200 pixels wide with a 16 x 9 ratio. The top and bottom of the photo will be cropped when it's seen as a Collection box so keep the main image or any text in the middle.
Once you've created your first Collection then a tab will show up under your profile displaying them as your interests.
How do I add a post to a Google+ Collection?
When you write a post in Google+ you can add it to one of your Collections.
If you're in your Home Stream, click/touch the PENCIL icon on the bottom right to write a post. At the top you'll see YOUR NAME > LINK. Click/touch the LINK to choose where you want to share it. (You may need to click/touch See More for additional options)
Open your Collection first and then click/touch the pencil icon. You'll see the Collection LINK tag after your name..
Tip:  In the home stream posts that are in a Collection will have the 'Collection Title' at the top of the post as a blue highlighted link. If you want to see the rest of the posts in this Collection just click/touch the 'Collection Title' link. If you like the Collection just click/touch Follow. Title links in green are posts shared to a community.
Here's an example of a post in one of my Collections.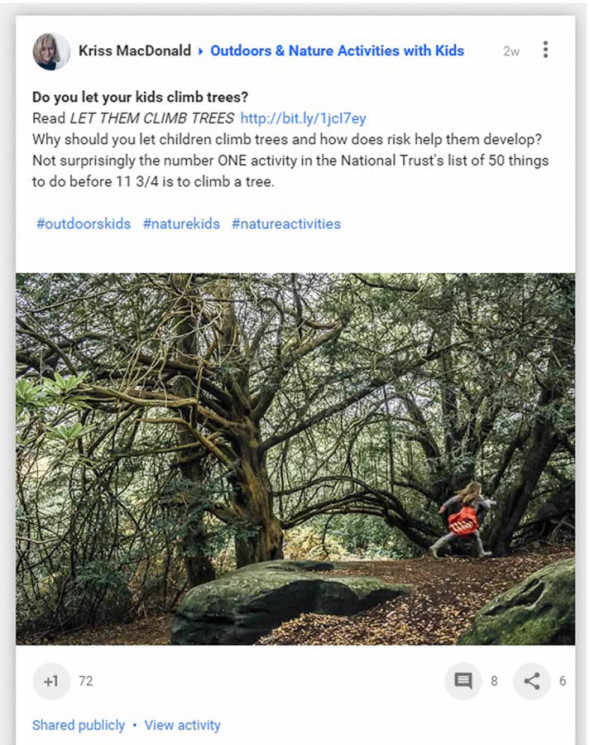 Next to my name you'll see the title of the Collection highlighted. If you click/touch Outdoors & Nature Activities with Kids it will take you to this Collection. You can then scroll down and see all the posts I have in this Collection. Just click Follow if you like the Collection and want to see more posts in the future.
How do I move an old post to a Collection?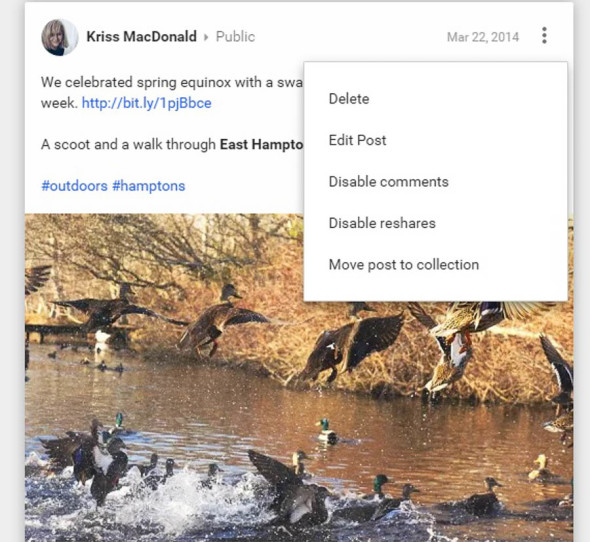 Once you've created a Collection you don't have to reshare all your former posts. You can easily scroll through your old Google+ posts and move them into Collections.
Choose a post and then click/touch to open.
Once open you'll see in the top right hand corner the triple dot  menu.
Click/touch the triple dot and a list appears which includes Move post to a collection.
A list of all your Collections then will appear.
Choose one and then just click/touch Move post to a collection.
Although I have over 30,000 followers on Google+, my Outdoors & Nature Activities with Kids Collection already has more than 40,000 followers and is increasing daily. This means that when I write a new post to add to this Collection I have followers who are interested in this topic. As a result people are clicking through to read them on my site. It also means that my posts are not lost in the stream but are on permanent display in my Collections.
I'm very positive about the new changes. What has also impressed me is that Google+ is listening to feedback to improve it further. It's easy now to find, share and have conversations with people who have the same interests on Google+.