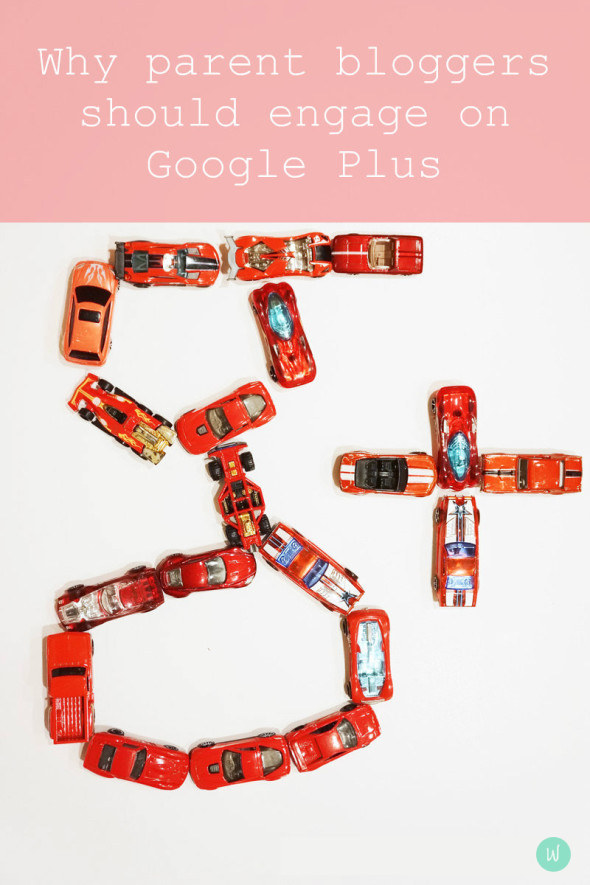 UPDATE:  G+ shut down!

Google+, (pronounced and sometimes written as Google Plus sometimes called G+), was a social network owned and operated by Google. The network was launched on June 28, 2011, in an attempt to challenge other social networks…. the Google+ developer API was discontinued on March 7, 2019, and Google+ was shut down for business use and consumers on April 2, 2019  – Wiki
I was a big fan for a while and wrote posts with tips to help others on Google+. My Outdoors & Nature Acitivites with Kids eventually grew to over 100,000 followers before G+ ended. 
I'm writing a series on Google Plus as I'd like to share why I'm such a big Google+ fan. This introduction will look at the bigger picture and try to explain why parent bloggers should engage on Google Plus.
My first follow up post will be on how to optimise your profile. Moreover should you be a profile or a page?
One of the reasons why I enjoy Google Plus so much is that it's given me the opportunity to have conversations with people not only in niches that I'm involved in or passionate about, but get to know other amazing people online. If I want to understand Google Plus or social media or SEO better, I can determine on Google Plus who are the top experts and influencers whose advice I can trust and follow.  I'm still on a learning curve, but I want to help other Mum and Dad bloggers to be active and engage on Google Plus as well.
Why should you care about Google Plus?
Out of the more than 1.1 billion registered on Google Plus, more than 300 million of them are monthly active 'in-stream' users. The 'stream' is like your newsfeed. The posts of anyone you circle – known as follow or friend on some of the other social networks – will show up on your stream.
But it's not just a social platform. Google is integrating it with all its services, such as Gmail or YouTube, and calling it a "common social layer."
Using Google Plus potentially can have direct effects on search engine optimization (SEO), social signals and search results.
Have you noticed when you do a search in Google that the results now often feature small pictures of the authors next to a search link? This is a rich snippet with the author's headshot. Google will only show your author portrait in search results they think will be useful for the user. Not only does content with an author portrait and byline stand out on a search page, it's believed that users are more likely to click on them. People tend to trust content written by a real person rather than anonymously or just a faceless company.
How do you get your picture in search results? Link it to your Google Plus account and establish authorship. The headshot is the author picture you use in Google Plus as well.
Now my links in search also include my author byline.
UPDATE: The name of my blog was changed from Over there to Here to Wild About Here in January 2015 so some of the images might still contain the old name.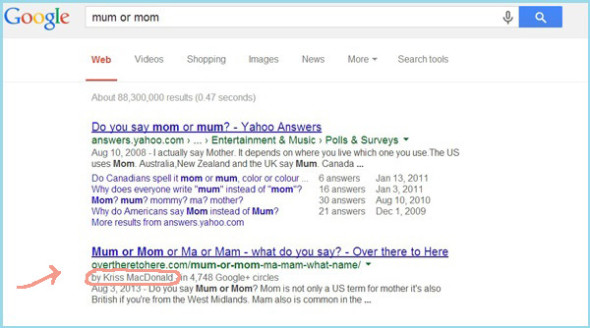 Here I did a Google search for 'Mum and Mom' and it showed up as the second entry on the first page of search. (I didn't log out of Google but searched incognito after clearing my web history.)
My author byline – Kriss MacDonald – is included in the search link. This is because I've claimed authorship by connecting it with my Google Plus account. (I'll be writing more about this in a future post)
Now if I click on my name here (circled in red) this is what Google shows: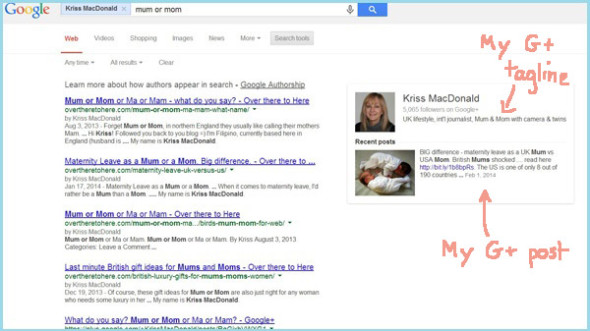 A reader doing a search then has information on who I am and other similar posts. The information next to my photo is the tagline I use in G+. (I'll explain about taglines under profiles). The entries include posts from my blog as well as G+.
Social signals
In the post excerpt above showing the babies photo, I uploaded this image to G+ and added the link in the post. An early mistake I made in G+ was to include two links in the post (I included a post link as well as a Pinterest link). This meant that none of the plus ones or shares showed up on the Google Plus button on my web posts. I lost the social signals for this post in doing so.
Tip: The lesson I learnt is that I should only include one link either in the post or in the featured link. (I can't confirm this but apparently you can add more links if you edit your Google Plus post after you've posted it to the Google Plus stream)
Tip: If you post a link in G+ then it's a do-follow link. If you upload a large image and put the link in the post then it's a no-follow. But images attract more comments, shares and plus ones!
If a Google Plus influencer or someone with active circlers shares one of your Google Plus posts then you will get more plus ones. Your social signals will increase by engaging and interacting on Google Plus.
Search is changing
The world of search is changing. What appears on my first page of  a search will probably be different from yours – even if we use the same keywords.
Every week I write a post on outdoor fun with my kids, such as visiting a seal haul site or taking them to the beach to watch the sunset. I share this post on Coombe Mill's Country Kids linky. I also am a regular reader of the lovely blog Mumturnedmom by Sara Murray.
So if I do a search for 'country kids,' look what shows up on the first page of my search: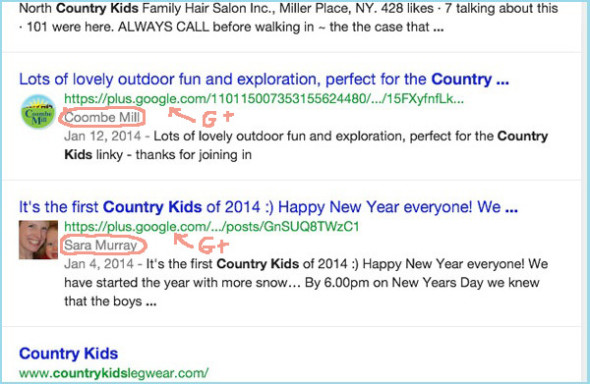 Coombe Mill's Google Plus post as well as Sara Murray's from Mumturnedmom show up as G+ posts on the first page of my search. This is Google personalizing the search for me as I regularly visit both of these sites.
Whether you like it or not, Google is changing their search strategy. Although, of course, they're not revealing exactly what they are up to, and some of it might take years before it happens or fully develops, Google are trying to get rid of spammers and bad quality content in search results.
Google Plus is not just a social platform but potentially a way for Google to determine who are the authors of quality content. They want you to do a search and find relevant articles without having to sift through pages of sites just filled with keywords and spam.
Thanks to Google Plus, I've discovered some of the top experts on G+. One of them is Brit Martin Shervington.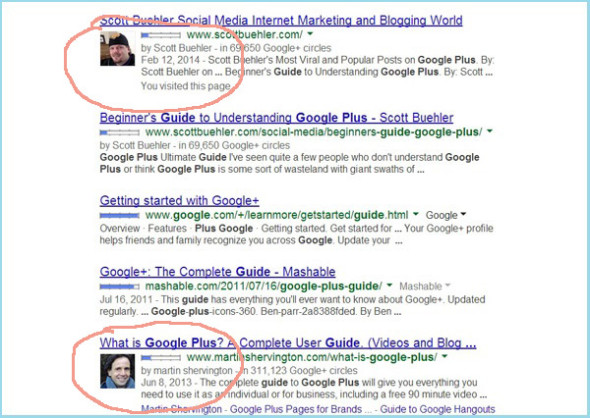 Here is a screenshot of a Google search I did where I asked for 'Google Plus guides.' As you can see it contains a rich snippet with + Martin Shervington as well as + Scott Buehler. Both of them are top influencers on Google Plus. I can also highly recommend both of them.
Semantic Search
Martin Shervington also has done a series of interviews with David Amberland, the author of Google Semantic Search, explaining how the future of search is changing. Google is now aiming to give personalized and relevant information when you do a search.  According to Amberland, "Trust, reputation and authority" will play an increasingly important role with what they deliver in search results.
Why do you care about trust, reputation and authority? You don't want to do a search and find articles that are rubbish but rank high because they're filled with keywords. Looks like Google also wants to stop this. Did you notice that keyword referring data is no longer available in Google Analytics?
Here's a quote from Amberland's book: "An article written by a faceless service that outsourced it to the lowest cost provider in a third-world country, when placed on a high-ranking website could easily outrank in search a highly detailed, authoritative piece that simply appeared on someone's personal blog."
Soon we'll be able to feel more confidence in search results as we'll recognize the author and know it's quality content. One of the ways you can be ahead of the curve is to try to build up a reputation as a parent blogger by engaging on Google Plus. It also looks like it might be one of the means Google can start working out what you do and whether you have good content.
So Google Plus is not just a social platform but a way for you to build up a reputation as a blogger, widen your audience and get seen in search results.
But…I want you to enjoy Google Plus. I've circled, shared, listened to and engaged with so many amazing people on Google Plus who I wouldn't have met elsewhere. There are vibrant, funny, serious and helpful communities.
One thing that I've found out on Google Plus is that it's important not to just dump your links  but engage with Google Plus members. If you include a post from your blog, explain why others should be interested in it. Share posts. Make comments. Thank people for sharing your post. If you like a post then give it a plus one. Talk. Be active on it. I really want to be engaging more with Mum and Dad bloggers (and Moms!) on Google Plus.
Next I have a post with tips on your profile and about page on Google Plus.