Once upon a time if you wanted to move or travel with cats or dogs to Britain, they went into quarantine for six months as I explained in PART 1 of passports for pets. My parents had two dogs that spent half a year locked away from us and it was heartbreaking. Now pets are allowed to be back with their families the same day. You can take them for a run in the park rather than watch them howl in a kennel. Pet travel has come a long way in the 21st century.
Update: I've included following new rules which are valid from 29 December 2014 – also available on this UK government pdf available online here.
NEW EU PET TRAVEL RULES FROM 29 DECEMBER 2014
1. New pet passport to improve traceability and security. But if your pet has an older version it still is valid.
2. Introduction of checks across the EU.  Other EU countries now required to carry out checks on pet movements in the EU.
3. Your pet must be at least 12 weeks old before rabies vaccination.  This will prevent very young animals being moved across the EU.
4. New rules if you want to travel with more than five pets within the EU and/or head back to the UK. Different rules, though, if they are appearing in a show or competition.
5. New rules for pets entering the UK/EU by air including you must travel within 5 days of your pet's movement.
6. Only domestic dogs, domestic cats and ferrets can travel under the EU pet travel scheme. The new clearer definitions of pets have been brought in to stop any loopholes of wild animals entering via the pet travel scheme.
Basically dogs and cats that meet the conditions of the Pet Travel Scheme (PETS) can be imported into the UK without quarantine. My research focused solely on UK rules for dogs and cats. The same rules apply for ferrets! If you have a pet rabbit or another type of animal check the travel rules for pets with Britain's DEFRA. There are also different regulations for registered assistance dogs. 

Passports for Pets USA to UK checklist
Below is a checklist I've put together on passports for pets if you want to fly, cruise, ship, move or travel with cats or dogs (or ferrets) from the States to Britain.  Below this are lots of further details and sources.
This checklist is for guidance only and is unofficial. Always check with your local authorities and UK government in case any new rules have been introduced. For example see update above for December 2014.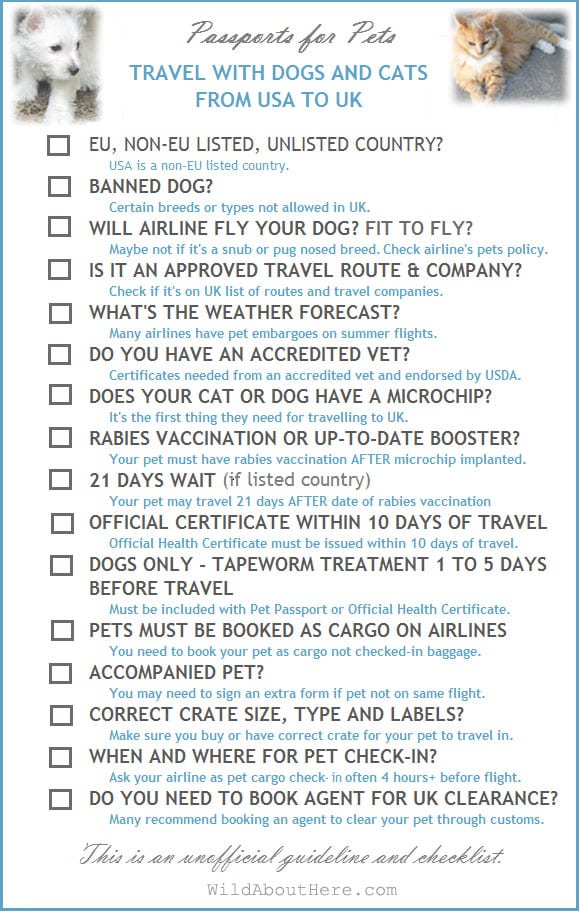 Passport for Pets Guideline USA to UK – it's all in the details
And here's a detailed guideline on travelling with pets to the UK from the USA. In the EU – including UK – pets acquire a Pet Passport but overseas pet owners need to get an Official Health Certificate if they want to travel to Britain or anywhere in the EU with a cat or dog. Or ferret! Rules keep changing so it's worth checking for any updates.
IS THE USA STILL A NON-EU LISTED COUNTRY IN THE PET TRAVEL SCHEME? 
Yes USA is one of the non-EU LISTED countries. There have been lots of changes in the last few years so it's worthwhile looking at the countries listed here to make sure you are up-to-date. Unlisted non-EU countries have more rules including arranging a blood test 30 days after their rabies vaccination to ensure their pet is rabies free and then must wait another 3 calendar months after the blood test is taken.
Certain dog breeds are banned as dangerous dogs and are not allowed to be imported into the UK. This includes dogs that match the characteristics or look like a banned breed.
WILL THE AIRLINE FLY YOUR BREED? DO YOU HAVE TO PROVE YOUR PET IS FIT TO FLY?
Most refuse snub or pug nosed dogs because of breathing problems on flights. Check with individual airlines on their pets policy rules. Currently Cunard's Queen Mary 2 cruise ship is the only approved ship route and carrier from the USA to UK if you can't fly. Most approved airlines and transport companies also require an official document from the vet confirming that the pet is healthy and fit to travel within a specified period of time. Check the requirements with your airline or transport company or you might not be able to check-in your pet even if you have all the other documents.
IS IT AN APPROVED TRAVEL ROUTE AND TRANSPORT COMPANY?
You can't take it on a private jet. You can only travel with pets on approved routes and on authorized pet carriers so check the latest UK list here before booking a flight. Find out if it's a pet friendly airlines.
WHAT'S THE WEATHER FORECAST WHEN YOU TRAVEL WITH CATS OR DOGS TO BRITAIN?
Most airlines will only accept a pet if the departure and arrival cities are within an acceptable temperature range. If it's too hot (for example 85 F or above) then they won't fly pets. Some airlines have a complete embargo on transporting animals during the summer. Check with your airline on their temperature guidelines.
MAKE SURE YOUR VET AND CERTIFICATES ARE OFFICIALLY APPROVED 
In the US you will need medical tests and vaccinations from a veterinarian Licensed in their State and accredited with APHIS/USDA. Check with your State's Veterinary Services Area Office on approved veterinarians and the procedures for your official documents to be reviewed and endorsed. Also check with the VS area office about the most current forms or procedures for importing a pet from the USA in case of recent changes. You may need to pre-book an appointment (up to 2 to 3 weeks ahead) or mail in documents. Basically UK and the EU need an 'Official Health Certificate' if you don't already have an EU/UK Pet Passport.
FIRST YOUR PET NEEDS A MICROCHIP (1)
If the microchip doesn't meet EU ISO standards then you are responsible for bringing your own microchip reader or getting your pet re-chipped. An official record of the microchip's number, location and date implanted are essential. If you need a new one then make sure details of the old chip are included in case the scanner picks it up. Check latest rules if pet had a tattoo on or before 3 July 2011 instead of a chip.
RABIES VACCINATION  – OR BOOSTER IF NEEDED (2)
The rabies vaccination must be given AFTER a microchip is implanted. An approved vet must record date, product name, batch number, date booster vaccination is due on official documents. If your pet already has a rabies vaccination (but microchip implantation must have occurred PRIOR to vaccination) then make sure boosters are up to date, otherwise you will need to start again. Update – your pet must be at least 12 weeks old before you can give it a rabies vaccination under the pet travel scheme. This is to prevent young animals being moved.
WAIT 21 DAYS AFTER DATE OF VACCINATION BEFORE TRAVELLING (3)
Check with your vet if the vaccine requires more than one vaccination as the 21 day wait begins after the completion of the primary course. Make sure rabies boosters are up to date otherwise you will need to start again and get the pet revaccinated.
NOTE: There are different rules if you are moving your pet from an UNLISTED country to UK. (USA is a non-Eu LISTED country). Check for updates but currently a blood test needs to be taken 30 days after the rabies vaccination – and the vaccination date counts as day 0, not day 1 – then you must wait an additional 3 calendar months from the date of the blood sample.
OFFICIAL VETERINARY CERTIFICATES MUST BE ISSUED WITHIN 10 DAYS OF TRAVEL (4)
USDA approved veterinarian must enter all required information on Official Veterinary Health Certificates meeting the EU requirements. The certificates must be endorsed by a Veterinary Services Area Office to be valid. If more than one page then pages must be numbered, signed and stamped as directed. Double check if signatures must be in blue ink and the stamp in a different color. Make sure dates are written correctly for the EU: dd/mm/year. Make sure you have the documents officially endorsed by USDA in time. Pets must arrive in an EU country within 10 days of the date the certificate was issued.  You have up to 4 months for travel within the EU.
Per the UK government: "To bring your dog, cat or ferret into (or back into) the UK, it must be accompanied either by an EU pet passport or a third country official veterinary certificate."
DOGS ONLY –  EM TAPEWORM TREATMENT 1 TO 5 DAYS BEFORE TRAVELLING (5)
Dogs only (not cats) must be given a tapeworm treatment 24 to 120 hours before you arrive in the UK.  The name and manufacturer of product, the date and time of treatment must be stamped and signed by accredited vet and endorsed with official documents.
PETS MUST BE BOOKED AS CARGO
UK currently requires pets to enter as 'cargo' on flights – not as checked-in baggage. Check with your airline when you can book the flight and make final confirmation for pet travel.
If you're not accompanying a pet on the same flight to the UK then you might need to sign a declaration and include it with the official Pets Travel Scheme documents.
CORRECT CRATE SIZE AND TYPE AND LABELS?
Check with the transport company on their regulations and IATA for the size of the crate transporting your pet.  There are strict rules about ventilation, construction, type, size, locks, bedding and more for international pet travel. Also check how the crate should be labeled.
WHEN AND WHERE DO YOU NEED TO CHECK IN YOUR PET AS CARGO?
Often airlines require at least 4 hours or more before check-in for manifest cargo. Check if you need to take the animal to a different cargo check-in location.
EXPECT TO WAIT 4 TO 8 HOURS AFTER YOUR FLIGHT ARRIVAL IN THE UK BEFORE COLLECTING YOUR PET
Pets will be taken to an Animal Reception Centre at the airport where Animal Health officials will scan the microchip and make sure all the official documents are correct. Check if you need to bring your own microchip scanner if your pet's chip doesn't meet ISO standards. Once they give their nod of approval then your pet is cleared through customs usually by an agent. It's recommended that you have a clearing agent to arrange the customs clearance for your pet.  Some airlines may only ship your pet if you have an approved agent. There are additional charges for the pet processing fees at the airport and customs.
DIFFERENT RULES AND FORMS IF MORE THAN 5 PETS
The guidelines above only apply if you're travelling with 5 pets or less. If you have more than 5 then some of the requirements and documents are different.
And how much?
There are also lots of pet relocation companies which specialize in helping you travel to Britain with a cat or dog. Some of them provide door to door service and arrange all the documentation for you. If you can afford it, it's probably a better option.
Nevertheless be aware of any new rules or recent changes. Each pet carrier also has its own policies on flying with pets. Costs can vary widely as pets are usually charged according to the size and weight of their crates. Flying with a dog or cat is not cheap. If your pet is not fit to fly then a possible option is to find out about one of the kennel spaces (with their outdoor and indoor runs) on the transatlantic trip aboard the Queen Mary 2.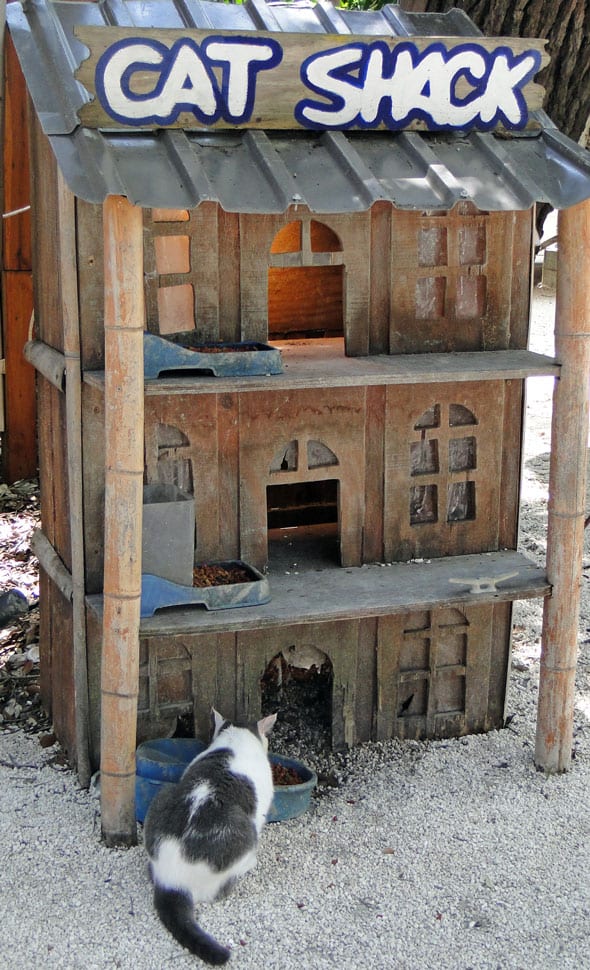 Of course it used to be rather costly to board your dog in a kennel or your cat in a cattery for the quarantine period. Now most pets can miss the six months boarding and be back in their homes, whether happily sleeping inside on the sofa or outside in their cat shack.
My general guidelines gives you the timelines and steps needed to get your pet transported from the USA into UK. As there are frequent changes in the last few years, check for any updates with official sources such as the UK government site on pet travel or in the US with the VS area office. The last major change was in 2012. At least nowadays you won't feel guilty as my family did when we waved goodbye to our two dogs every week at the kennel during their six month sentence. Now you can stay together as a family when you travel with dogs and cats to Britain…just don't forget to give them some treats when they're set free after their trip.
I'm just waiting to see if Queen Elizabeth II takes all her corgis with her on an official trip overseas some day! Meanwhile I have these guidelines to give my mother when she brings her dog over on a visit from the USA.
Do you have any tips to add for travelling with cats and dogs to UK under the passport for pets scheme?