Artist's statement
After the last spring rainfalls in May, I paused to spend some quiet moments outdoors and noticed around me a glittering hue of colours as everywhere was in full bloom. I filled a basket with these freshly picked treasures from my garden, as well as growing wild in our field, and laid them out like a dazzling tray of jewels.
The floral art composed with real flowers – according to my best identification – includes: Wild Carrots (Daucus carota),Love-in-a-Mist (Nigella damascena),Snapdragons (Antirrhinum majus),Sweet Peas (Lathyrus odoratus), Pansies (Viola × wittrockiana), Cornflower (Centaurea cyanus), Wild Leek (Allium ampeloprasum), Clary Sage (Salvia sclareoides), Mealy Sage (Salvia farinacea), Wild Thistle (Cynara humilis), Lobster Bush (Coleus neochilus), Blue Hibiscus (Alyogyne huegelii), Dagger flower (Mantisalca salmantica), Society Garlic (Tulbaghia violacea), Centaury (Centaurea pullata), Boronia (Boronia crenulata), Pink Dipladenia (Mandevilla), Rock Rose (Cistus Crispus), Rose geranium (Pelargonium graveolens), Scarlet Sage (Salvia coccinea), Saucy Wine Sage (Salvia splendens 'Saucy Wine'), Garden Geranium (Pelargonium × hortorum), Rose mallow (Lavatera trimestris), Common centaury(Centaurium erythraea),Rose varieties, Hibiscus, Red Valerian (Centranthus ruber), Tree Mallow (Lavatera maritima),Paraguay nightshade (Lycianthesrantonnetii), Treasure flower (Gazania rigens), Bougainvillea, California poppy (Eschscholzia californica), Red poppy (Papaver rhoeas), Nasturtium, Pot Marigold (Calendula officianalis), Curry Plant Helichrysum stoechas, Corn marigold (Glebionis segetum), Sweet Yarrow (Achillea ageratum). All the flowers were grown naturally and picked from my garden and our neighbouring fields in Algarve, Portugal.
Print sizes
Limited edition prints are available in the following sizes.
SMALL – Edition of 30
Paper size: A3 / 11.7″ x 16.5″
Image size: 27.3 x 34 cm / 10.7″ x 13.4″
MEDIUM – Edition of 20
Paper size: A2 / 16.5″ x 23.4″
Image size: 39 x 48.7 cms / 15.3″ x 19.2″
LARGE – Edition of 10
Paper size: A1 / 23.4″ x 33.1″
Image size: 54.5 x 68.1 cm / 21.4″ x 26.8″
details
Free Global Shipping for a limited time only – including framed prints
End-to-end carbon neutral
Vat or taxes will be included (if applicable) at checkout
Limited Edition archival museum-quality Giclee prints
Printed in UK or Germany on Hahnemühle Bamboo 290g matte paper
Accompanied by a certificate of authenticity.
Print only or framed options – ready to hang White or Oak wooden frames with high-quality glass on A3 & A2 frames, high-quality non-reflective perspex on A1 frames, and white window mounts.
Custom printed for you and despatched within 3-5 days of order
More print shop information available HERE.
Shipping and Returns policy read HERE
STYLE GALLERY
Large size The Jewel Garden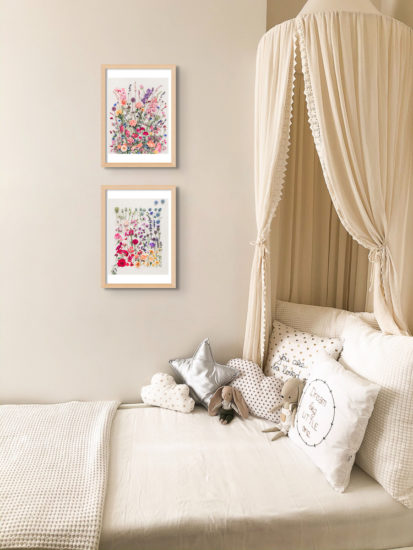 Large size The Jewel Garden paired with Sweet Love-in-a-Mist in bespoke frames