In the future space travel for kids may be as common as international flights today, so it's worth preparing them early.   Virgin Galactic passenger spaceships might blast off as soon as December 25th as I wrote in a previous post on space tourist flights. One day a trip to the moon might just be a refuel stop when our kids take our grandchildren on a space vacation.
I've been keen on space books for kids and toys since Theo and Luce were very little. So here are some suggestions on what's cool for space travel for kids in Britain. I've included my affiliate links with Amazon but these are all books and toys I've bought for my kids.
One of Theo's favorite first toys was the Lift Off Rocket by Britain's Early Learning Centre (that's the correct spelling of center in UK). It comes with two astronauts, an alien, a buggy, a space dog and a crater.  Theo had to have the crater on his bedside table when he went to sleep for at least a year.
The best thing is the realistic countdown and engine noises it makes when you press a button on the side.  And when my son outgrew it, I liked the look of it on his fireplace mantelpiece. The rocket withstood some bumpy rides.
Roaring Rockets (Amazing Machines series) by Brits Tony Mitton and Ant Parker is a lovely introduction to books about space for kids. Rhymes and bright illustrations take the animal crew from blast off to outer space.
Rocket Game by Orchard Toys is a fun early game with the theme of space travel for kids.  My kids still enjoy playing with their cards to see who gets the most rocket fume loops.
We have all the books in the Mungo series by Timothy Knapman and Adam Stower. In each of them Mungo starts reading a book and then is drawn into the story itself.  In Mungo and the Spiders from Space it's up to him as a lost kid in space to save the universe. There's a retro feel to the wonderfully bright drawings as Mungo defeats Dr. Frankenstinker and his spider robots in outer space.
Usborne's Look Inside Space helps you to answer all those space questions kids start asking. It has lots of space facts for kids which are revealed in its interactive flaps.  From information on the space station to the solar system, the book teaches and introduces space travel to kids in a fun way.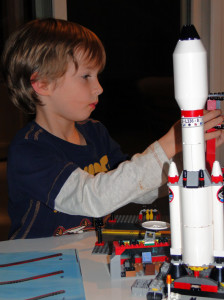 Theo is addicted to space toys which, of course, like most kids in Britain, includes building lots and lots of Lego rockets and spaceships. Luce owns a Barbie space shuttle pilot.
A remote controlled illuminated Moon by British toy supplier Brainstorm lets Theo fall asleep dreaming of being a kid in space and travelling off to far planets. In the US this is available as Uncle Milton's Moon in My Room.
Over forty years ago, in 1969, the world was captivated when the first men landed on the moon.  Virgin Galactic's Richard Branson, then nineteen years old, had a dream of travelling to space one day.  As I wrote earlier that's soon going to be a reality for people with deep pockets.  But, I wouldn't be surprised if in another forty years' time, space travel for kids – and our grown up children – will just be part of normal life.