First of all, I think the book The Worst Princess by Anna Kemp is on the must read lists for young girls who love princesses. The title is wrong, the story veers in the wrong direction before the end (in my opinion), but it's amusing in how it twists around the traditional storyline. Moreover it opened the door for me to discuss with my daughter how princesses – that is, girls and women – are portrayed in children's books and films.
The book begins by lightheartedly mocking how the main character, Princess Sue, is trying to fulfill the usual princess stereotypes. Beautiful and lonely, she's waiting and waiting and waiting for a prince to change her life. After all isn't that what happens in all the fairy tales? Girls who are defined by their appearances live happily ever after when they meet the man of 'their dreams.'
And shortly after the start of The Worst Princess, this is what happens to Princess Sue. A prince rescues her.
"At last! I'm freed! Today I start my happy end!"
But the hero just wants to lock her up in another castle with a fabulous wardrobe.
"I'd rather ride a horse," said Sue, "And do all kinds of fun stuff too!"
And that's where the fun begins. She refuses to be controlled by the prince. Teaming up with a fiery dragon, Princess Sue frees herself and creates her own happily-ever-after.
The story reminded me of the lines of Cyndi Lauper's song "Girls they want to have fun" which became a feminist anthem in the early 80s.
Some boys take a beautiful girl

And hide her away from the rest of the world

I want to be the one to walk in the sun

Oh girls they want to have fun
Whoopee, the right sort of princess for my daughter! I enjoyed talking over the story with her as it gave her a new perspective on princess role models. As a girl raised in the 21st century, my daughter, despite knowing the lives inside-out of all the Disney princesses, completely related to Princess Sue.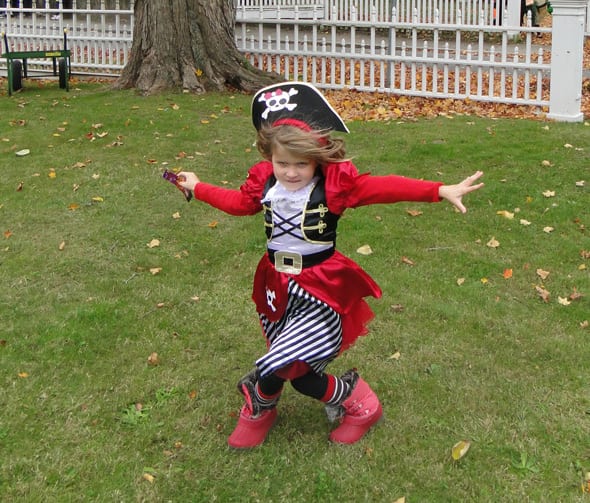 Once my daughter liked dressing up in Disney princess costumes until she declared she actually was a pirate princess. Maybe it was her way of rebelling against the usual image. She wanted to be a princess who went on adventures. (I only review British authors but we've also enjoyed The Pirate Princess by Sudipta Bardham-Quallen and Jill McElmurry)
But… But, why is Princess Sue called the worst princess? I think the title of the book gives the wrong message. It's the prince who points out her imperfections and calls her 'the worst princess.'  She's independent and modern. My daughter actually said, "She's the best princess because she likes having fun."
But then Princess Sue resorts to name calling and getting her revenge on the prince. It's as if she's suddenly gone back to the 1970s and become a sort of militant feminist when she attacks "royal twits and naughty knights."  Although she does this in a mischievous rather than an angry manner. My daughter explained to me that perhaps she was worried they would lock her up too.
I want my daughter not to just accept the saccharine even submissive portrayals of princesses. I don't ban these books or films but I want her to question them.  I want her to see that she has the freedom to find her path in life. And I don't want her to be defined and labeled by others. She, like Princess Sue, needs to discover her own title.
So here's a princess book with a different angle. Its portrayal of princess femininity is turned upside down. And it gives me the opportunity to talk about it with my daughter.
Funnily enough I chose this book at the same time as I was writing a series of posts on a modern princess – Kate Middleton.  The award winning novelist Hilary Mantel was greeted with uproar when in a speech she said the British princess was being perceived as a "shop-window mannequin" and "seems to have been selected for her role of princess because she was irreproachable." Kate Middleton is viewed as the 'best' princess.  If she breaks the rules then she'll probably be described as 'the worst princess' too.
The illustrations in The Worst Princess are dynamic, bright and fun. It has a flowing rhyming narrative which is rather cheeky at times. I like how Princess Sue wears high-tops with her dress even before she's 'rescued.' My daughter also searched for her missing braids in the two page spread when the dragon blasts her out of the prince's castle.
The Worst Princess written by Anna Kemp and illustrated by Sara Ogilvie is available on US Amazon and UK Amazon. The British author Anna Kemp also wrote Dogs Don't do Ballet with the same illustrator Sara Ogilvie.
What do you think would be a better title for The Worst Princess?