Kriss MacDonald is an American-British photographer and visual artist currently living in the Algarve in southern Portugal.
I began creating botanical art compositions with real flowers and nature finds when I was living in the middle of a thousand-acre nature reserve in southeast England. Daily I would take walks following paths, streams, and animal trails through the woods, by the lake, and fields, learning where each wildflower grew in the different seasons. Near me were famous English gardens which I would visit regularly for inspiration while planting my own garden.
In my botanical art photography I capture the momentary beauty of flowers and nature as they appear and fade throughout the year. They feature real flowers arranged on canvas or wooden backgrounds which I photograph in natural light. Each one is a seasonal nature story.
Most of the flowers in my botanical images are grown in my garden or foraged responsibly from the wild. I'm passionate about studying and identifying wildflowers and their biological richness and environmental benefits. I want to share the bounty of the flowering earth and the beauty of nature in my art photography.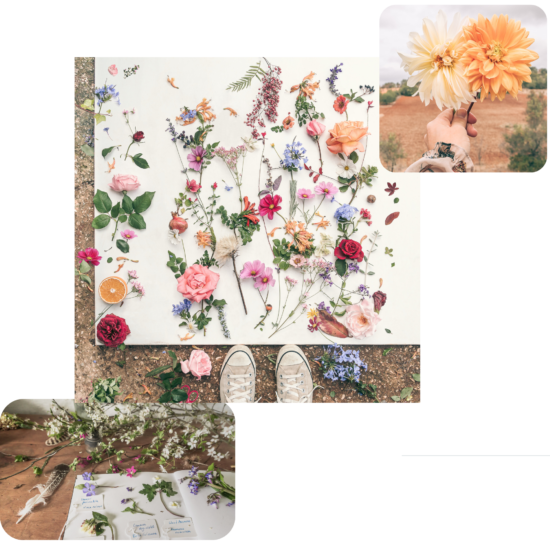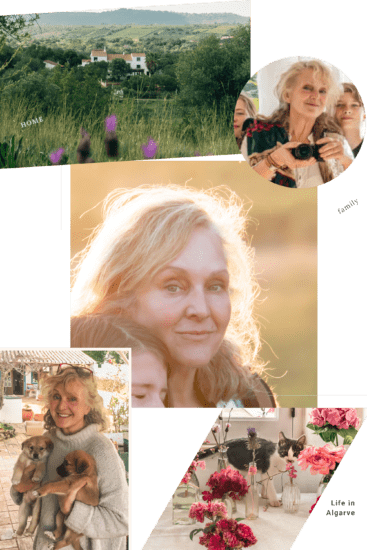 In the Algarve I live in an old farmhouse complex in the countryside with my husband, teen twins and my mother in a cottage in our garden. We rescued our cat when he was a three-week-old sickly feral kitten and two of our dogs we found abandoned as puppies in our lane.
Here I've been designing and planting a garden which flowers every season, including heat loving and drought-resistant plants. Many of the flowers in my art began as a seed sowed in my garden.
My photographic work has been exhibited in the Algarve, appeared in publications, and been licensed internationally. For more, you can read my latest updates. I also spent a year creating a private bespoke coffee-table size book of an English country estate. Some of my lifestyle photography can be viewed here.
Previously I covered conflicts and major breaking news stories as an international journalist with AP and NBC News in Asia, Europe, USA, the Middle East, and Africa. I have a BA Degree in Art and Art History from Amherst College, a diploma from Beijing Language and Cultural University, and a MA degree in East Asian Studies from Harvard.
Recognising the importance of connecting with nature in our lives, I started writing about outdoor adventures with kids in my blog when we were living in the Hamptons, New York. I believe that children who explore and learn about nature will grow up wanting to protect it. Amherst College even featured my post on the importance of nature walks with kids. I also record and photograph flora and fauna in my travel and nature diary posts
My work has been published in magazines, exhibited in the Algarve, and licensed internationally, including an award winning calendar. If you are interested in licensing do contact me.