According to my twins and their friends "epic" means ten times awesome and extra special. Needless to say, I was rather pleased when my eight-year-old son's reaction to the results of a planned bedroom makeover was a big smile and one word – "Epic!"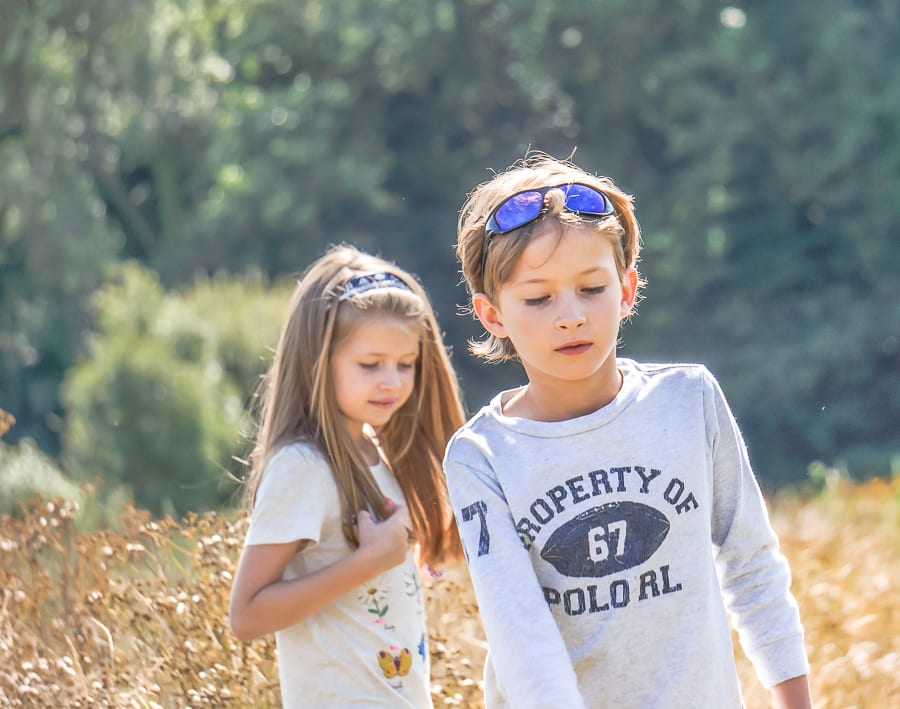 When my son Theo was four he graduated from a junior bed to a single bed. Since then we've only occasionally added pieces of furniture or decoration. His twin sister Luce demanded a revamp about a year ago when she decided that she no longer liked the colour pink. As part of her room update we bought her a desk and created a cosy reading corner with a bean bag chair. As Theo was rather jealous I tried to rearrange his room with a nook in between his bed and the fireplace but he still grumbled that Luce's was better.
As soon as I was asked to plan a children's dream bedroom using just kid's furniture and accessories from George Home, Asda's home range, I knew I had to focus on Theo's room. At first Theo wasn't terribly interested. His sister Luce tried to help me by asking him questions such as what was his current favourite colour. Until about two years ago he had always been crazy about the colour green. He mumbled and headed outdoors to play with the dog. I found a perfect desk for him and persuaded him to at least have a look at the cool choices.
Then he spotted George's Tic-Tac-Toe high sleeper bed. At last he became excited about redecorating his room! When I suggested we had just enough in the budget to choose either a Tic-Tac-Toe desk or low bookcase which are designed to perfectly fit in the underbed space, he hesitated but then shook his head.
Theo wanted to create the ultimate chill out, playing and reading zone in this space. As part of the #GeorgeousRoomChallenge we could put a dream list together worth up to a maximum of £400.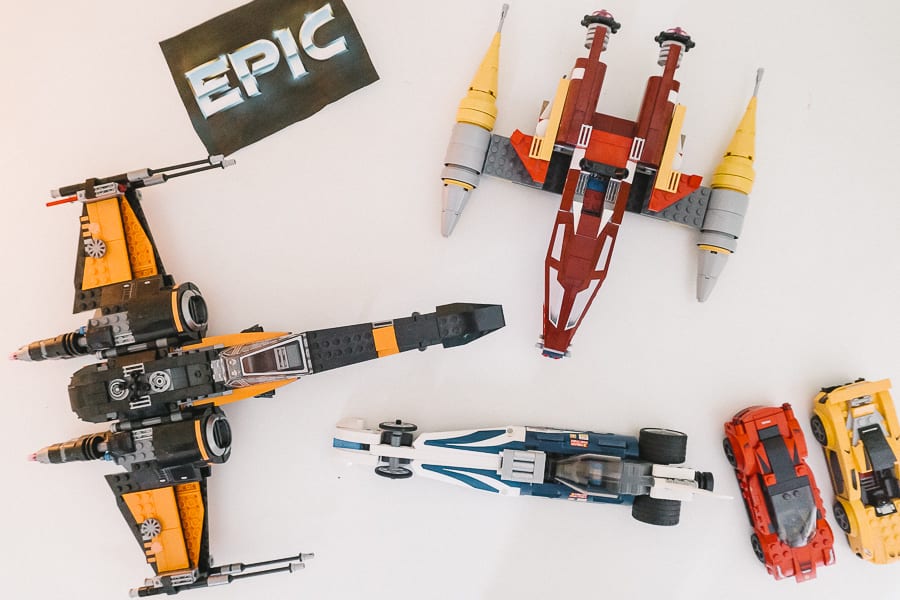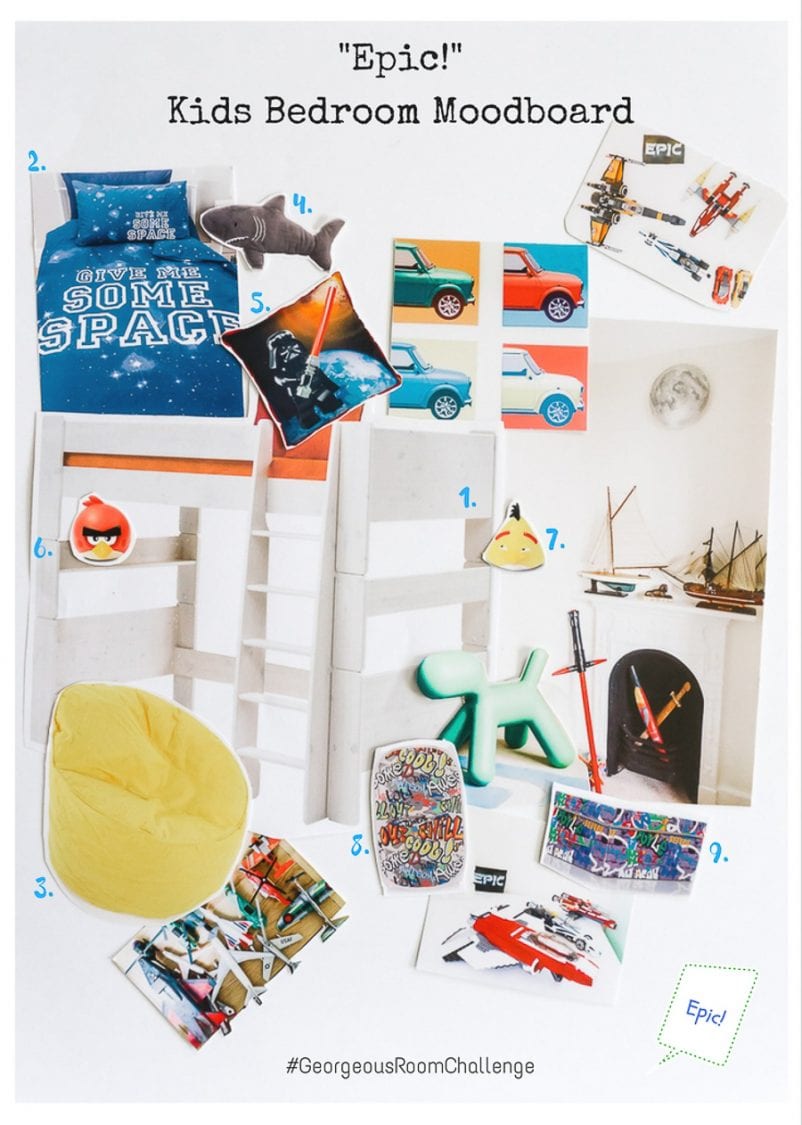 Our first step was to put together a mood board with pictures from his bedroom. He wanted colours that matched his growing collection of cars, planes, boats and space craft – in other words, red, yellow, blue, orange and grey.He didn't want to stick to one theme but preferred choosing products from some of his favourites whether Star Wars or Angry Birds. The only green thing he wanted to keep was his green abstract dog chair. To be honest I sighed with relief as it's an original and collectable Eerro Aarnio Puppy. Like his Mini wall art this classic design would work well with his planned George scheme.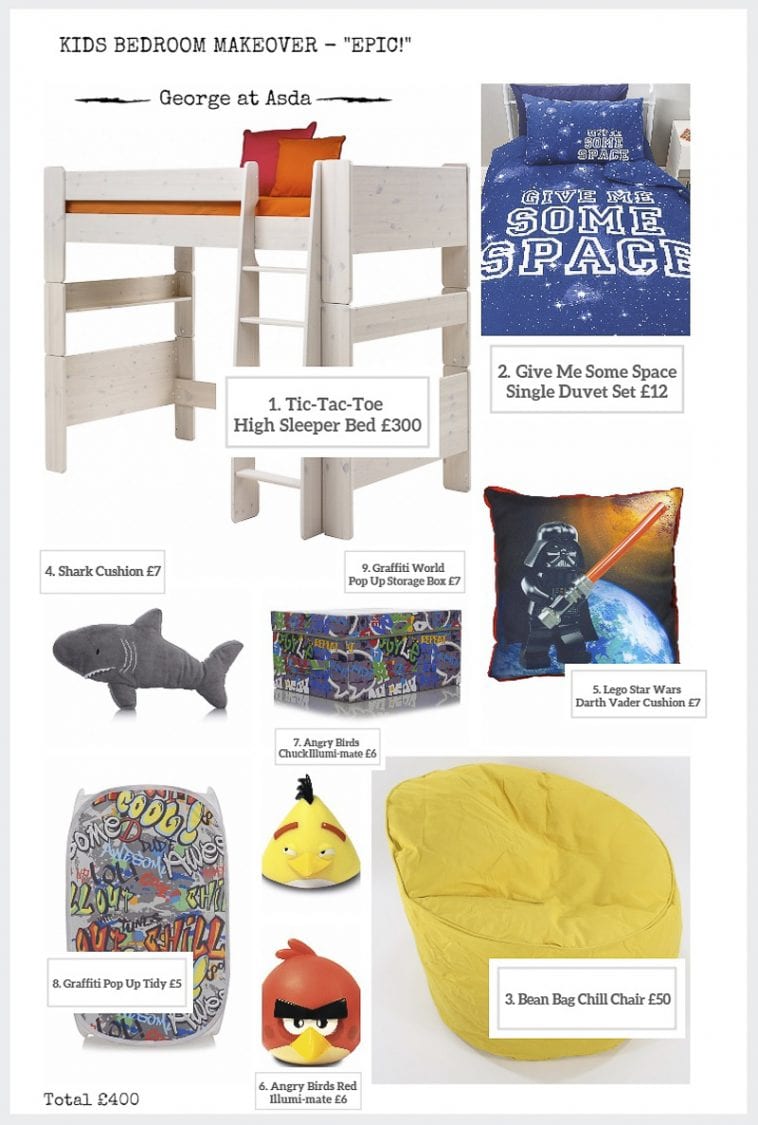 As the bed costs £300, Theo had just £100 leftover to plan his dream space. Which he did with quite an impressive amount of picks! It all added up to exactly £400 even though it included the bed, the chill out bean bag, a duvet set, cushions, pop up storage and a couple of cool Led lights.
When I finished creating the moodboard and Georgeous list, that's when Theo looked at it and said with a dreamy look in his eyes, "Epic!"
If you want to design a room with your child that is ten times awesome then have a look at the George at Asda's kids range or search the hashtag #GeorgeousRoomChallenge on Twitter and Pinterest for some more inspiration.
Disclaimer: This is a collaborative post but all words and opinions are my own.