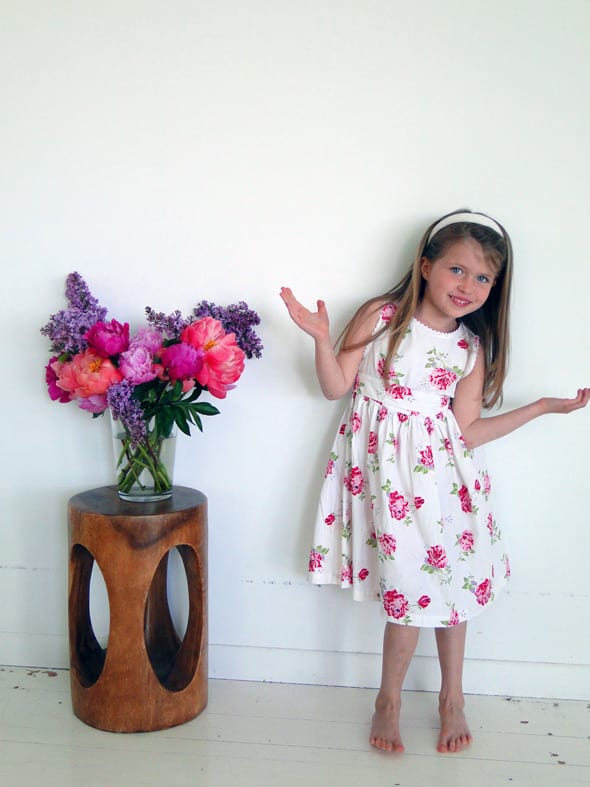 When the Chelsea Flower Show takes place in London, I start thinking of flowers for children.  There was a big buzz around the 2013 annual Chelsea Flower Show in May  because one of the main attractions was Prince Harry's garden. I've written about on his garden too.
Luce will be a perfect English rose in her Angelina dress (which she's wearing above) by family-owned British clothes store Trotters.  They have six stores in and around central London.  If you're in Chelsea for the flower show, their King's Road shop is just nearby otherwise you can order online.
And, of course, pushing the flowers for children theme, I can't help mentioning British fashion designer and entrepreneur Cath Kidston.  She's teamed up with British stroller company Maclaren to produce a vintage floral Maclaren Quest Sports Stroller.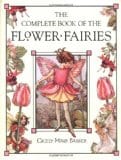 For the magical power of flowers there's nothing like reading or just looking at Cicely Mary Barker's The Complete Book of Flower Fairies. The English illustrator's water colors of fairies and flowers mesmerize me and are still incredibly popular today – 4.9 out of 5 stars from 80 reviewers on Amazon – even though she was born in 1895 and died in 1973.
Flowers for children ideas make me dream of the beautiful cottages in the English countryside covered in roses.  Luce has the beautiful Bigjigs wooden Heritage Playset Rose Cottage – an updated version with more flowers is available in the US on Amazon.
Luce loves to fill her doll house with her collection of little animals, especially bunnies but her brother Theo then likes to hide them all from her. Bigjigs is also a British family run business incredibly popular and cool for kids in Britain when you want traditional wooden toys.
If you want to nurture a love of flowers for children when they're just a baby then a good start is the eco-friendly EverEarth Multi Fun Flower Bead Fun.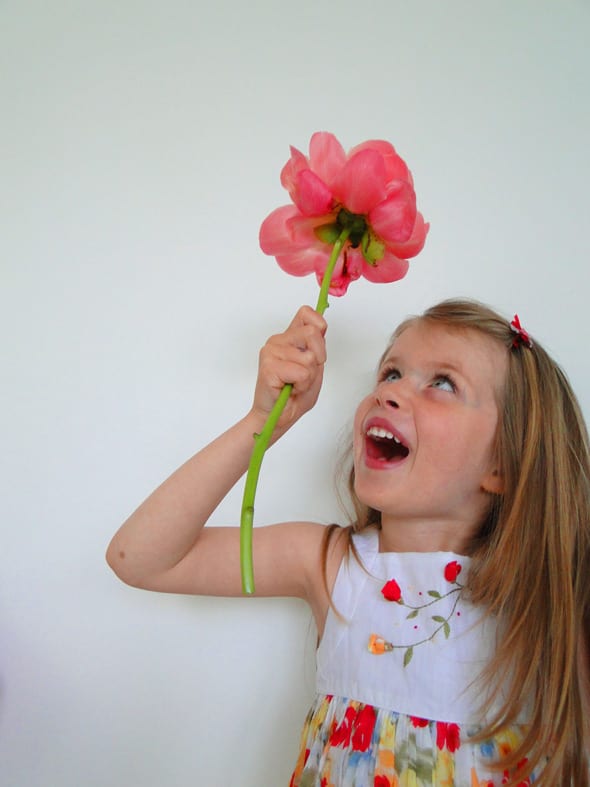 Alas, one flower dress is not enough. Luce also has a beautiful Sarah Louise dress with applique flowers for when she has to be all dressed up. The British children's fashion company Sarah Louise is known for its beautiful children's clothes for special occasions.
So flowers are cool for kids in Britain! As even the British punk band The Jam sang, "No matter where I roam, I will come back to my English Rose."  Prince Harry's garden featured the Forget-me-Not flower in the centenary Chelsea Flower Show, and I will dress my Luce in roses as I think of England and flowers for children.