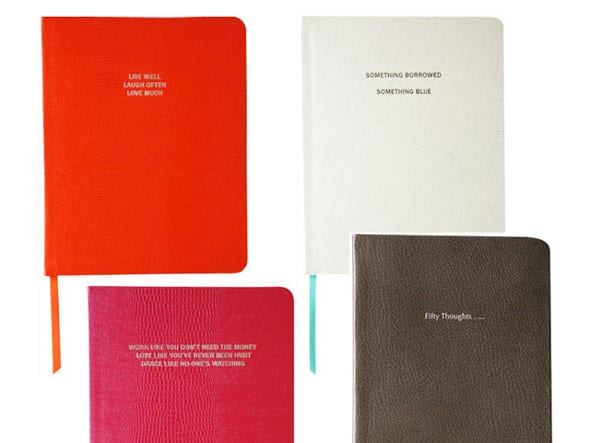 After moving to the US, I was sent an amazing diary and notebook made by Organise-Us as a gift by a friend in London.  I quickly discovered the secret spreading like wildfire amongst mothers and busy women in Britain: Organise-Us has stationery and leather accessories that help you stay in control of your life in a beautiful way.
Guest contributor Helen Curtis interviewed Organise-Us, meeting up with Lisa Cherryman, one of the mum entrepreneurs who founded the brand, in Woodbridge, Suffolk.
Interview with Organise-Us by guest contributor Helen Curtis
"Whatever it is that makes you busy we've created a diary to help you organize your busy life" Vicci Butler, Organise-Us.
Friends Lisa Cherryman and Vicci Butler launched the Organise-Us range in 2009. As busy working mothers, they soon realised there was gap in the market for a beautiful but practical diary.
Lisa explains, "Although there is some beautiful, sophisticated stationery out there, we found it wasn't necessarily practical when it came to organizing our busy lives. It was then we decided it was time to make our own".
The result was a range of beautiful, perfectly-bound diaries, address books, and visitors books finished in leather as well as a non-leather version called pellaq. The range is aimed at busy mums and discerning customers who want good-looking and high-quality practical products.
Hand finished in England by master craftsmen
Hand-finished in England by master craftsmen, the diaries cover a 16-month period. If you're a mum they work perfectly as they cover the start of the new school term in September with a four-month carry-over. They're also great if you're working in a full-time job with longer leave times. For instance, if you're a lawyer you need a smart looking – but useful diary – especially when you have cases often booked months in advance. Colors in leather change every season, although the pink in the pellaq is repeated as it has proved to be a best-seller.
Their products are distributed online and at selected events, such as school and seasonal fairs, charity fund raisers and special sales all frequented by busy mothers. For example, they show at the exclusive Hurlingham Club in London every year.
Bespoke work for luxury clients by Organise-Us
Organise-Us also do a lot of bespoke work for corporate clients like Mustique Villas, the Four Seasons hotel group and Estee Lauder and are happy to emboss for their clients.
They soon found that business was booming. They have just launched their 2014 Organise-Us diaries and are already taking orders on the limited edition leathers. Year on year the business has continued to grow strongly – 90% of their customers will re-buy, in addition to first-time buyers.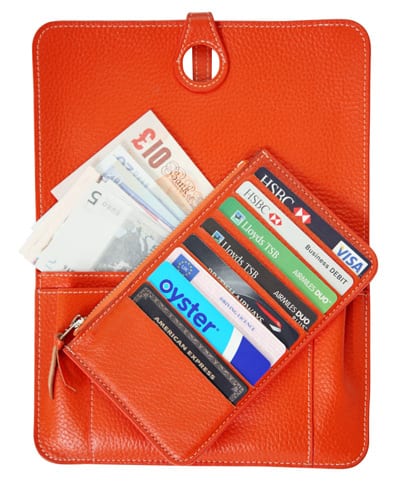 As well as their bound ranges they also source new products. If the women find a product which fits a useful and practical niche, they have no hesitation in introducing it to their range. They just ensure it looks beautiful and sophisticated at the same time.
Make up bag approved for airport security
In July they will be introducing a see-through make up bag which can be taken through airport security and has been airport approved.  Because they're a small brand they do keep the items concise and the range limited.
Lisa and Vicci have been friends ever since they were children and living in the eastern county of Lincolnshire. Lisa's three children are now teenagers while Vicci's two boys are a bit younger. They met at swimming class through their parents. Bizarrely they both lived in the same house – although not at the same time – after Lisa's parents bought it from Vicci's. They even each had the same bedroom in the house!
Vicci now lives in Surrey in South East England while Lisa recently moved to the historic market town of Woodbridge in Suffolk, where she also runs her shop called 10 Church Street.
The idea of setting up a diary came to them while relaxing in a health spa one day back in 2007. They started talking about what they could do and what would work around their children. Vicci had always wanted to design a diary but needed some help getting it off the ground.  Between them they came up with the concept of Organise-Us.
Vicci, who's from a banking background, mostly looks after the financial side of the business while Lisa, who is experienced in product development, works on the production side.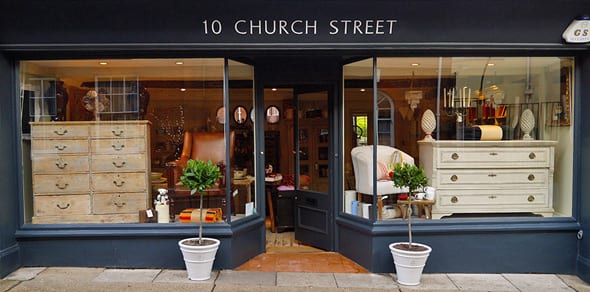 Lisa has also been successfully running her shop, now in its second year. It's a beautiful space, stocked with unique, antique furniture and lifestyle products.  The full range of Organise-Us is also available and on display at the shop.
They describe themselves as busy, active, working mums.  Between building their business, coming up with ideas and new products, and Lisa running her shop, they're left with little time for much else.
"While Organise-Us is currently a niche brand with a predominantly UK customer base there is much potential for growth as brand recognition continues," said Vicci. "We find the best advertisement for our products is personal recommendation and them being coveted by admirers who may not yet have seen them but then want them."
You can buy the products in the US online through their website Organise-Us. Vicci is also a regular visitor to the States, in particular to Nantucket where she combines business and pleasure.
Organise-Us organizes me
It's annoying enough on international flights only being able to hand carry miniature skin products, so I know what I'll be ordering before my next trip to London. Goodbye plastic storage bags, hello new make-up bag!
When I opened the present from my friend in London, I wondered if I would actually use my diary and notebook.  Then I became reliant on them.  A sixteenth month diary works for me, especially with children and blogging.  When the kids finally fall asleep, I like to take a break from my computer and jot down ideas in my notebook.  And, like the words embossed on my notebook, it makes me feel more like a yummy mummy than a slummy mummy.   The two mum entrepreneurs of Organise-Us are building up a successful British brand because they understand that women need practical products but prefer them looking beautiful at the same time.