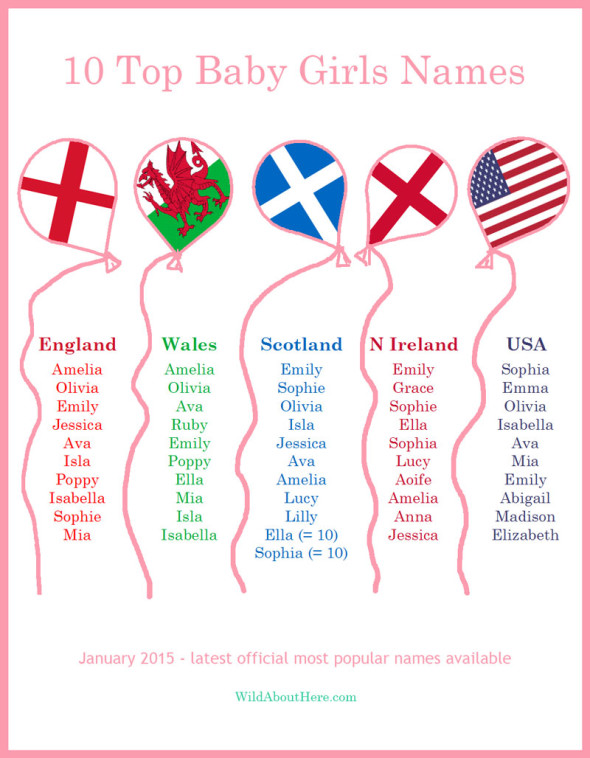 It's my annual update comparing the top 10 baby names for girls in England, Wales, Scotland, Northern Ireland, and USA.
As of January 2015, these are the latest most popular names available from official records of registered births.  The top 10 favourite names were all for 2013 apart from Scotland which has already released provisional data for 2014.
Who's a popular girl?
I was quite surprised to see that the girl's name Emily was in the top 10 favourites in all five countries.  Other popular girls names are Ava, Mia and Olivia.
Want more inspiration for girls' names?
A great place to look for inspiration is in the lists ranking the top 100 names for girls. Here are some random names from each of the top 100:
Scotland – Lily, Iona, Megan, Willow, Neve, Lucie, Charlotte, Rose, Harper, Cara
USA – Ellie, Aubrey, Victoria, Savannah, Serenity, Genesis, Nicole, Piper, Ashley, Aria.
England – Alice, Tilly, Skye, Harriet, Eleanor, Jasmine, Paige, Beatrice, Ivy, Florence
Wales – Freya, Darcey, Matilda, Mila, Molly, Brooke, Caitlin, Sienna, Esme, Libby
Northern Ireland – Ciara, Bella, Scarlett, Eimear, Robyn, Hannah, Rachel, Catherine, Maisie, Daisy.
Sources for 2013 and 2014 Names For Girls
These are the latest top ten girls' names available – as of January 2015 – according to registered births in the United Kingdom – England (2013), Scotland (2014), Wales (2013) and Northern Ireland (2013) – and the Social Security Administration in the USA (2014).
2013 Top baby names in England and Wales:  Office of National Statistics
2013  Northern Ireland: NISRA
2013 USA: SSA
2014 (provisional data) Scotland: NRS
The top baby girl names in 2014 for England, Wales, Northern Ireland and USA, won't be released until late 2015.  Wonder how William, Harry and George are doing as popular names? Then have a look at the January 2015 baby boys names post showing the differences and similarities in the top 10 boys names for these countries.