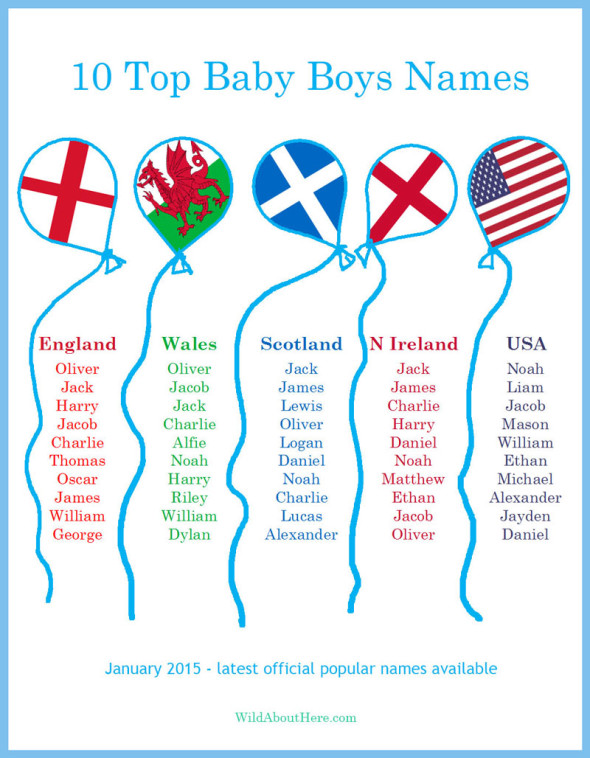 This is my annual list of the top 10 baby boys names in the UK and USA.  The boys names in each list are from the latest official data available (as of January 2015).
Want some ideas for a baby boy name? My lists compare the most popular names for boys in England, Wales, Scotland, Northern Ireland and the USA. The list is made up of names released by the official record offices of England and Wales, Northern Ireland, and the USA according to registered births in 2013. Only Scotland has released provisional data for 2014 (provisional as it's only for 11 months in 2014 and doesn't include December).
How popular are the names of Prince Harry, Prince William and Prince George?
William is rocking the baby world! He's ranked number 9 both in England and Wales as well as number 5 in the USA.
In the USA, William is the top boys name for 14 states: Alabama, Arkansas, Connecticut, District of Colombia, Georgia, Kentucky, Minnesota, Mississippi, Missouri, North Carolina, South Carolina, Tennessee, Utah, and Virginia.
Prince Harry's name is ranked in the top 10 baby boy names in England, Wales and Northern Ireland. In 2014 he dropped out of the top 10 in Scotland. I'm afraid his name is not very popular in the USA – he's all the way down at number 707!
Prince George, born July 22, 2013, hasn't had time yet to build up popularity. He's only in the top 10 in England.  In the USA he's number 157 – the last time Georgie was in the top 50 there was in 1974.
Just over 110 years ago – in 1904 – Prince William was also the top name in England, George was 3rd, and Harry was 18th.
Big contrast of boys names in UK?
Oliver was the favourite boys name in five regions of England, while Muhammed was the top baby name in London and Mohammed in the West Midlands.
Jack, the top baby boys name in Scotland and Northern Ireland, also was number one in the North East and East of England.
Inspiration for baby names for boys from top 100 lists
Want some more inspiration for baby names? Here's some more boys names from the top 100s:
Northern Ireland – Lorcan, Robert, Blake, Tyler, Samuel, Aidan, Henry, Ciaran, Leo, Jay.
USA – Gabriel, Hunter, Owen, Nicholas, Angel, Kevin, Easton, Thomas, Grayson, Xavier.
England and Wales – Teddy. Ibrahim, Ronnie, Felix, Austin, Albert, Theodore, Hugo, Riley, Elijah.
Scotland – Liam, Connor, Ben, Arran, Cooper, Rhys, Hamish, Ross, Cole, Murray.
Sources for 2013 and 2014 Names For Boys
These are the latest top ten names available – as of January 2015 – according to registered births in the United Kingdom – England (2013), Scotland (2014), Wales (2013) and Northern Ireland (2013) – and the Social Security Administration in the USA (2014).
2013 Top baby names in England and Wales:  Office of National Statistics
2013  Northern Ireland: NISRA
2013 USA: SSA
2014 (provisional data) Scotland: NRS
The top baby boys names in 2014 for England, Wales, Northern Ireland and USA, won't be released until late 2015.  Need some ideas for girls' names? Up next is the January 2015 update for the most popular girls names in England, Scotland, Wales, Northern Ireland and USA.