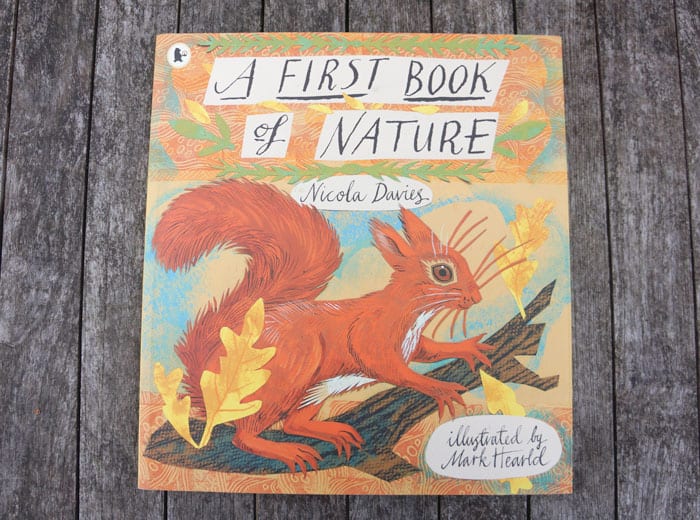 My daughter discovered a very special book on nature for children. She was drawn to the cover and then slowly looked through the pages before telling me she really wanted A First Book of Nature by Nicola Davies. I had just told her to pick any book when we visited Wakehurst Place managed by Kew Gardens, the world renowned botanical gardens.
It is an absolutely enchanting and riveting introduction to the world of nature and the seasons for young children. Don't be surprised if as an adult you too just want to enjoy its lyrical magic and the textural illustrations by Mark Hearld.
In the US it's called Outside Your Window: A First Book of Nature.
Instead of just being a non-fiction kids book on nature filled with facts and photos, it guides the child through the seasons with poems, observations and even some activities.
Spring in A First Book of Nature
A time for bulbs to appear "And water sings: Grow! Grow! Grow!"  Migrating birds return, frogs croak, lambs' tails wiggle, cherry trees blossom and you can follow a recipe for making compost.
Summer in A First Book of Nature
"Time to look at the sky, and dream," listen to the songs of frogs, birds and crickets, the hums of bees and tiny birds calling out feed me, feed me, feed me.  Learn how caterpillars change into butterflies or how to make a den.
Autumn / Fall in A First Book of Nature
Enjoy the excitement of Autumn (Fall) when the wind brushes your cheek, frost forms diamonds in spider webs, the weird shapes of fungi appear above dead leaves, the taste of a crisp apple and you can follow a recipe for making berry crumble.
Winter in A First Book of Nature
Notice the shape of branches in naked winter trees, the dance of starlings flying together in the sky, the sight of a deer at dawn, the sound of silence after snow and you can follow a recipe to make a bird cake.
Author and Illustrator
The award-winning author Nicola Davies is a zoologist by training and worked for BBC's Natural History Unit.  Her recent children's books include Tiny, The Promise, Whale Boy, The Elephant Road and Walking the Bear.
The passion for nature and wildlife exuded in the text is complimented beautifully with the illustrations by the distinguished artist Mark Hearld.  After studying illustration at Glasgow School of Art he gained an MA in Natural History illustration at the Royal College of Art.
A First Book of Nature was the winner of the 2013 English Association Picture Book Award for non-fiction 4-7 years book category.  Not surprising there are fabulous reviews and recommendations for this children's nature book on Amazon:
Available on UK Amazon and Available on US Amazon.
It's a perfect book with poems to read aloud to a young child about the wonders of nature. It's a perfect book for a young reader to be inspired about wildlife and learn to observe the natural world. As an adult I want to keep it on our coffee table for my kids to constantly pick up and peruse as the seasons change. We also laughed when A First Book of Nature revealed the five reasons why you should keep chickens!