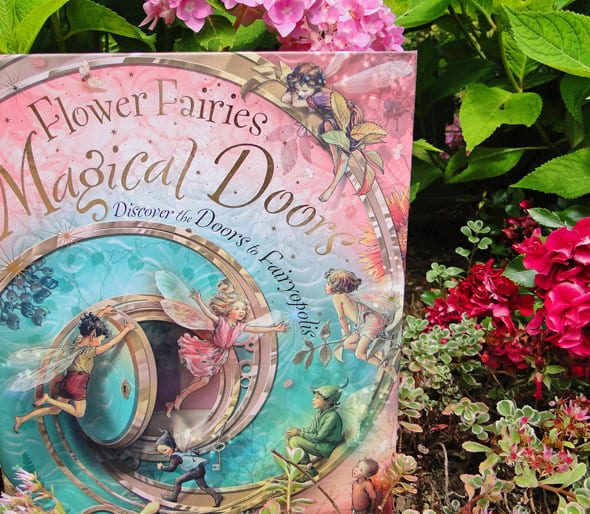 Are flower fairies real? Yes they are according to my young daughter and many other children of the 21st century. Especially the flower fairies painted by British illustrator Cicely Mary Barker. Ninety years after her first fairies made their appearance in the Flower Fairies of the Spring they are still flying through gardens and amongst trees and off our bookshelves.
My daughter this week ignored all the books on the central display in the children's section of a large bookstore except one: Flower Fairies Magical Doors. Recognizing the smiling innocent faces on its cover she seized it and clutched it tightly to her.
Cicely Mary Barker may have been born 118 years ago in 1895, and died in 1973, but her flower fairies are still alive and capturing children's imaginations. She published seven flower fairy books between 1923 and 1948 containing verses and detailed drawings depicting fairies and flowers. In 1985 an eighth book – Flower Fairies of the Winter – was published posthumously.
Flower Fairies Magical Doors is a story of two best friends – Evie and Grace – who keep finding doors which when opened give glimpses of disappearing fairies before the doors themselves vanish. In the final scene there is a large intricately cut and detailed fairy ball pop-up. The book is subtitled 'Discover the Doors of Fairyopolis.' It's a simple storyline with flaps that keep kids hooked and which cleverly make many of the fairies disappear when you open them.
The beauty of this 2009 book is Cicely Mary Barker's illustrations. They are her flower fairies and not another illustrator's modern interpretation. The flowers are also hers. But their original botanical landscapes have been rearranged. Shirley poppy flowers are next to her Sweet Pea fairies originally from Flower Fairies of the Garden.  The silver birch fairy from Flower Fairies of the Trees makes an appearance with different wings. The sycamore fairy is seated on an apple tree branch.
Cecily Mary Barker made sure her botanical drawings were completely accurate and finely detailed. She even collaborated with the staff of Kew Gardens in her search for plant specimens.
Were flower fairies real to Cicely?
In the foreword of her seventh book published in 1948 – Flower Fairies of the Wayside – she wrote, "I have drawn all the plants and flowers very carefully, from real ones…But I have never seen a fairy; the fairies and all about them are just 'pretend.'"
The first series of Flower Fairies books came out in the 1920s during a time when many adults wondered if fairies really were real. Amongst them was Sir Arthur Conan Doyle, author of Sherlock Holmes as well as The Coming of the Fairies in 1922.
Were the Cottingley fairies real?
In 1917 two sisters claimed they had taken photographs of real fairies in their garden in the village of Cottingley in West Yorkshire, England. Two more of the famous Cottingley fairies photographs were released to the public in an article by Doyle in 1920. The first flower fairies book by Cicely Mary Barker was published in 1923. Whether people believed in fairies or not they were all the rage. Even Britain's Queen Mary at the time was a big fan of fairy art. Cicely's fantasy images of innocence also touched a chord with the war-weary society of the 1920s.
But the illustrator was also influenced in her watercolor and pen paintings of fairies by the Victorian Pre-Raphaelite artists and their followers such as John Everett Millais, Edward Burne-Jones and Dante Gabriel Rossetti. Like them she believed in accurate and detailed depictions of nature.
William Morris, the designer famous for his wallpapers and the Arts and Crafts movement, was also associated with the Pre-Raphaelites. I could have felt cynical about Flower Fairies Magical Doors being just a merchandising gimmick, but I was delighted by the opening two page spread. The scene showed the interior of a room with fairies hiding amongst the flowers of what looked like William Morris wallpaper.
Cicely Mary Barker was also known to be a great admirer of children's illustrator Kate Greenaway (1846-1901). Greenaway's depictions of children in old fashioned costumes also had an effect on the Arts and Crafts movement.
In 1923 Cicely Mary Barker was paid £25 by the publishers Blackie & Son for her book Flower Fairies of the Spring with its 24 illustrations and verses. In 1902 publishers Frederick Warne published the first Beatrix Potter book.  In 1983 Penguin Books acquired Frederick Warne. In 1989 Frederick Warne under the Penguin umbrella acquired the rights to Cicely Mary Barker's Flower Fairy books. (I hope you followed that trail of publishers!) Since then, these classic books have been reintroduced to the children of the late 20th and early 21st centuries.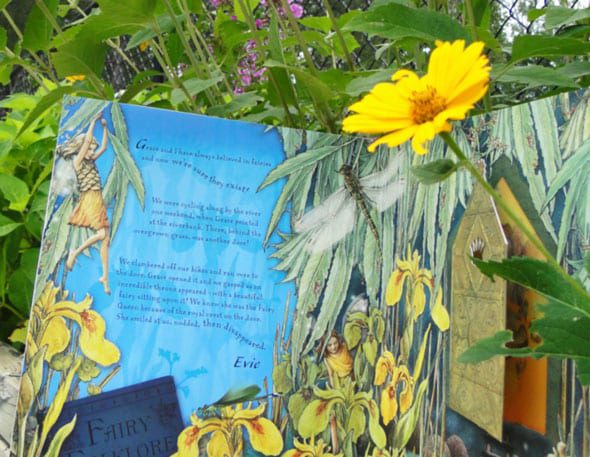 Flower Fairies Magical Doors might be a spin-off but it reintroduces the magical world of these child fairies to a new generation. While my son only believes in the tooth fairy, my daughter was entranced by the fantastical and detailed illusions in the book and is even more convinced now that fairies are real.
The post includes links to US Amazon. Flower Fairies Magical Doors and her series plus spin offs of Flower Fairies are also available on UK Amazon.