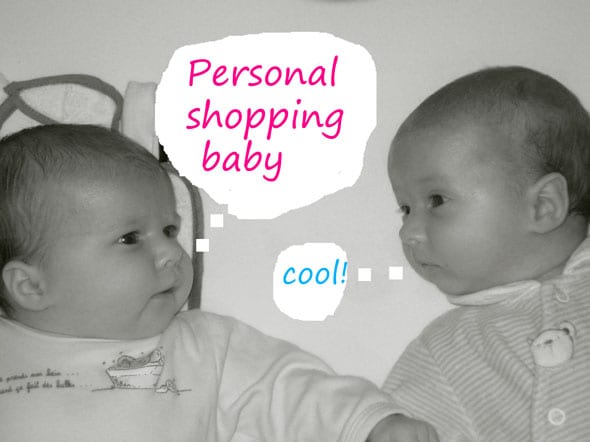 Personal shopping baby?
What do you do if you're pregnant and not sure what you'll need for the baby? Personal shopping baby.
When it comes to getting the nursery ready and having everything you need for the arrival of a new child, then in Britain you can book an appointment with a personal shopping service for baby gear. Whether you require pure cotton scratch mittens, cots, changing mats or nipple cream, by using a bespoke shopping service for expectant parents everything is available for you to order in one go.
What do you do if you're pregnant and need expert advice on the best baby products? Personal shopping baby.
Two of the top services in London are Babylist and Baby Concierge. They specialize in unbiased advice on what to buy for your baby. One of London's top maternity hospitals, the Portland, even offers a complimentary consultation with Babylist as part of their maternity package benefits.
The British department store chain John Lewis also has nursery advice and list services. If you book an appointment a nursery advisor will meet with you, discuss your needs and take you on a tour of their nursery department to put together a list.
I used Babylist, which has two showrooms in London, when I was pregnant. You can only visit their showrooms if you've booked an appointment.
What do you do if you're busy working crazy hours but need to buy all the stuff for your new baby? Personal shopping baby.
Having focused all my time working in a newsroom, I was completely clueless and needed advice. I also didn't have the time or energy to go on baby shopping sprees. With my mother in tow, I met with the Babylist consultant. Over a nice cup of tea, we discussed what my lifestyle and personal needs would require for life with kids. As I was pregnant with twins, I needed double or more of everything.
What do you do if you're pregnant and don't want to trudge around all the baby shops and department stores? Personal shopping baby.
The showroom is like an Aladdin's Cave of baby stuff.  Babylist tries to have a wide choice for everything. As they don't keep stock of anything apart from what's in their showrooms, they can give you independent advice. You can inspect, touch, smell, try on, measure, push and hold all the mother and baby paraphernalia.
If you're a first time mother how do you know what baby essentials to buy? Personal shopping baby.
After my consultation, my personal list encompassed the following:
BABY TRANSPORT: strollers and baby seats.  Also see my post on British baby strollers.
NURSERY FURNITURE: baskets, cots, mattresses, changers, baby sitters.
LINENS: sheets, mattress protectors, blankets, swaddling, muslin squares.
NURSERY: baby monitor, feeding pillow, changing mats, nappy (diaper) bins, thermometer, fleece, nail scissors, play gym, laundry basket.
BABY CLOTHING: bodysuits, nighties, bibs, scratch mittens, baby sleeping bags, receiving blankets.
BATHING: bath thermometer, top and tail bowl.
FEEDING: bottle sterilizer, feeding bottles, bottle brush, bottle warmer.
MOTHER: changing bags, nipple cream, personal stuff for hospital.
What do you do if you want to buy luxury and practical things for your baby? Personal shopping baby.
From the top of the line to the practical was on display – all available at normal retail prices.  I just wanted simple pure cotton newborn bodysuits or onesies, but I couldn't resist some beautiful receiving blankets. I also admired some gorgeous luxury items but decided they didn't fit my budget.
The personal shopping services make sure their showrooms not only have the essentials and popular reasonably priced products, they also have hard-to-find or top luxury baby products.
What do you do if you're having a baby but are famous and want to keep out of sight of the paparazzi – like Kate Middleton? Personal shopping baby.
The nursery shopping services mean you can do your entire baby shopping privately. No other shoppers or shop assistants with camera phones or twitter accounts to reveal your choices if you're a celebrity or high profile mother-to-be. You can put your feet up and rest while you shop. I do not know if The Duchess of Cambridge, that is Kate Middleton, used one of the bespoke shopping services for babies. However, it probably would have been the most practical way for her to do all her baby shopping away from prying eyes and lenses.
Once you've finally confirmed your list and paid for it, then the baby service orders it all for you.  You don't have to do this on the first visit. I made a couple of repeat visits. Changed my mind.  Added to the list.  Cancelled items. The baby concierge services not surprisingly are very patient with pregnant mothers.
Then everything is delivered to your door in one shipment. Delivered on the date of your choice.
I had all the baby essentials I needed. I was prepared on the nursery front. How did I do it so simply? Personal shopping baby.