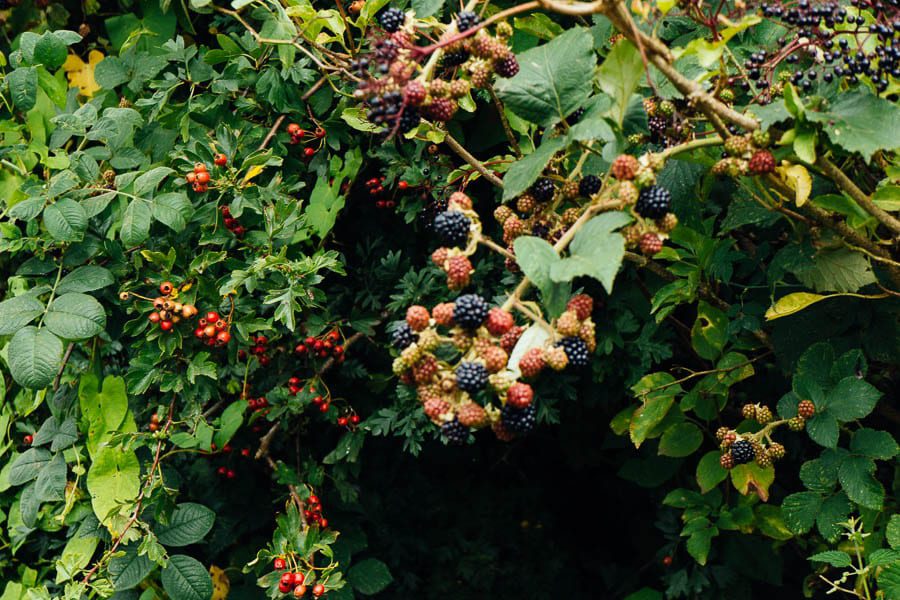 In past late summers a simple pleasure would be those walks in search of blackberries growing in hedges, woodland and grassland.
"Nobody in the lane, and nothing, nothing but blackberries,

Blackberries on either side, though on the right mainly,

A blackberry alley, going down in hooks, and a sea

Somewhere at the end of it, heaving. Blackberries" (Blackberrying by Sylvia Plath)
Then I remember the first time I took my children foraging for blackberries. Unfortunately it was a chilly and rainy August in France. Too cold for swimming but the blackberries had ripened. My two would eat everything they had picked by the time we returned to our holiday home. Their smiles and stained hands reminding me of my own as a child.
Now we don't need to leave our garden. The first few appeared for us in late July but it's only been since mid-August that we've been able to seriously start picking. Blackberries ripen depending on the weather earlier in the year.
In one corner of our garden brambles thick with fruit grow alongside thistles in the wild field next to it. Stinging nettles guard the fruit ripening on the thorny branches making this a rather tricky spot for gathering the fruit. (Luckily I found some dock leaves close to here after one attempt!)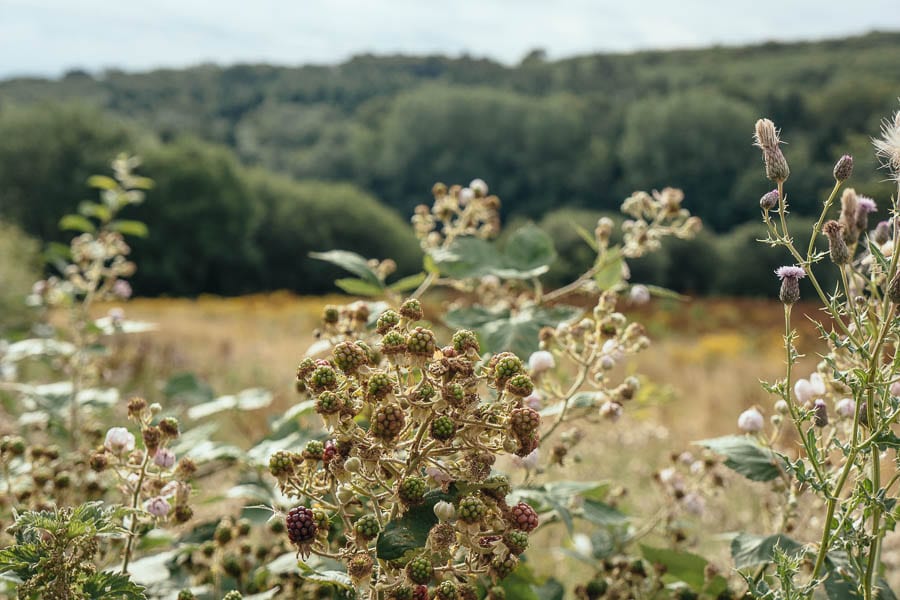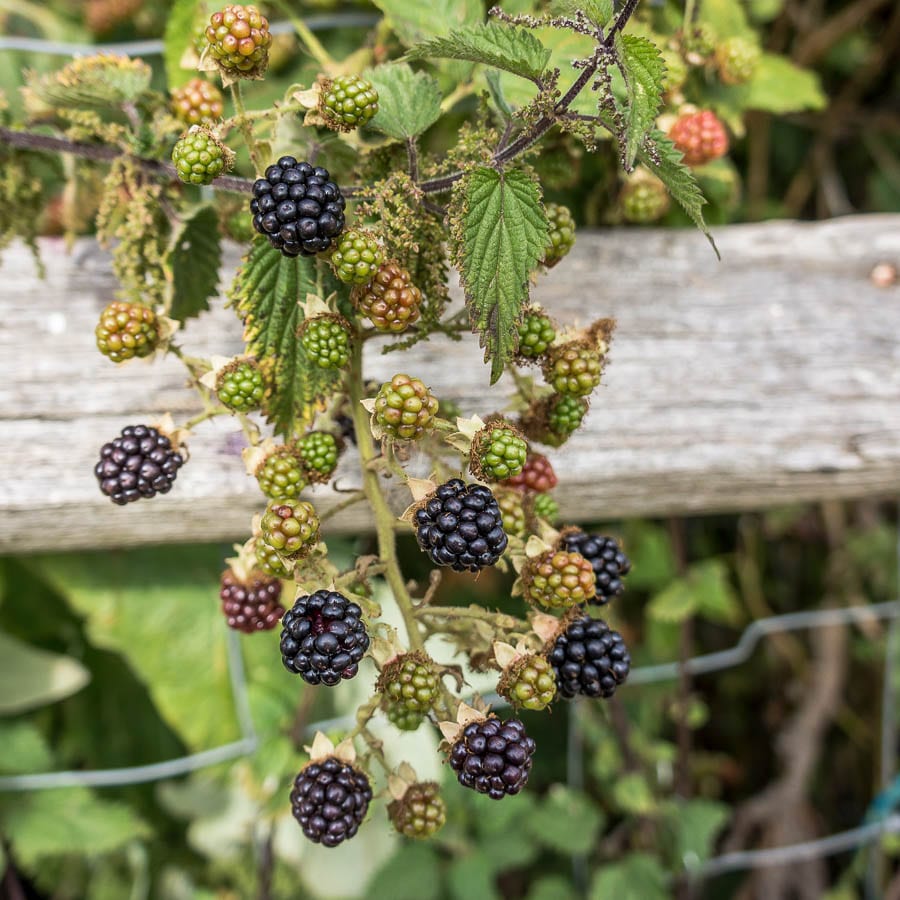 But the bonanza crop can be found in a hedge lining the lawn in another part of our garden. The next few weeks we'll have to pick daily as the aggregated fruit turn from green to red to black. This hedge is just filled with more blackberries than you can imagine.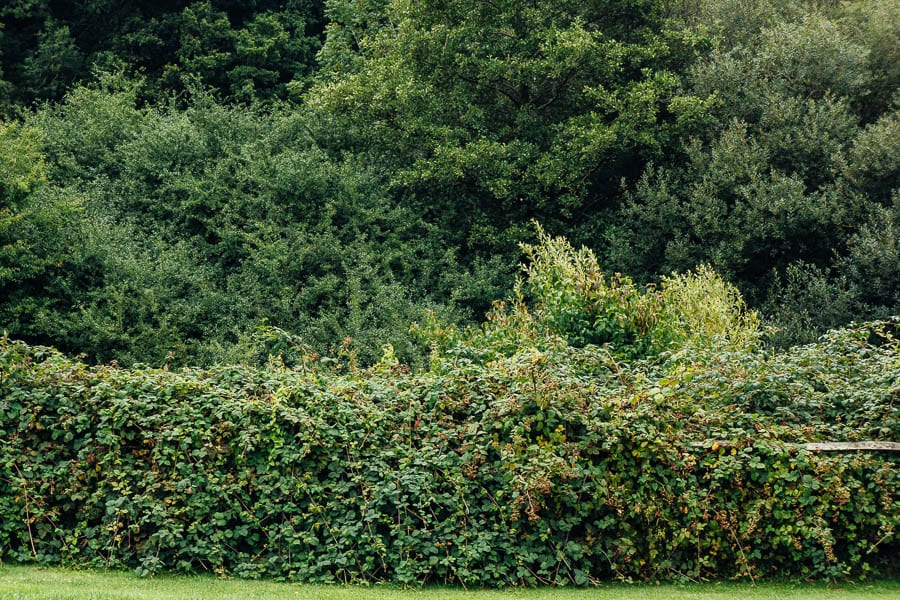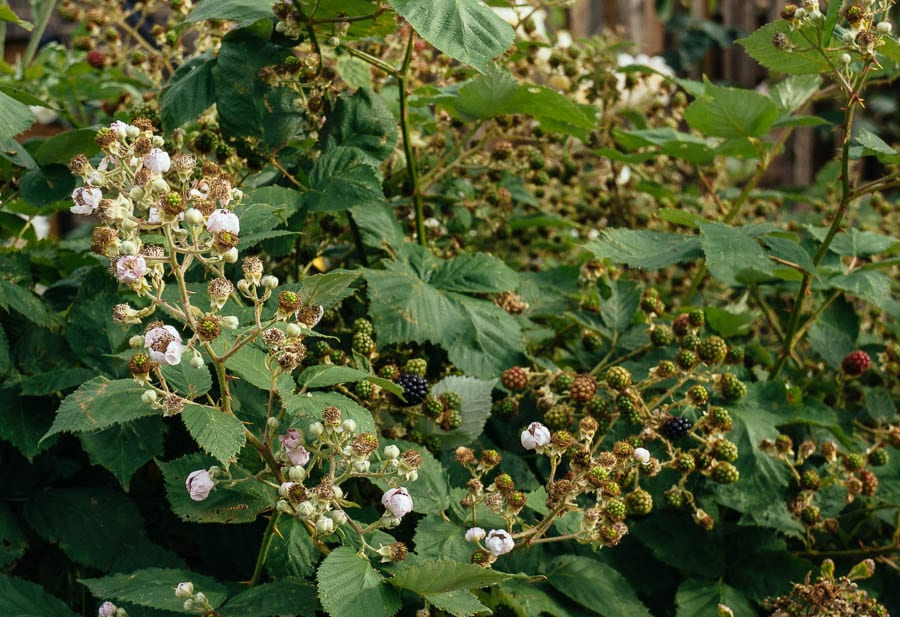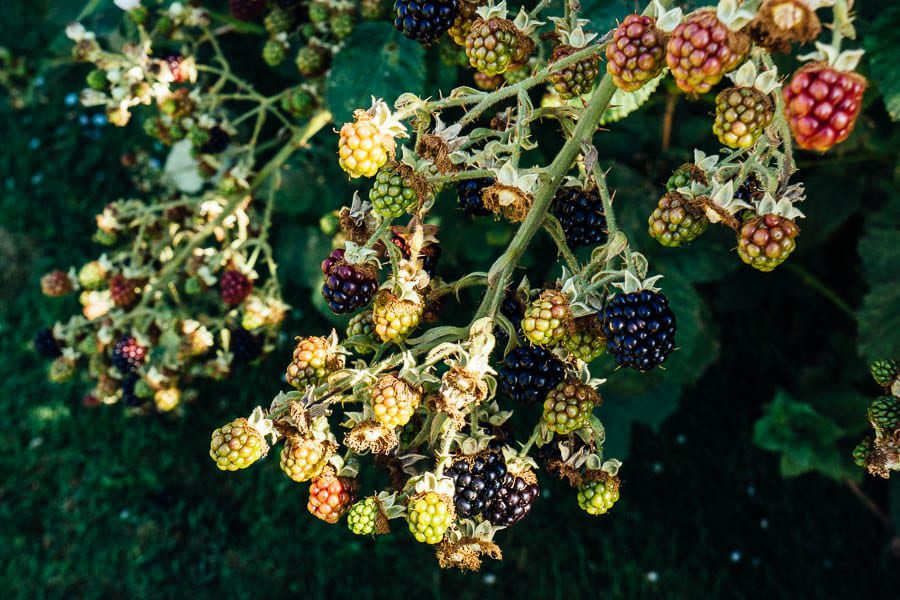 At first, just one, a glossy purple clot

Among others, red, green, hard as a knot.

You ate that first one and its flesh was sweet

Like thickened wine: summer's blood was in it

Leaving stains upon the tongue and lust for

Picking. (Blackberry-Picking by Seamus Heaney)
Already I've started cooking. We have so many blackberries that I will need to make fools, sorbets, crumbles, jams and sauces. I need to empty out a freezer drawer so I can freeze them on trays before putting them together in a freezer bag. And perhaps save some to concoct a tipple just for grownups!
Naturally we're sharing them with the wildlife living with us in our rural Sussex valley. Often birds flutter out from their hiding places in the brambles when we approach.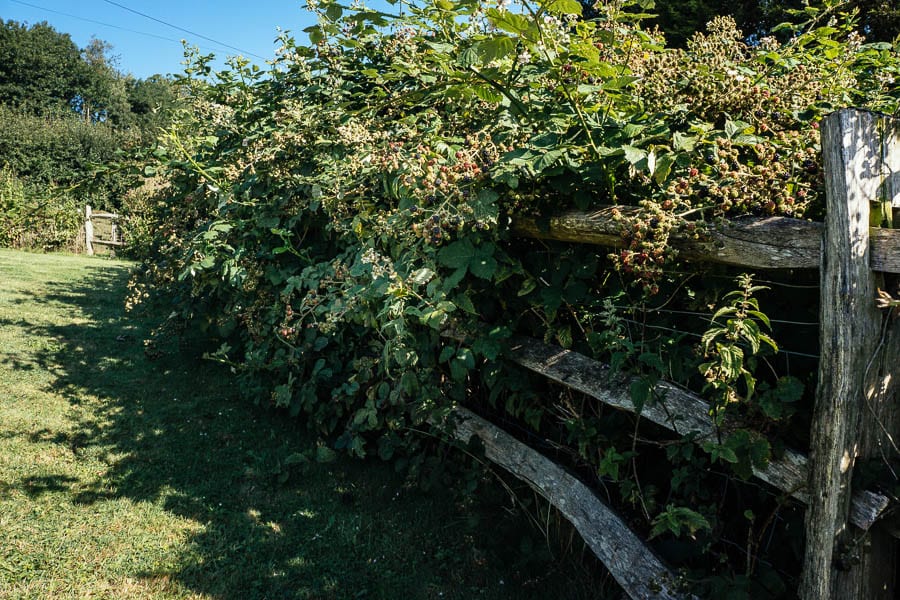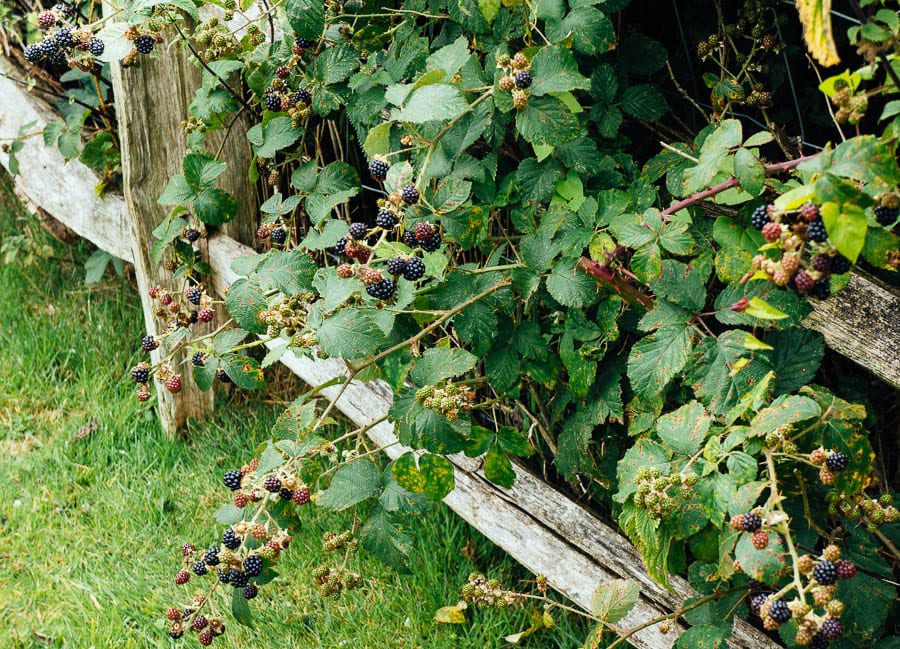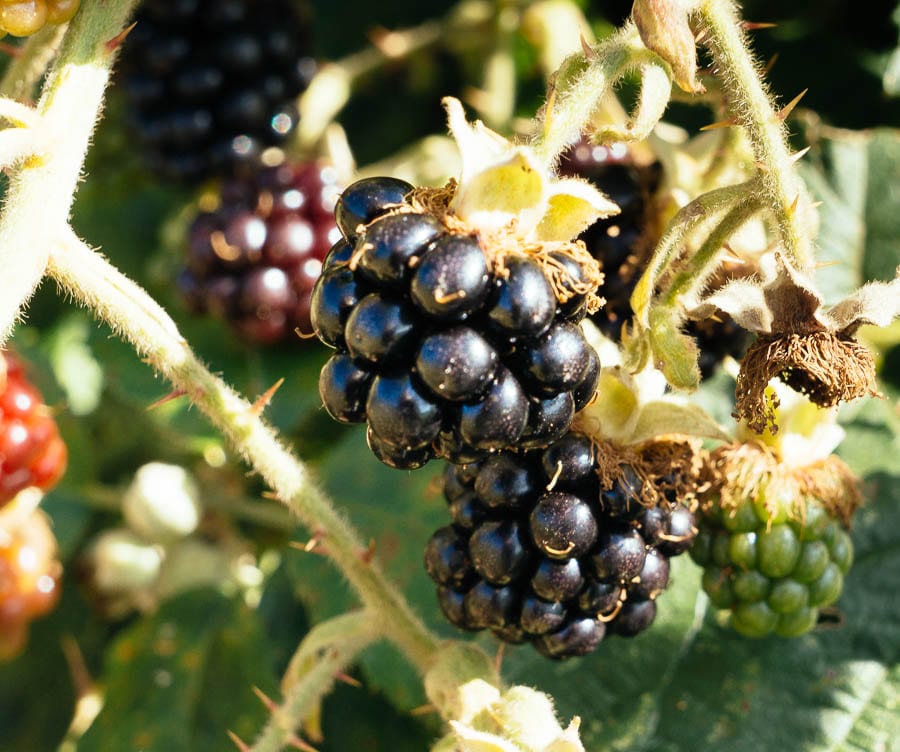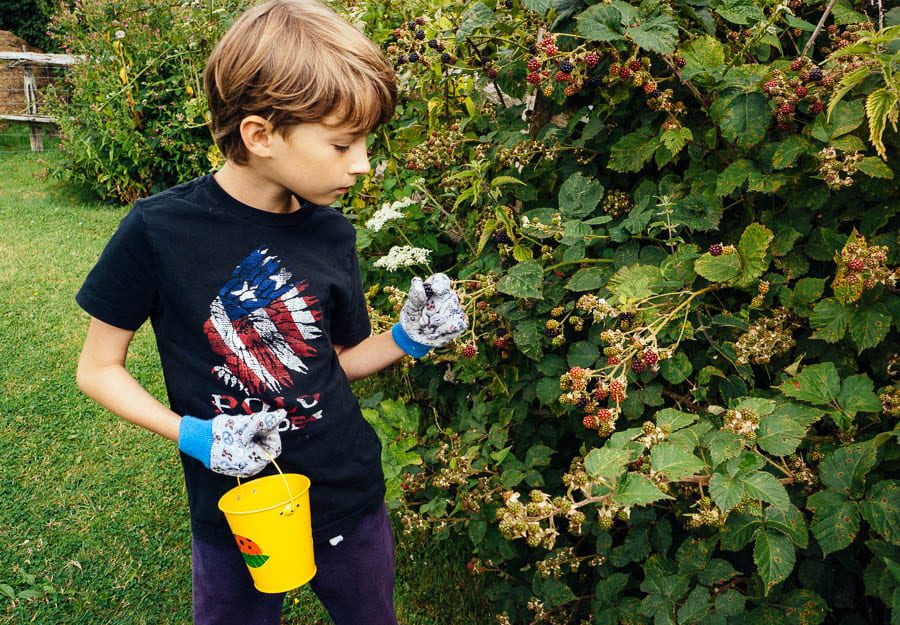 Not all of the blackberries are the same size or flavour. One part of the hedge leaning against our fence produces big juicy black fruit while just a few steps away they are smaller but sweeter. Not surprising as there are around 400 species in UK alone.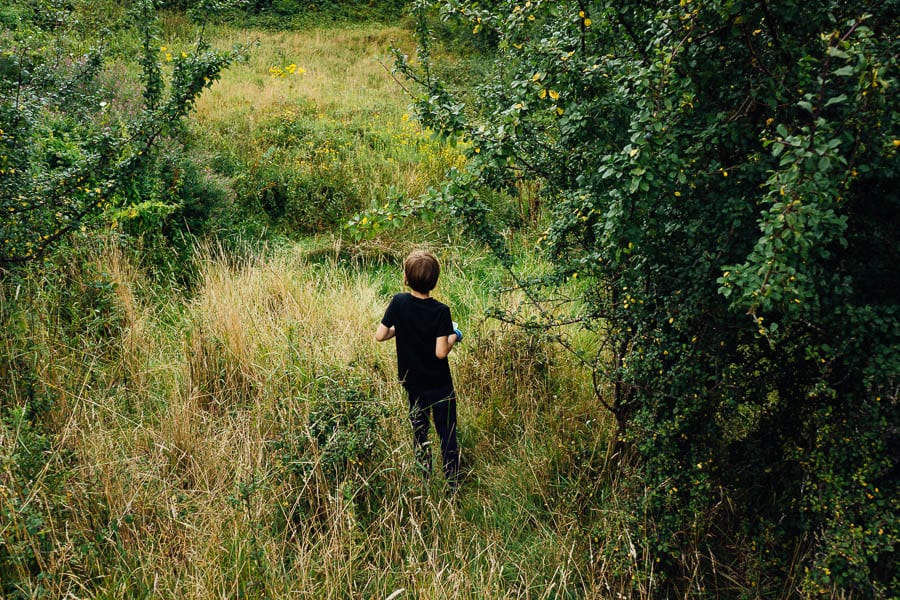 I went with Theo to have a look behind this hedge but the brambles are so thick and wild we could not get close. So back we returned to our garden to pick some more.
On Michaelmas Day the devil puts his foot on blackberries. (Old proverb)
Even if there are still some growing we'll stop on Old Michaelmas Day. According to British folklore on this day Lucifer spat and cursed blackberries after landing on thorny brambles when he was expelled from heaven. It's a sensible warning to stop picking by this date as blackberries will then not only become bitter with tannins but also will contain more fungus spores. Nevermind there's a hawthorn nearby which already has sloe fruit growing on it – but we'll wait and pick them after the first frost.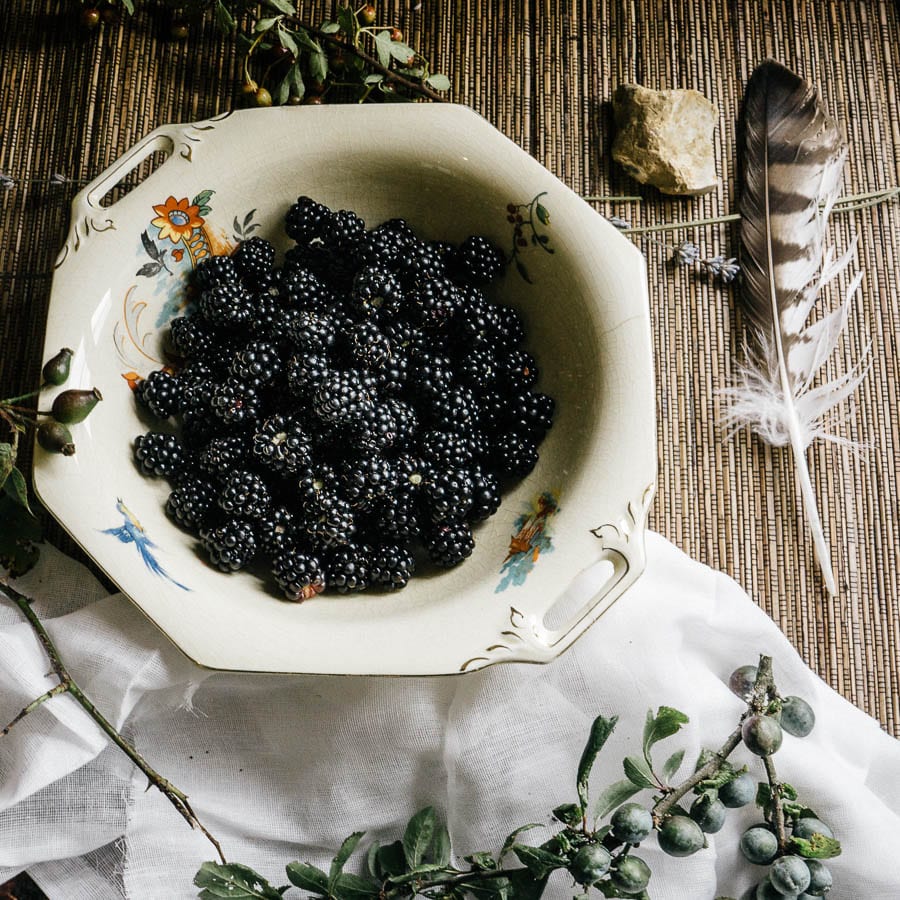 But for now we'll forage for blackberries daily in our garden and then feast on them inside. There's going to be lots of stained fingers and smiles around here in the weeks ahead.