It doesn't matter if you're a billionaire or unemployed with huge debts; you and your children have access to free medical care in Britain.  Every British citizen and resident can use the National Health Service (NHS) from birth to death.
You never have to worry that you can't afford the medical care needed by your child or children.  Free health care is available.
Although the British could win a Gold medal for whingeing (whining) about and criticizing the problems with the NHS's universal health care system (and, don't get me wrong, there are many), they are also incredibly proud of it.
This national pride was demonstrated in the opening ceremony of the 2012 Olympics in London. Oscar winning British director Danny Boyle paid tribute to the NHS with dancing nurses and children jumping on hospital beds.
Free health care benefits for children
I didn't fully appreciate its merits until I had my children.  Despite paying for the private route during my pregnancy and delivery, as described in Born in London: Top Private Maternity Hospitals, my two children received NHS care until we moved from "over there to here" in the US.
Actually my twins benefited right from birth.  Two teams of nurses and extra specialists were present in the delivery room because they were a month premature.  We had paid for a private room and obstetrician and anaesthetist.  The additional staffing and hospital services didn't cost us an extra penny.
When they were about twelve days old, a nurse first came to our home to weigh them and give them a check- up.  Once again it doesn't matter if you're wealthy or poor, the NHS arranges for a midwife or specialist nurse to visit you. You can turn them away.
In some of the British online forums, the mothers complain they don't need them or they're worried the health visitor, as they're called, are snooping about their children's welfare. Personally I felt reassured that my babies were doing fine even though I was able to afford a maternity nanny at the time.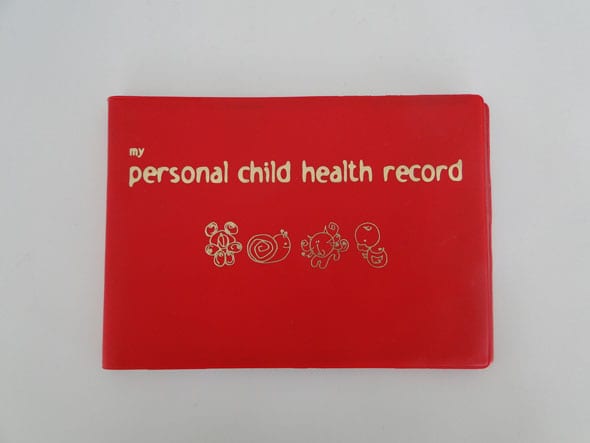 NHS Red Book for children
My health visitor also gave me a "Red Book" for each child. As you can see from the photo, it actually is a large red book called "My Personal Child Health Record."
At first I looked at it in horror.  I had lived in China and it reminded me of the "Little Red Book" with quotations of Chairman Mao that students carried around with them during the Chinese Cultural Revolution.  But it's just meant to be a bright and jolly book with kid friendly drawings on the front, not a symbol of so-called socialised medicine.
Doctors and nurses recorded everything in this Red Book: from new-born hearing screening tests to vaccination records to weight and height measurements.
I then went and visited a bunch of NHS baby clinics within my district before choosing the one I liked most.  As often as I wanted, I could bring in Theo and Luce to be weighed and measured and review their progress with the medical staff during the baby clinic opening times.
The clinic would also contact me when they needed any vaccinations.  All free of course.
If you have an emergency, some hospitals even have a paediatric emergency department.  If they have to stay in hospital, that's also part of the NHS remit.
Basically it's free medical care for children without any fights with insurance companies or any fears of huge bills.
Private medical insurance viewed as a luxury, not a necessity
Currently only about 10% in Britain have private medical insurance.  It's viewed as a luxury, not a necessity.
Private health cover in the UK is considered a supplement and not a replacement to NHS services. Most insurance companies will not cover long term or ongoing chronic conditions.
I admit we paid for private health insurance. I wanted the extra reassurance that I could have access to the top specialists, known as consultants, usually of my own choice if they were available.  Nor did I want to worry about waiting for treatment – although the days of long waiting lists are just about gone.
By the way, most consultants, whether surgeons, obstetricians, oncologists or whatever speciality, work for the NHS and do private work as an extra.
But it was rare I didn't just use the local NHS general practice. When my kids fell or had a high fever, I always could make an appointment or talk on the phone to a doctor the same day. My local services were excellent.
There's also no charge for prescriptions for children under 16, or 19 if they're a full time student.
A civilized country?
The NHS was founded in 1948 due to the vision of Aneurin Bevan, a former Welsh coal miner and then Labour politician.  Bevan is attributed with saying, "No society can legitimately call itself civilized if a sick person is denied medical aid because of lack of means."
Yes, there's lots of politics about the NHS. It's always in the headlines due to its fluctuating standards, inefficiency, scandals and need for further reform. The NHS is tax funded and run by the government in power through the Department of Health and its minister.
Whether left or right leaning, every government has to prove to the voters that they're continually working on improving the NHS system.  Everyone expects high quality treatment.
Some, like British mother of three Deborah Nash, feel that, "There is a fundamental ethical and moral difference in receiving health care funded through government taxes, and a health service which gives billions of dollars to insurance companies."
GOSH a world leader in the treatment of sick children
And there are also amazing children's hospitals like Great Ormond Street Hospital, founded in 1852 and one of the world's top paediatric hospitals. Its day to day running costs are funded by the NHS.  According to Great Ormond Street Hospital, also known as GOSH, "It has trained many of the children's cardiac surgeons currently practising in the United States."
To keep at the forefront GOSH still has to seek charitable support. For example the American financial corporation Morgan Stanley recently helped fund a new wing.
As a British resident, no matter what your nationality, if your child was referred to the Great Ormond Street Hospital because he or she was in need of its specialist expertise, then the NHS would foot the bill. Not you. As medical care is free, no child falls through the gaps because they're uninsured.