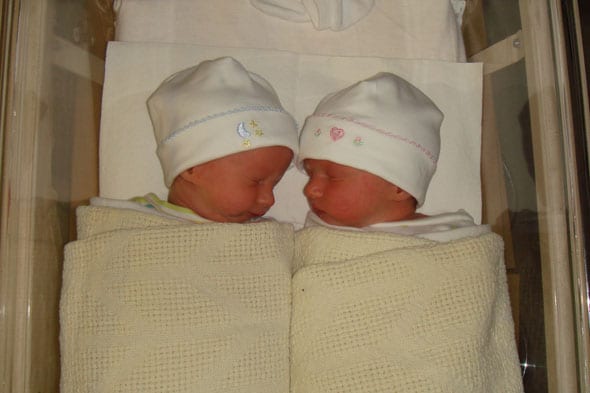 Which private maternity hospital did Kate Middleton choose?
I became a Mum when I gave birth to Theo and Luce in 2007.
Since my consultant practiced at both locations, I had the choice between the private maternity wing in the Chelsea and Westminster Hospital or the fully private Portland Hospital in London.  As I was expecting twins, I preferred the former as it's an NHS (National Health Service) hospital which meant it had top adult emergency facilities if I needed it.
The Portland
Because a high percentage of women have caesarean births at The Portland – 51% in 2012 – it's often called the hospital chosen by women "too posh to push." In 2015, according to the Portland Hospital, 1536 babies were born including twins and 34% of these were booked caesarean section deliveries. According to the National Childbirth Trust (NCT) the caesarean rate in 2013-2014 for UK's NHS hospitals was 26.2% of which 13.2% were elective and 13% were emergency.
The Portland offers deluxe suites and the mother's partner can stay there too. It's also used to dealing with paparazzi outside. The Portland has 5 private ensuite delivery rooms and 18 ensuite bedrooms (13 single, 2 deluxe, 3 suites).
Its top reputation and its luxury facilities have attracted lots of celebrity mums. Victoria Beckham, Elizabeth Hurley, Patsy Kensit, Jerry Hall, Kate Winslet, Jemima Khan and the Duchess of York (Fergie) are just a few of the mothers who've had babies at The Portland.
It's probably the favourite private maternity hospital of the yummy mummy crowd in London.
Prince George and Princess Charlotte and the Lindo Wing
Kate Middleton gave birth to Prince George as well as Princess Charlotte in the private maternity ward at St Mary's where Prince William was born.
Before Prince George was born, there was huge speculation on which maternity hospital would Kate, the Duchess of Cambridge, choose for the delivery of the future British monarch.
On July 22, 2013 Kate Middleton gave birth to Prince George in the private Lindo wing at St Mary's Hospital. Just under two years later Princess Charlotte was born May 2, 2015 in the same wing. The same hospital where her late mother in law Princess Diana delivered Prince William and Prince Harry. The Lindo wing was reopened in 2012 after an extensive refurbishment to provide state of the art and luxury facilities. The Lindo Wing also has 24-hour access to Imperial College Healthcare maternal and foetal specialist services.
In the past some royals have stayed at one of the palaces for a home birth, keeping with earlier royal tradition to have a baby "delivered on royal ground." Queen Elizabeth II – then Princess Elizabeth – gave birth to Prince Charles in her bedroom at Buckingham Palace.
Mind you things were pretty different then.  Instead of confirming she was pregnant, it was officially announced in June 1948 that "Her Royal Highness…will undertake no public engagements after the end of June."
If you want to make your baby feel royal then this is how.
What are some of the other top maternity hospitals in London?
Sadly the favourite place for stars choosing a holistic approach is no longer available. Gwyneth Paltrow, Kate Winslet, Kate Moss, Stella McCartney, Emma Thompson are among the dazzling array of celebrities who had their babies in the private birth unit at St John & Elizabeth Hospital. But it closed down in 2010.
Sir Stanley Clayton Ward
Dame Helen Mirren and Harry Potter's Daniel Radcliffe are two famous actors born at the Queen Charlotte's and Chelsea Hospital, the world renowned maternity hospital and one of the oldest in Europe. Its private Sir Stanley Clayton ward has eight private rooms.
It's equipped to deal with the highest-risk pregnancies with two operating theatres and adjacent high dependency care facilities.
Rooms with a view of Big Ben
Likewise the private Westminster Maternity Suite (formerly known as the Lansdell Suite) at St Thomas's Hospital only has six private beds, all recently refurbished.  They are planning to expand this at the end of 2016.  If there are any difficulties during the delivery then the technical expertise of Guy's and St Thomas' NHS Foundation Trust is available. The private rooms are located on the 12th floor with views of Big Ben and the houses of Parliament.
It's not always easy to book a suite in a private maternity hospital in London. Basically there are not a lot of private maternity suites available.
Chelsea and Westminster
At first I was told all the beds in the private Kensington Wing at Chelsea and Westminster Hospital were booked.  Since then, there have been major renovations and this private maternity unit was expanded from six to sixteen beds.
Luckily one room became free when it was time for me to deliver the twins. Theo and Luce were a month premature and so there were about twelve of us in the delivery room. Two teams of midwives, nurses, specialists, the anaesthesiologist, my fabulous obstetrician, and my husband Bruce were all present with me when two very healthy babies were born. Luce weighed six pounds and Theo five pounds ten ounces!
Why dish out a fortune for private rather than free on the NHS? If you want privacy, your own room, as well as a guaranteed top consultant then you pay for it.
By the way most of the top private consultants also work for the NHS and most health insurance plans won't cover the cost for private birth.  (I actually really care and believe in the NHS as you can see in my post Free Medical Care for Children in Britain.)
Some parents call and sign up for private schools when they're still in the maternity hospital! I explain why here.
And what will your children call you? Or does it depend where you're from? I explain here.
Booking private maternity care also means you're (probably) not going to be turned away and referred to another hospital when it's time to push. Due to the recent baby boom in England which the Royal College of Midwives reported as the highest in 40 years, it's not unusual for a hospital to say there's no room at the inn.