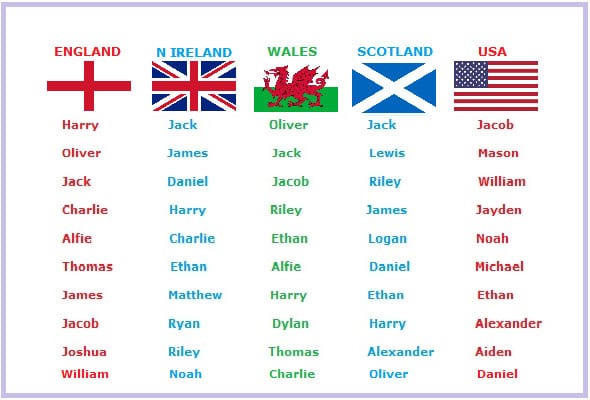 Trying to decide on a boy's baby name?  I decided to compare the top 10 most popular names for the United Kingdom – England, Northern Ireland, Wales and Scotland – with the United States.
AN UPDATED 2013 LIST  OF TOP BABY BOYS NAMES AND BABY GIRLS IS AVAILABLE  –  FIND BABY GIRLS NAMES HERE AND BABY BOYS NAMES HERE. 
These are all the latest official top ten names available.  England, Wales, and USA are for 2011 while Scotland and Northern Ireland released their 2012 top ten baby names.
Prince Harry has definitely charmed many parents as his name is in the top 10 list of boys baby names for all four countries that make up the sovereign state of the United Kingdom of Great Britain and Northern Ireland. Although his name is actually Henry – Harry is just his nickname.
Back in 1914 we all agreed about the most popular name. John was the number one name both in the USA and in England.  John is no longer very popular with the English and has fallen all the way down to number 100 in 2011. But in the last 100 years there have been 4,771,740 babies called John in the USA, making John the number one American name for the century.
Need some inspiration? Have a look at the top 100 names for England and Wales in 2011 in the word cloud.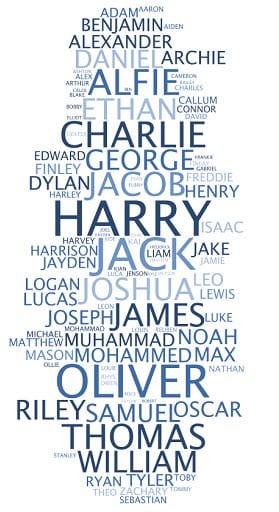 I also compared girls names in my post Top Baby Girls Names.
Sources: 2011 Top baby names in England and Wales:  Office of National Statistics // 2012 Northern Ireland: NISRA  // 2011 USA: SSA // 2012 Scotland: General Register Office of Scotland
Word Cloud: Adapted from data from the Office for National Statistics licensed under the Open Government Licence v.1.0.
SOME OTHER POSTS THAT MIGHT INTEREST YOU:
Do you know which are the best British strollers brands? Which ones are popular with the Royals or celebrities? Read here.
Did you know there are British Mums as well as Moms? Read here.
AN UPDATED 2013  TOP BABY BOYS NAMES IS AVAILABLE  –  FIND BABY GIRLS NAMES HERE AND BABY BOYS NAMES HERE.