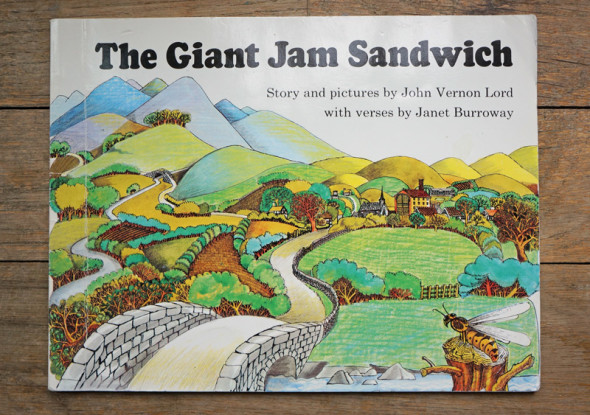 A recurrent theme in reviews of The Giant Jam Sandwich by John Vernon Lord and Janet Burroway is that the book was a childhood favourite…and now the reviewer is reading it with delight to their own kids. And these new young readers also adore it. Not surprising as this children's picture book was originally published in 1972 and is still popular today. Someday our children will be reading it to their children.
And, if you haven't had the pleasure of reading this book as a child, here's the storyline:
Four million wasps have descended on the fictional town of Itching Down and caused havoc on the locals including picnickers, farmers and even Lord Swell.
They dived and hummed and buzzed and ate,

And the noisy, nasty nuisances grew

Till the villagers cried, "What can we do?"
When the villagers gather together to work out how to get rid of them, the baker finally comes up with the solution. They make a giant loaf of bread, then cover a slice with butter and jam in a farmer's field. When the wasps are lured to the heaps of strawberry jam, helicopters and even a flying tractor are waiting in the air above to drop another slice on top of them.
What's made The Giant Jam Sandwich a classic? Why does it bring smiles on children's faces? Easy answer: the wonderful illustrations and storyline by British illustrator John Vernon Lord and the catchy rhythmic verses by American novelist Janet Burroway.
John Vernon Lord, famous for his award-winning illustrations for Aesop's Fables, was also a university lecturer and teacher of illustration throughout his career. In a lecture by Lord on The Giant Jam Sandwich, he recounts how the story first came to him during a holiday in Devon with family and friends. Two young children were terrified of wasps and Lord remembered how his father, a baker, would place "a slice of jam-covered crust some distance away from where we were picnicking in order to encourage aggravating wasps away from our food."
After retelling, developing and even acting out the plot to all the children on holiday, Lord went to his publishers with the storyline and an outline of the picture content. But he explains that, "The writing was awkward and merely described the illustrations I was intending to draw, rather than providing that vital complementary role between text and illustration."
Janet Burroway, a collaborator on another book with him who was teaching at Sussex University at the time, was recruited to write the verses. So that's why the story and pictures in The Giant Jam Sandwich are by John Vernon Lord while the verses are by Burroway.
The illustrations are completely captivating. My children point out and discover different little images and characters in the scenes every time we've read this book together. In the same lecture, Vernon Lord explained, "A good picture book will survive a lifetime of repeated viewing and reading, so it must give continual fascination to children, despite their eventual awareness of the story's final outcome."  He definitely succeeds in achieving this in The Giant Jam Sandwich.
My kids laugh every time at the helicopter scene, which even includes a flying tractor, as they get ready to drop a slice on the gorging wasps. Lord, though says, "The aerial perspective helps to add drama to the situation, but here I think a cooler range of colours and a better positioning of the helicopters would have heightened the tension further." My kids disagree.
It took two years and two months from when Lord came up with idea for The Giant Jam Sandwich while on holiday until it was published in October 1972. Nearly 32 years later it still is enthralling kids. As well as parents who remember this fabulously illustrated book from their own childhood.  It's a book to keep and then hand over to the next generation. Our copy was passed down from my nephew and niece, both now in their 20s, to my children.
The Giant Jam Sandwich is available on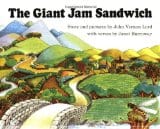 US Amazon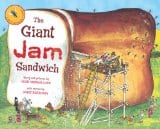 UK Amazon.