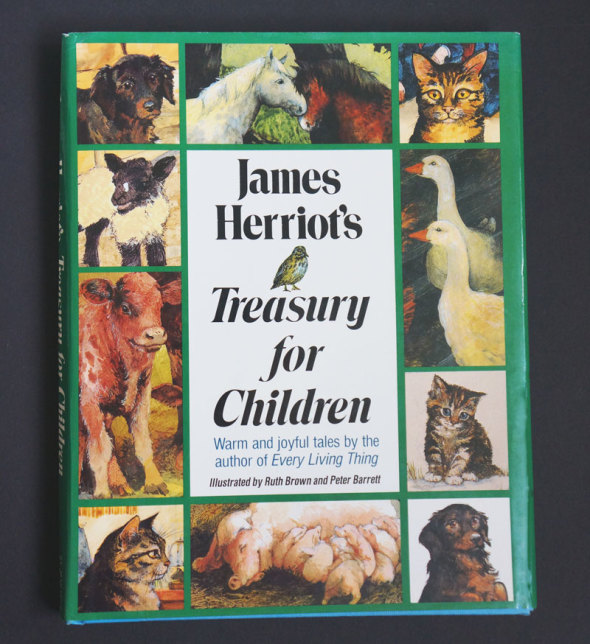 I smiled as I pulled out a large book from a box filled with children's books once owned by my nephew and nieces. When I looked through the pages memories came streaming back of reading the books by this author when I was younger – All Creatures Great and Small, All Things Bright and Beautiful, All Things Wise and Wonderful, The Lord God Made Them All, and Every Living Thing.
Yes, I'm talking about the best selling author James Herriot. Actually that was his pen name as his real name was James Alfred "Alf" Wight (1916-1995). But I hadn't seen this one before – James Herriot's Treasury for Children. Would my children like it? Would it be a good introduction to the vet's tales of farmyard animals and country living? Would the stories be too dated?
The Treasury for Children is a compilation in one volume of eight storybooks written by James Herriot  for children. I had read most of his semi-autobiographical books about his life as a vet in North Yorkshire but never knew he had written and adapted stories for children.
Eight "warm and joyful tales" by James Herriot for children
In the Treasury for Children there are eight "warm and joyful tales" – as described on the cover of the book – written by James Heriot just for children and young readers. In these stories we find out…
Why Moses the Kitten, found half frozen among rushes next to a pond, was fostered by Bertha the pig. Why affectionate sheepdog Gyp lets out Only One Woof.  Why an old dairy cow escapes from the market and returns to her farm in Blossom Comes Home. Why The Market Square Dog gets arrested by the police. Why in Bonny's Big Day the retired carthorse was entered into the Family Pets contest.  Why a stray cat leaves behind The Christmas Day Kitten. What an adopted cat gets up to every time it runs away in Oscar, Cat-About-Town. And what happens to Smudge, the Little Lost Lamb when he decides to explore the big wide world outside his field.
Although my seven year old twins could read these stories themselves, I decided to read out loud one story each night at bedtime to them. Some nights I gave in to their pleas and read more than one. And guess what? My twenty-first century children absolutely loved these stories! They might have been written decades ago but these animal tales were as poignant and relevant today.
Each story shows the compassion of the people living with or taking care of the animals. Nor are they 'talking animals' like my children are used to in all the films they see. They are real animals found in the countryside with quirks of character.  There's something so gentle but realistic about the tales.
The gorgeous illustrations by Ruth Brown and Peter Barrett also make you enter this world of animals and country life portrayed by James Herriot.
I wouldn't be surprised if my parents had originally given this first edition of James Herriot's Treasury for Children as a present to one of my sister's children. Now it belongs to my twins. This is definitely a book I'll make sure stays on our bookshelves to pass on to their children one day.
If you don't have a copy that's been passed down in your family, you can still find one on Amazon UK and Amazon US:
It's also been reprinted as James Herriot's Treasury of Inspirational Stories for Children:

The audio version is popular for long car trips with children but I actually recommend the printed version. To be honest I  enjoyed reading out loud James Herriot's Treasury for Children as much as my children loved listening to the stories while gazing at the illustrations. My daughter was happy when I finished the book only because that meant she could then reread the stories herself.