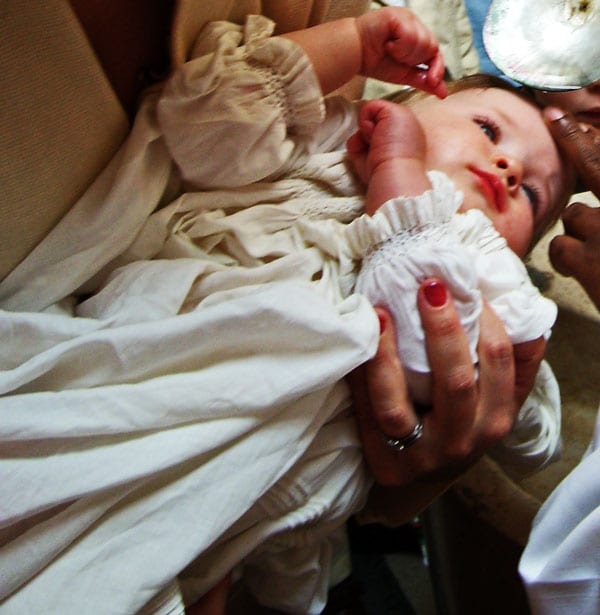 The London christening of my twins was rather special but rather traditional in the British sense. They're also called baptisms in England. Although my children's baptism and party was fairly traditional, times are changing in Britain. Naming parties for starters.
In Britain I went for the full works: christening ceremony in a church, vintage christening gowns, lots of godparents and a catered party at our home in London. And it was lovely. My children happily soaked up all the attention and remained dried eyed during the ceremony. Unlike me. I loved that all the young kids who came along with their parents squeezed up close to the font to get a good view. And we had the perfect Indian summer day. I had fixed up the main reception room for the party but we all rushed out to the garden. Adults drinking champagne and kids playing on the grass – what more could you ask for? My only regret is that there was one close friend I had wanted to be a godparent but I messed it up.
Here's an unofficial guide on how to arrange a christening or naming ceremony if you move to Britain:
Location, location, location
Although we attended and were married in Grosvenor Chapel in Mayfair, which is Anglican, we decided to baptize our children Catholic which is my husband's faith. When our kids are older they can choose which church to follow…or none if they prefer.
Church of England: Baptisms are held in your local parish church usually during the main Sunday service. If you want to choose a different church you will have to find out from the vicar whether it's possible. To find your local parish church you can search this website.

Catholic Church: Find your local parish church and discuss it with them. Don't be surprised if they expect you to do a course or have sessions with the priest before booking a ceremony. Our local Catholic church made it all very simple for us. They had two time slots available every Sunday for Baptisms and only expected us to fill out one form for them.
Special locations: My goddaughter was baptized in the chapel in the crypt of St Paul's in London. This Cathedral is the seat of the Bishop of London and mother church of the Diocese of London. But not everyone can book a christening at St Paul's Cathedral, even if they live in its shadow. My goddaughter's amazing grandmother was awarded an OBE (Order of the British Empire) which meant that her children and grandchildren could have this special privilege.
Another special location for a baptism is the ornate St Mary the Undercroft chapel, first built in 1297, in the Palace of Westminster. I can imagine it would be a spectacular venue after attending a friend's wedding there years ago. But this chapel is almost exclusively for weddings and christenings of members of both the House of Commons and Lords and their families. Godparents can be from any nationality so you never know.
Thanksgiving service: If you want a religious ceremony for your child but don't want them to be baptized, you can have a thanksgiving service instead. The Church of England calls it the Thanksgiving for the Gift of a Child.
Naming Ceremony or Naming Day
Not religious? Prefer not to have your child baptized for whatever reason? Well, you can still have a ceremony and a party if you want to. A naming ceremony –  also known as a naming day – is becoming hugely popular in Britain instead of a christening. You can plan your own celebration with friends and family. Have it at home or hire a special venue.
Or you can get a humanist celebrant to work with you in organizing and holding the event. The British Humanist Organisation can help you here.
Or the local government could be your solution. In Britain the majority of local councils now offer naming ceremonies for parents who don't want their children christened in a church but want to arrange a special event. For example, Plymouth City Council describes the ceremony as "an opportunity to welcome a child/children into a family and community. It is also an opportunity to declare, before family and friends, your promise to be as good a parent as you can. And for adult friends or relatives, chosen by you, to pledge their special relationship with your child." You don't even have to live in Plymouth. But you do have to pay them fees.

The special friends at naming ceremonies are now often called "guide parents" or "sponsors." But there are no rules. Parents have the freedom of holding a naming ceremony exactly how they want it.
Schools?
What do schools have to do with christenings in London or Britain? Let's put it this way, it's not unusual for a parent or parents to go through a religious christening in the hope that their child in the future will get a place in a faith school. Particularly in areas where the state church schools have a high academic reputation and are oversubscribed.
Godparents
We chose close friends to be the godparents of our children. Only a few of them were Catholics. Many of my British friends chose three godparents for each of their children –  usually two godmothers and one godfather for a boy or two godfathers and one godmother for a girl. Although the number of christenings has decreased in the last few decades in Britain, the number of godparents per child has increased. Prince George had seven godparents. Liz Hurley's son had six godfathers. And then there are some surprising godparents: former British PM Tony Blair is godfather to one of Rupert Murdoch's children and Lady Gaga is godmother to both of Sir Elton John's sons.
Christening Party
I waited until Autumns/Fall for the ceremony as many close friends would have been away during the summer school holidays. Invitations aren't obligatory but I designed and printed some out to send to the godparents for our London christening. When I was younger, a couple of times I felt quite hurt when I heard a friend had a christening party and I had been excluded. What I didn't have a clue about at the time was that normally only close family and godparents (and their partners and children) are invited. We did the same except I invited my Mum's best friend of over 40 years. (That's my Mum with the kids in the photo)
As many of the godparents were bringing young children, I hired a former nanny to help out. A local caterer made our lunch. Instead of a cake, I ordered and picked up cupcakes with 'baby' decorations from London's Hummingbird Bakery. And we managed to successfully follow one old British tradition of saving (yes ..we froze it!) some of our wedding cake for the christening party.
And, of course, plenty of champagne for the adults.
Christening outfits for babies
Many British families have christening gowns that have been passed down through the generations. Mine didn't. Nor did my husband's family. Now many parents just buy a special outfit and skip the long traditional style gown. I was going to do the same until l I fell in love with two simple vintage white gowns which I found at Lunn's antique shop in London.

And I bought my children special outfits for the post-service party. My daughter wore a dress by British children's fashion favourite Rachel Riley. My son had a traditional outfit with matching cap made by Sarah Louise, one of UK's leading design houses for christening and special occasion clothing for babies and young children. I've carefully stored the gowns and outfits so I can pass them down to my children.
Christening gifts
I had two very lucky children as they received some gorgeous christening gifts. Very nice indeed. Very lucky kids. Of course, as they were still babies, I had to write all the thank you letters to the godparents.
The London christening of my kids was perfect for us. But, as Kate and William have shown, even Royal christening traditions can be broken in Britain. Did you have a traditional christening or did you do something completely different?