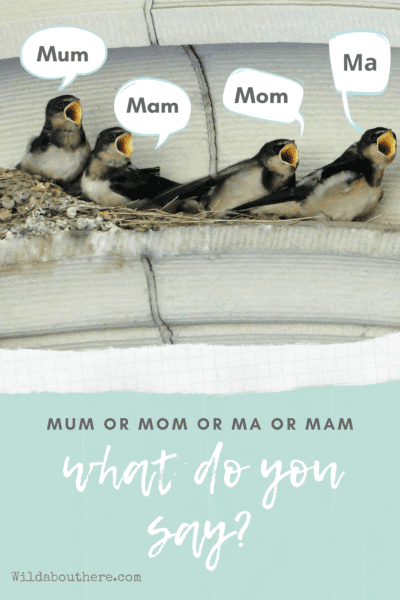 Do my kids call me Mum or Mom? I'm a mum and a mom because I'm a dual national – British and American. So are my children…they used to call me Mum, actually most of the time Mummy, until we lived in the USA for a couple of years. Then I started hearing the American version Mom. Now that we're back in the UK once again I'm Mum or Mummy.
Of course, a big influence on what they call me and how they spell my name is their children's books. US books all talk about Mom and Mommy whereas British books will have a mum…or perhaps mam…or…
Sometimes my daughter enjoys addressing me as Mama.
But a British mother can also be a mom
But a British mother can also be a mom. Or a mam. Or a ma. It depends on the British region or country – England, Scotland, Wales or Northern Ireland – on what spelling or pronunciation is used for the pet name.
In Birmingham and the West Midlands, in England, most say and write mom. Even the local newspapers and schools spell it as mom. Although Mother's Day occurs on a different date in the UK, Brummies and Americans would both be sending cards to the "Best Mom."
Forget Mum or Mom, in northern England they usually like calling their mothers Mam. The pronunciation, of course, will vary for Mam whether you're a Northumbrian or Geordie. This term of endearment for mother is also very common in Scotland and Northern Ireland.
In Ireland Ma is also frequently used instead of Mam.
In Wales kids would call for their Mams. After all the Welsh word for mother is mam.
Charles might be the Prince of Wales but he calls the Queen 'Mummy.' Listen here to Prince Charles paying tribute to Mummy.
Mother's Day
While we're on the subject Mother's day is on different dates in the US and the UK.
Mothering Sunday in the UK takes place on the fourth Sunday of Lent in the Christian calendar. It originated in the Middle Ages when families and people returned for an annual visit to their 'mother' church in their home village or parish. Mother's Day in the USA takes place on the second Sunday of May every year. This tradition started when a woman called Anna Jarvis held a memorial for her mother on 12 May 1907. Of course there are many traditions globally celebrating women and motherhood.
History and origin of Mum, Mummy, Mommy,Mom, Momma…
My kids call me Mummy. Whether you're a mom in the West Midlands or a mam in Leeds, you might also be called mommy or mammy.
"In terms of recorded usage of related words in English, mama is from 1707, mum is from 1823, mummy in this sense from 1839, mommy 1844, momma 1852, and mom 1867." Online Etymology Dictionary
The English word mamma or mama did not make an appearance until the end of the 17th century. Then mum started being used in the 19th century. In 1823 "where's your mum?" first showed up in literature according to the Oxford English Dictionary. Although royalty now talk about their mums, originally it was more commonly an affectionate term for working class mothers. Mothers have been called Mam since the 16th century per the MacMillan Dictionary of Historical Slang.
Mommy is believed to have been a variation of mamma that first occurred in the 19th century. Sometimes it was spelt as mommie. The daughters call their mother 'Marmee' in Little Women by Louisa May Alcott, published in 1880. As the book is set in New England's Concord, Massachussetts, many argue that 'marmee' was actually pronounced 'mahmee' (in other words 'mommy') by Alcott as local accents were non-rhotic. In other words 'ar' is pronounced as 'ah' and the 'r' sound is dropped.
'Mom' has become the commonly used pronounciation and spelling in the USA. It's also widely used in Canada as well as South Africa. By the 1950s Mom was so widely used that a small business became known as a 'Mom and Pop' store.
Little or big M?
And do you use a capital M or lower case m when you're writing about a mum or mom or ma or mam? Apparently I should write about a mum but use Mum when it's a proper noun.
I call my mother Mum, but as she's American she signs letters and cards to me as Mommy.
Mum, mom, ma, mam, mummy, mommy, mama, or mammy, no matter how you spell it or pronounce it, they're still our mother.
Do you say mum or mom or ma or mam or … ?