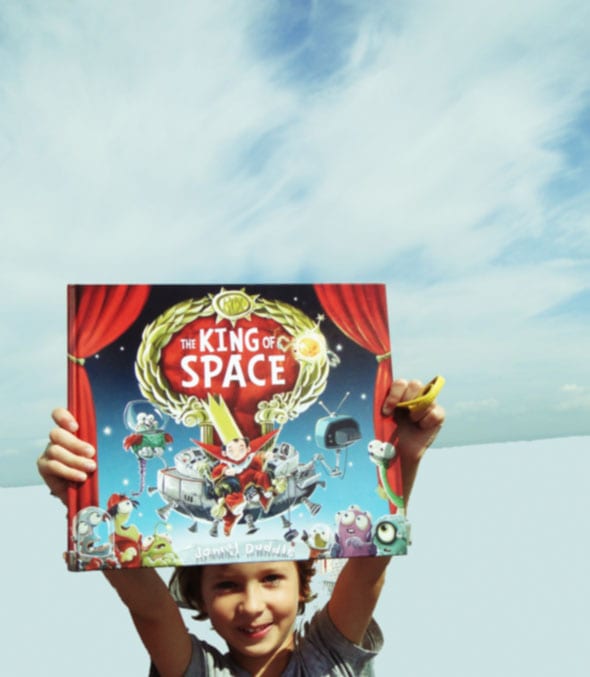 The King of Space by British author and illustrator Jonny Duddle is a science fiction book for kids with a twist.
Do you remember the scene in Star Wars where all sorts of strange looking aliens are drinking in a bar with Luke Skywalker? Now imagine they had children. In The King of Space a little boy called Rex goes to school with a strange looking assortment of alien kids and Princess Kooki. Rex lives on a Moog farm on a moon in the Gamma Quadrant. A moog farm is a space version of a dairy farm where rustlers are zapped with massive missiles.
But Rex has megalomaniac dreams. He wants everyone to know his name.  In fact he wants to be king of the world space. When his teacher Miss Brain – literally a robot with a floating brain – tells his class they each need to make a robot as their homework assignment, Rex's plan for intergalactic conquest begins.
Rex builds a massive warbot which crushes all other robots. Then, with the help of his one-eyed alien classmate Blip he soon builds a warbot factory. Soon Rex has "crushed all resistance in the Western Spiral", crowned himself King of Space and kidnapped Emperor Bob's daughter Princess Kooki.
But Rex is just a little boy. He doesn't want his parents to find out about his evil plans and actions. When the Galactic Alliance surrounds the moog farm, Rex turns to his mother for help. What's been a game for him suddenly is all a bit too frightening. "I don't want to play anymore," Rex explains. In the end Mom saves the day. (Although the author is British, my copy published in the US calls her Mom not Mum.)
Many of the scenes in this science fiction kids book are written and drawn in a comic book style.  Often in the background there are planets, moons and stars set within the black vastness of space. The story and the illustrations in The King of Space create a science fiction fantasy world for young kids. It has aliens, robots, space suits and dung blasters. It's a picture book for kids that's both mischievous and fun.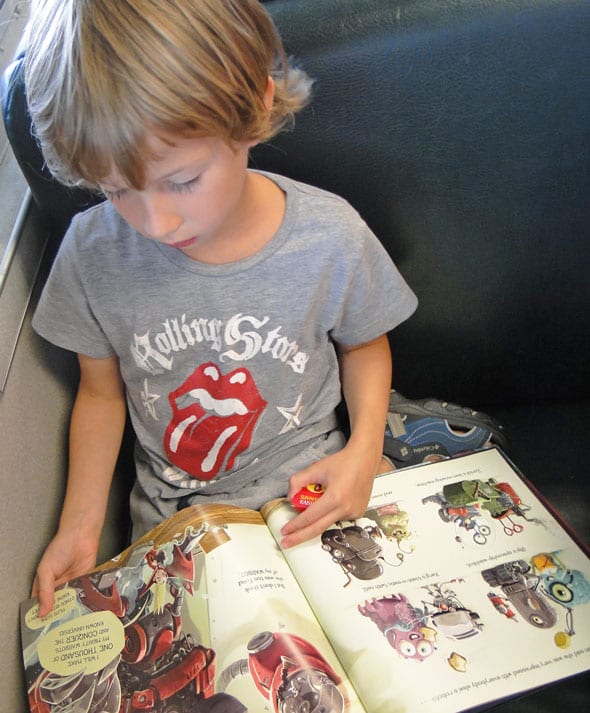 When I first read this science fiction kid's book to my kids, my son was quiet and wide-eyed by the time I reached the last page.  Then he wanted to keep looking and looking at it. Then take it on holiday with us this past week. The space theme and intergalactic misadventure was a major hit.
Jonny Duddle, the author and illustrator, was also a concept artist for Aardman Animations' 2012 stop-motion animated movie The Pirates! Band of Misfits starring Hugh Grant and Salma Hayek. He has previously drawn some of the illustrations for Alienology. Two other popular Duddle books are The Pirate Cruncher and The Pirates Next Door, the latter which won the Waterstone's Children's Book Prize in 2012. He lives in Wales with his wife and two young daughters.
The Pirate Cruncher – available on US Amazon and UK Amazon
The Pirates Next Door  – available on US Amazon and UK Amazon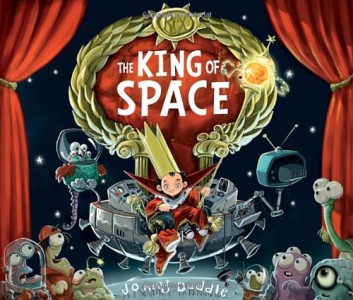 Available on US Amazon and UK Amazon
The King of Space is a mini space opera picture book for younger children. In my view it's a fantastic introduction to science fiction books for kids and I hope it becomes a series.