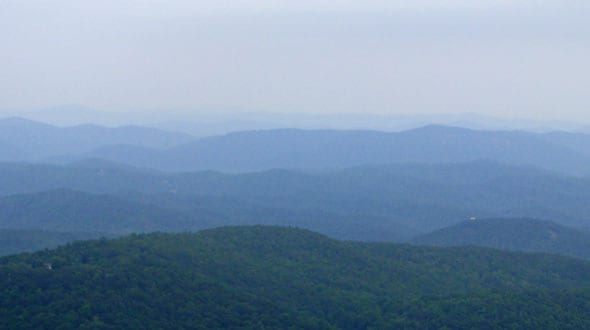 We decided to get in the slow lane and drive on the Blue Ridge Parkway in the Appalachians. Tired of motorways, we headed to "America's Favorite Drive." Like Route 66 it's legendary.
I soon discovered why the Blue Ridge Mountains are called blue.
A week or more could be spent on the road with kids following the 469 miles (755 kms) of the scenic roadway connecting the Shenandoah National Park in Virginia to the Great Smoky Mountains in North Carolina on the east coast of the USA. If you want to avoid fast food take outs, same-same malls, asphalt super highways and prefer to roam, hike, picnic, climb and breathe mountain air with your kids, then get on board the Blue Ridge Parkway.
Alas we only had a day so we chose to follow it's last 80 or so miles. We exited the motorway and spent the night in the small town of Blowing Rock, North Carolina. There's a cliff nearby called Blowing Rock where the wind will throw back at you light objects thrown out across the gorge's void.

We were above the clouds when we woke up in the morning.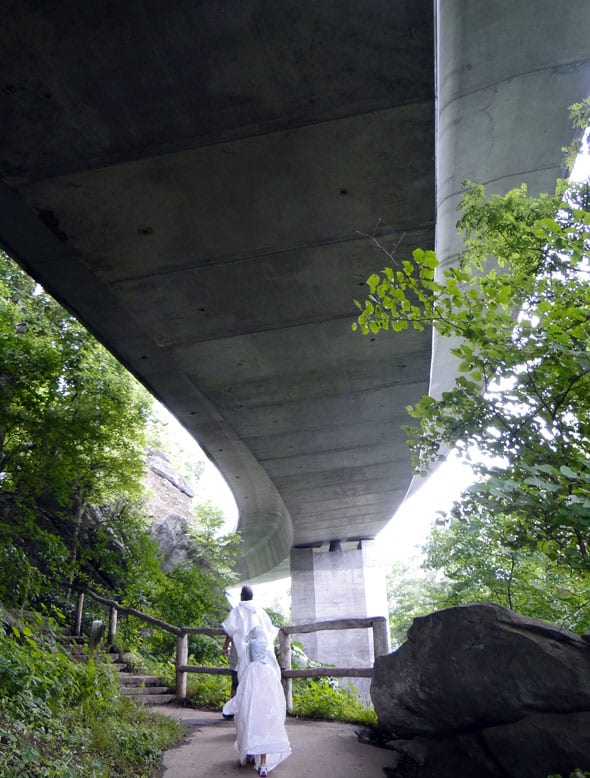 The rain was also falling when we stopped to walk underneath the Linn Cove Viaduct. Bought some plastic rain ponchos which turned us into ghosts in the mist. As I turned down a request by my kids to also buy them some gem stones in the visitor center shop, they searched alongside the path and in small passing mountain streams for any glimmers of treasure. Construction on the roadway across the mountain tops and valleys started during the Great Depression in the 1930s. Engineering wizardry resulted with the last bit of its puzzle in 1987: the Linn Cove Viaduct.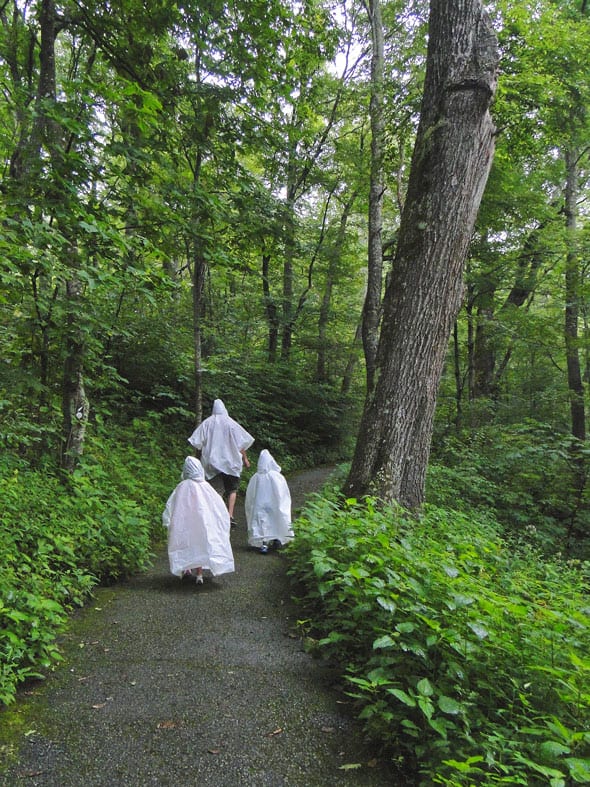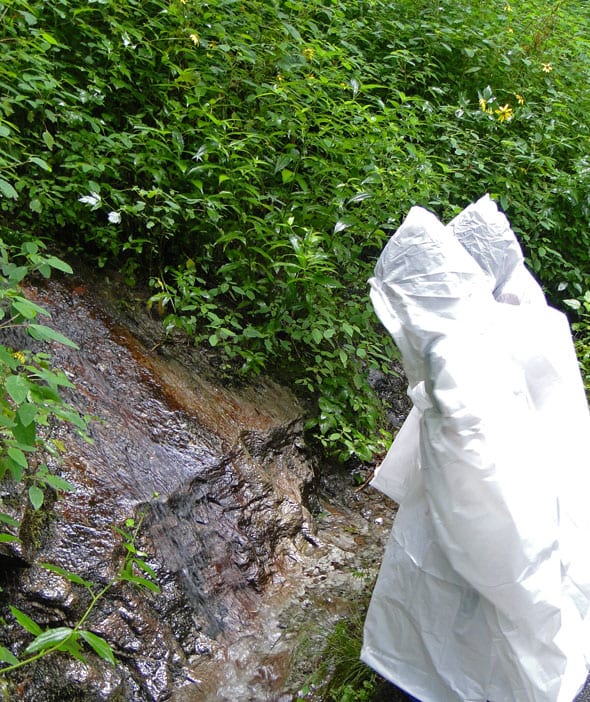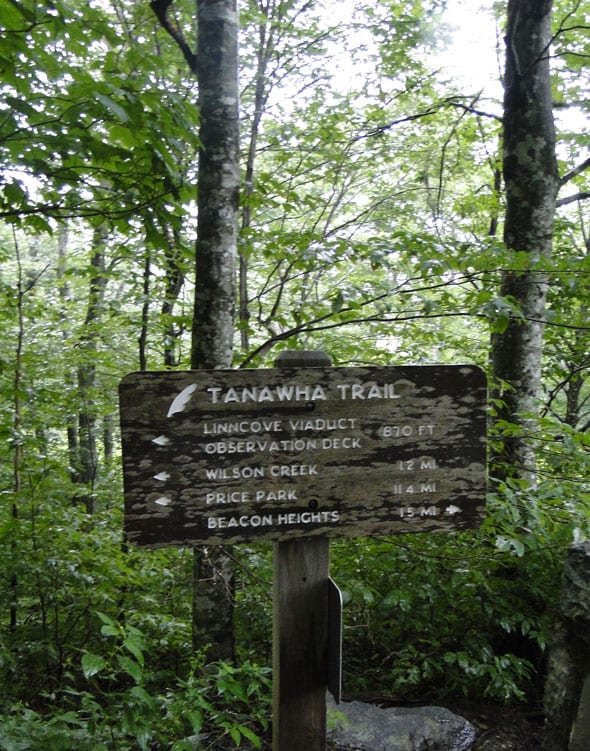 You can follow the Tanawha trail from here.  My kids are still too young to walk or hike its amazing 13.5 miles (21.7 kms) route.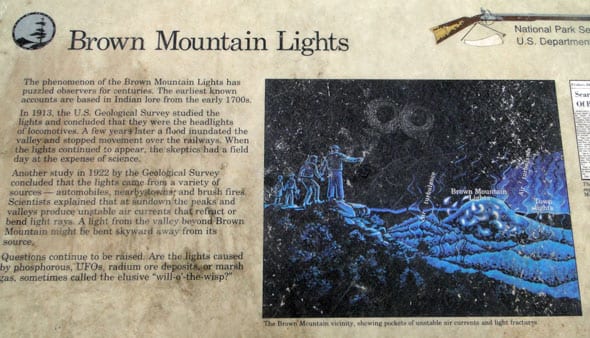 We then headed to Grandfather Mountain.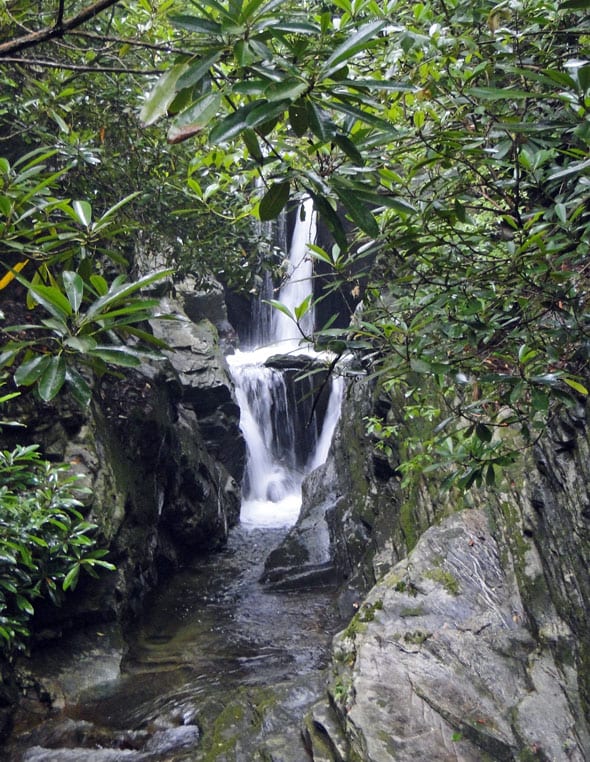 As you drive along the Blue Ridge Parkway, there are places to park for breathtaking views or further walks or picnic areas. Sometimes at night you can also see ghost lights. We chose to stop at Linville Falls. As time was not on our side we just visited one of the smaller falls. We ended our Blue Ridge Parkway adventure with the kids in Asheville, North Carolina. We didn't encounter bears here but we did on Grandfather Mountain !