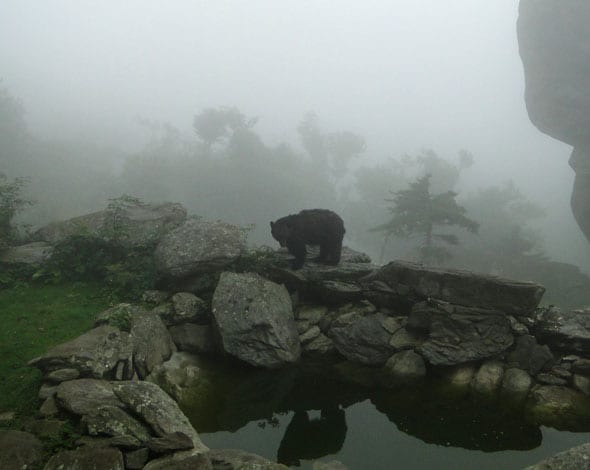 We visited the magical world of Grandfather Mountain in North Carolina while on the road with our kids. We bought entrance tickets at the gate but this was no theme park. This is a real mountain that dates back over a billion years. The legendary American frontiersman Daniel Boone (1734-1820) once hunted among its rocks.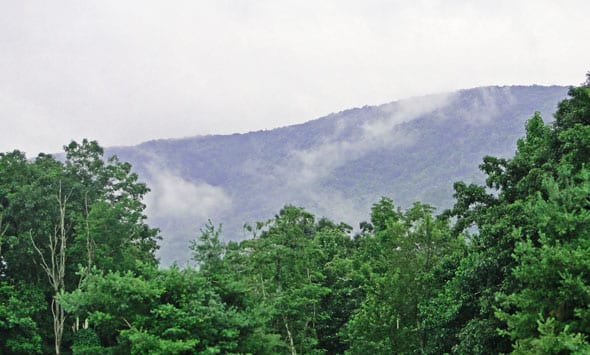 We made our way to its peaks while travelling in the slow lane on the Blue Ridge Parkway in North Carolina. It was a rainy and foggy day so our picnic basket stayed in the car as we followed the winding road up Grandfather Mountain. This Appalachian mountain in North Carolina has an elevation of 5946 feet (1,812 m).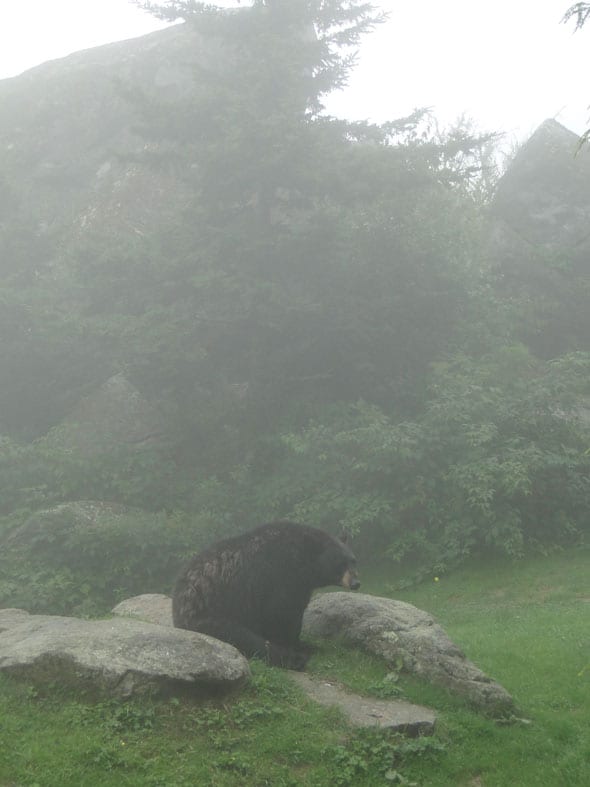 Our first stop was to visit the environmental habitats for native wildlife. Bears, cougars, river otters and deer live in their natural surroundings. Humans can view them from special fenced off platforms.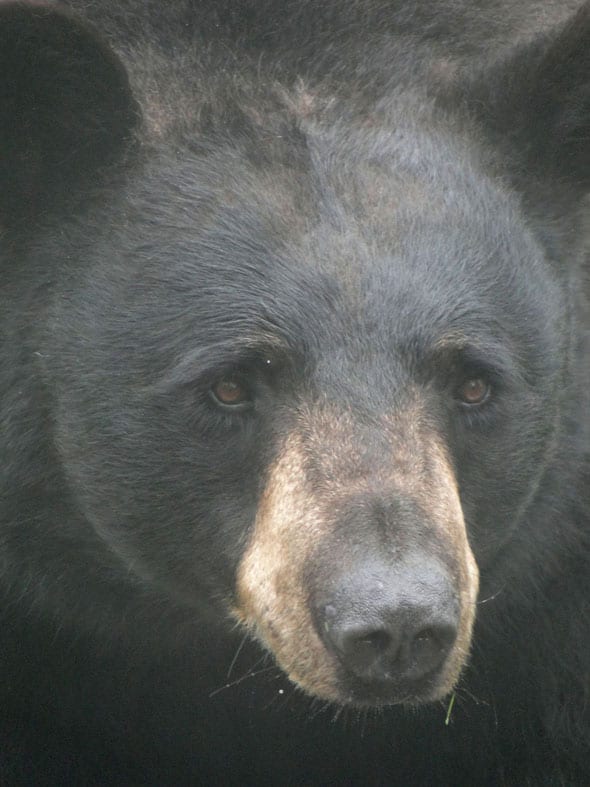 As the mist was so thick there were no deer or cougars in view – probably sheltering under trees in the woods – but we did see the black bears.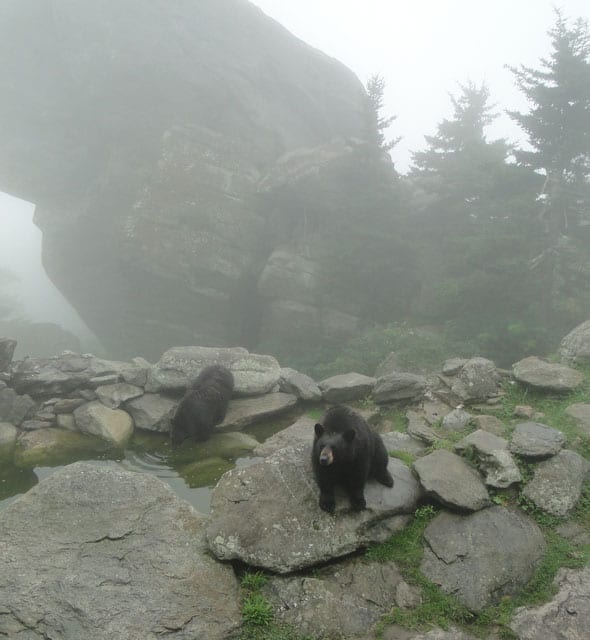 Out of the fog they slowly appeared. Bears in the mist. They dipped their feet in water.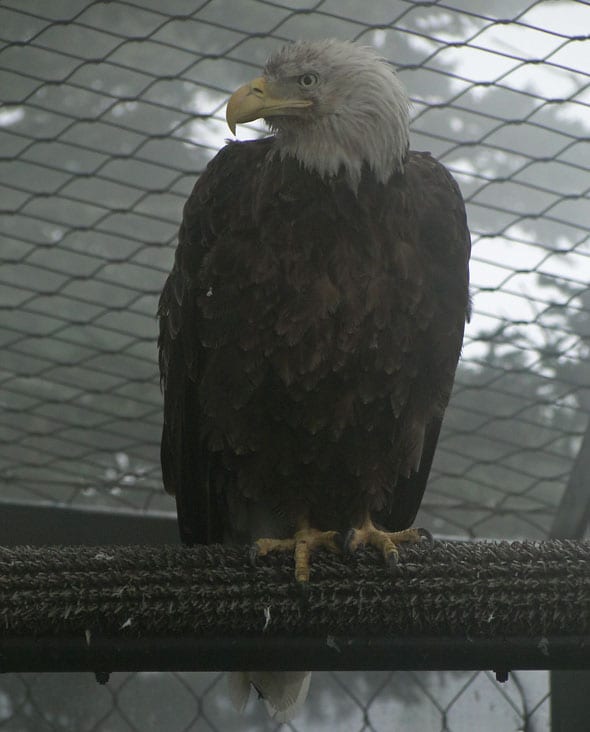 A lone bald eagle sat and pondered in an enclosure. The eagle is only kept in captivity as its too old and injured to be set free.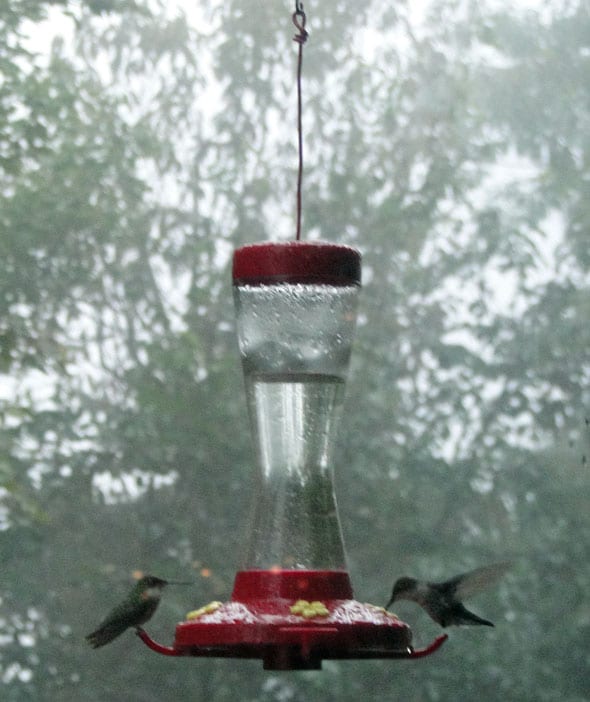 Humming birds fluttered their wings and sipped water outside the window of the Nature Museum where we ate lunch. Our picnic abandoned in the car despite the abundance of picnic tables up and around the mountain.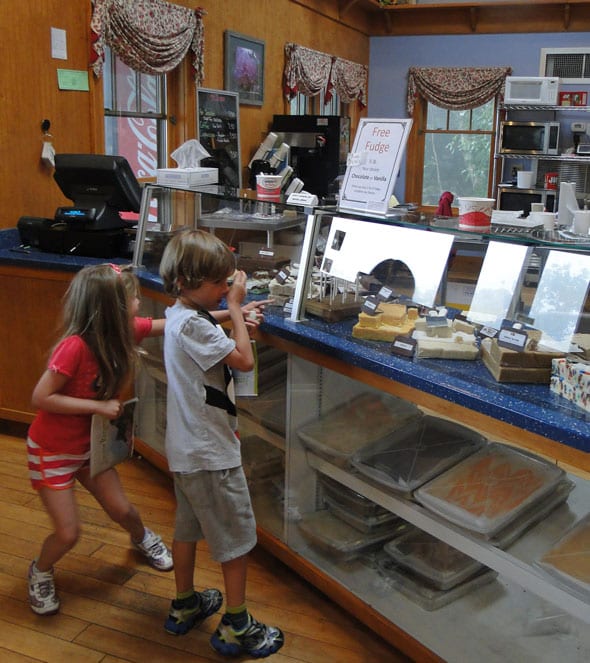 Afterwards we had to visit the fudge shop. We watched them make some fudge. It's earth-friendly with solar panels, bamboo floors, rain barrels and more. I'm afraid our main interest was the fudge itself.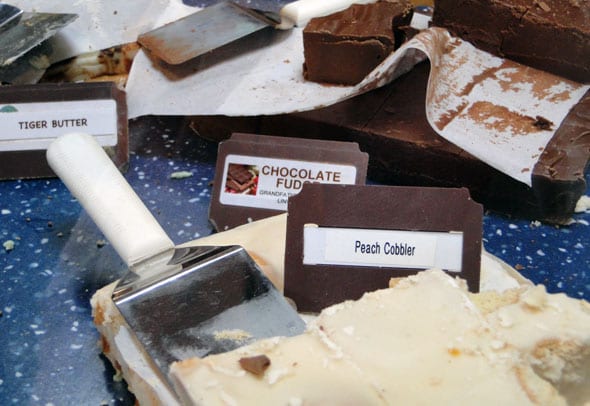 We ate too much fudge.
Then we headed for the Mile High Swinging Bridge at the peak of Grandfather Mountain.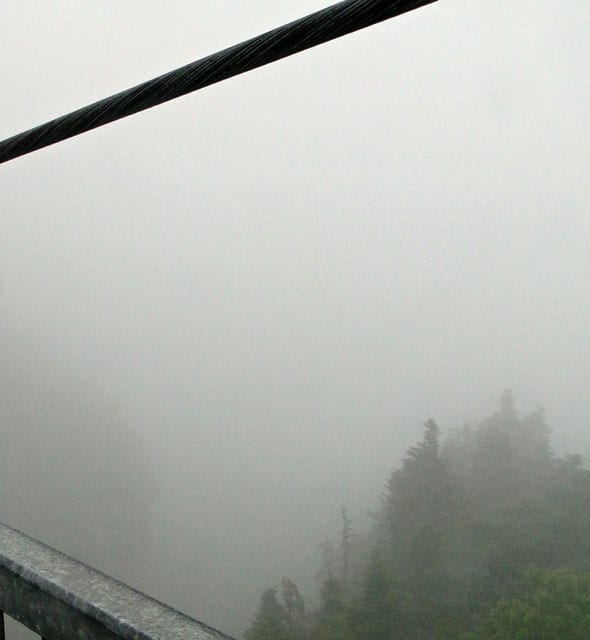 The suspension bridge spans across an 80 foot chasm at the mile high elevation. Normally you get a 360 degree panoramic view. All I could see was the swirling clouds of mist and tree tops below me so it felt like we were walking across a mile high chasm.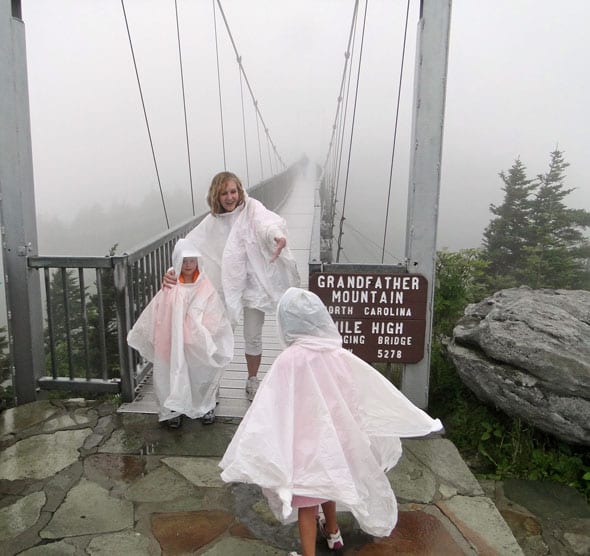 I shouted at my kids to watch their steps. Unlike an earlier explorer I was way too nervous to sing. French botanist Andre Michaux (1734-1820) sang the Marseillaise after climbing the mountain and then shouted "Long live America and the Republic of France, long live liberty!"
Until recently privately owned, Grandfather Mountain is now run as a non-profit attraction and a North Carolina state park. Every year around a 120 Scottish clans and societies gather in its meadows for Highland Games. I loved a quote in one of the Highland Games newsletters: "A wee bit of the Scottish highlands in North Carolina!"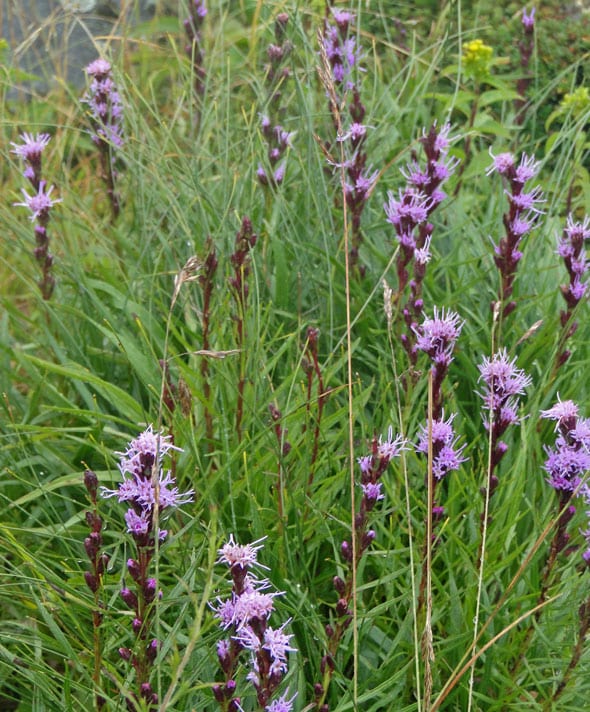 Because of the magnificent rise of the mountain from valley to peak, it hosts over sixteen distinct ecological communities. It's an international biosphere reserve. Unfortunately due to the weather we were unable to hike or get the Full Monty in terms of scenery, but just to see the bears on Grandfather Mountain was magical enough for my kids.