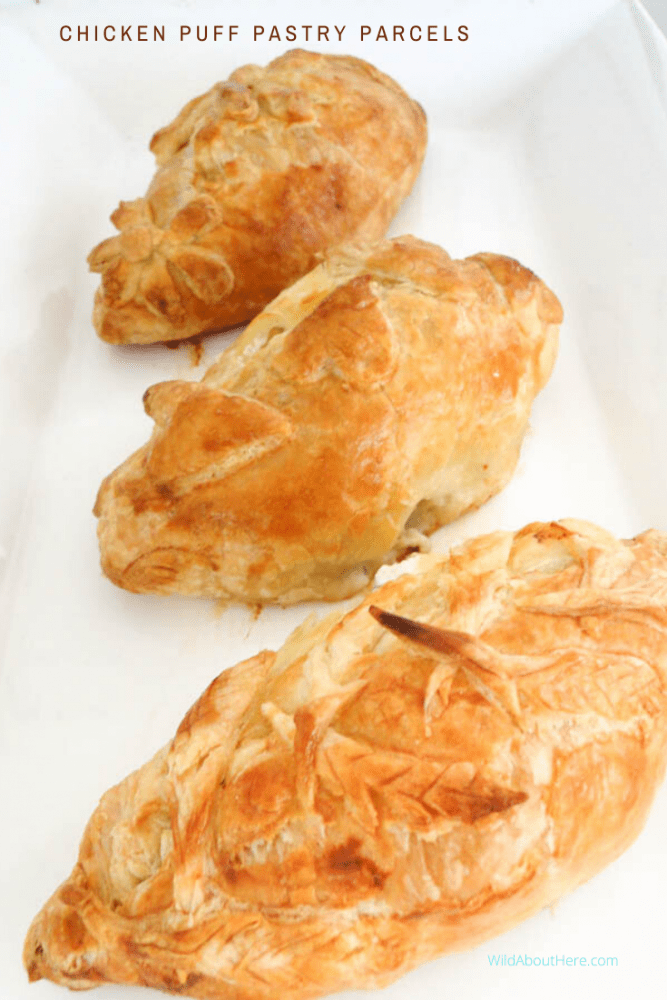 This recipe for puff pastry chicken parcels was contributed by British chef Lydia Brownlow. Lydia had made the chicken parcels with pastry trimmings at one of her cooking workshops for kids.  The children range in age from 5 to 12 year olds, so she has to make sure that the recipes are not too complicated yet delicious to eat.
Recipe from guest contributor Lydia Brownlow:  Lydia runs cooking workshops in the English countryside and previously contributed recipe posts to The Daily Beast.  She also created canapés for her London catering company which was hired for top society parties and soirees as well as publishing, devising and and writing recipes for Good Housekeeping Magazine.
I then followed Lydia's puffed pastry chicken recipe and made them with my children at home. They loved making the pastry trimmings and decorating the chicken parcels.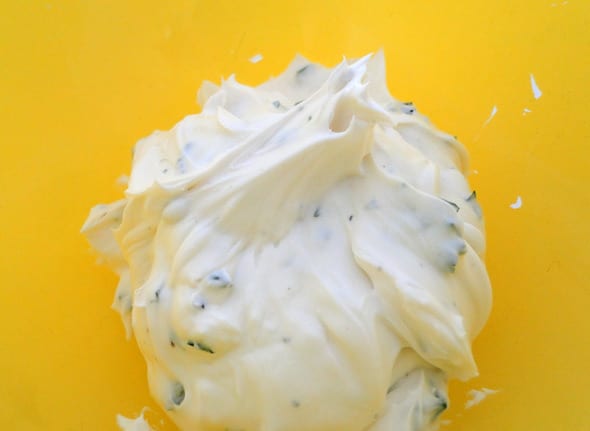 I was surprised how easy this chicken recipe was to make. Each breast was filled with a mixture of cream cheese with fresh herbs. Then placed on rolled out squares of puff pastry.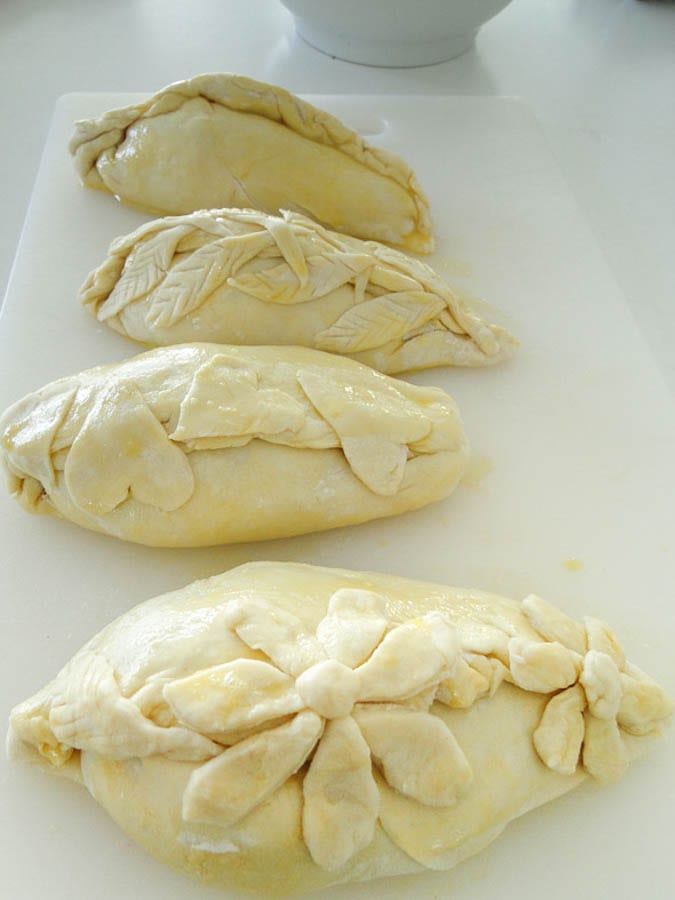 The puff pastry was sealed over the chicken and then we added our pastry trimmings. We made hearts, flowers and leaves. After a brush with beaten egg they were ready for the oven to be baked.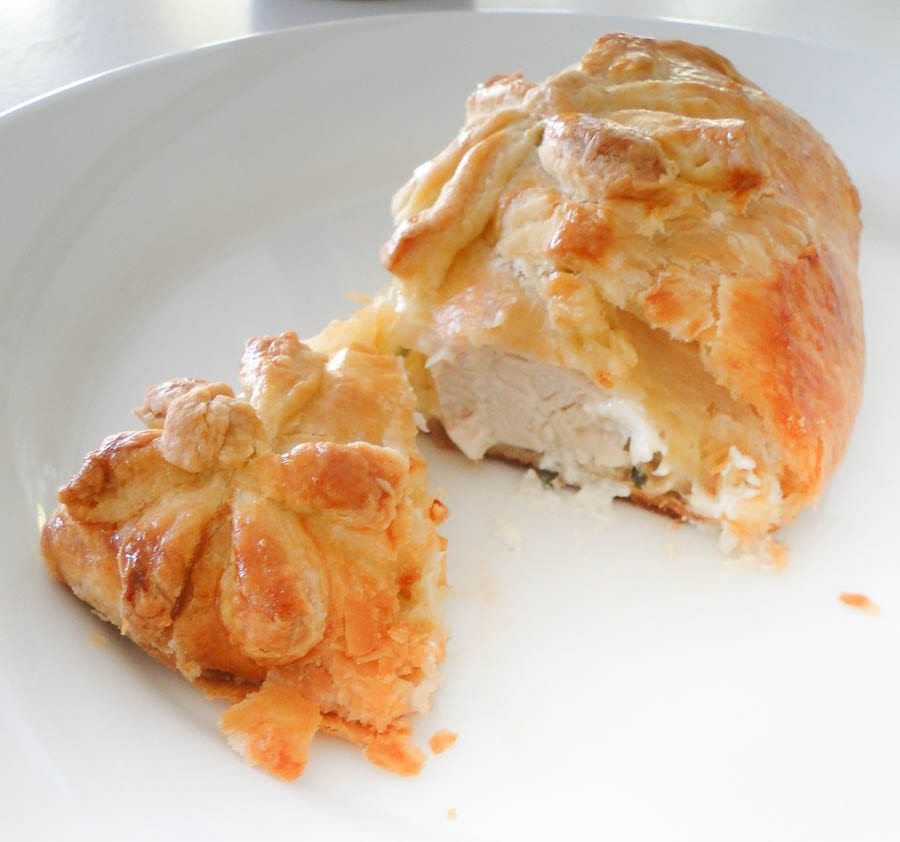 This is a favourite recipe for my children, as not only are the chicken puff pastry parcels delicious but they have so much fun helping me make them.
CHICKEN IN PUFF PASTRY WITH CREAM CHEESE FILLING
INGREDIENTS
1/2 cup cream cheese
1 tablespoon fresh parsley, chives or tarragon (chopped)
pinch salt and ground black pepper
4 skinless chicken breasts
17.3 oz package puff pastry  (500 g approx)
1 large egg (beaten)
NOTE
If you prefer to keep things simpler, stuff the chicken with a flavored butter or simply omit the stuffing.
DIRECTIONS
Place the cheese, herb(s) and seasoning in a bowl. Mix together until well combined.
Using a sharp knife, cut a pocket in the side of each chicken breast, about 2 in (5 cms) long. Stuff the pocket with the cheese mixture. Set aside.
Roll the puff pastry out on a lightly floured work surface into a 12 in x 12 in (3o x 30 cms) square. Then cut the pastry into four x 6 in squares.
Brush the pastry with the beaten egg, place a chicken breast on each pastry square, then wrap the pastry around the chicken breasts, covering completely with no holes showing.
Decorate with any pastry trimmings and brush with the remaining beaten egg.
Place the chicken parcels on a lightly floured cookie sheet and cook at 400 degrees F (200 C)  for 25-30 minutes or until the pastry has risen and is golden brown. Leave to cool slightly before serving.
Fresh herbs used in chicken parcels

We used fresh herbs in this recipe.
For dessert you may want to follow this with Eton Mess or the best home made Vanilla Ice Cream with fresh fruit.
Just a final note that you can make the puff pastry yourself, but I find it easier when cooking with kids to have ready made puff pastry to use with the chicken parcels.