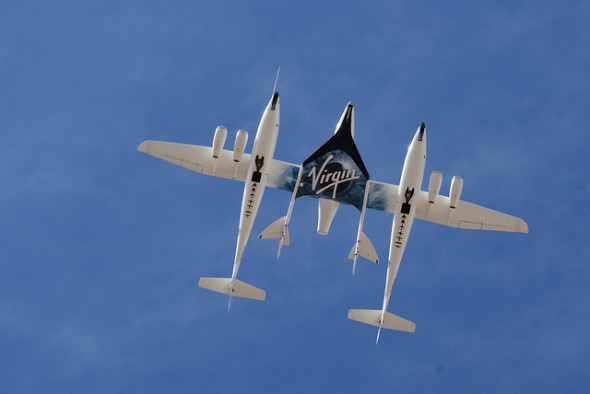 British billionaire Sir Richard Branson first said he hoped to be on the first space flight with Virgin Galactic blasting off around Christmas day 2013.
UPDATE: On October 31, 2014 Virgin Galactic's SpaceShipTwo crashed during a test flight, killing co-pilot Mike Alsbury while the pilot Peter Siebold survived.  At the time Virgin Galactic hoped to launch the first space flights in 2015. Only about 20 or so asked for refunds.  With the support of their Future Astronaut community, Virgin Galactic is still pressing ahead to be pioneers in space.
Will my kids be space tourists in the future?
When I heard about the space flights all I could think was my kids may be space tourists when they're grown up.  Twenty years from now, when Luce and Theo are in their mid-twenties, it'll probably be normal to have real space adventures. I expect prices then will be affordable too!
Appearing live Tuesday May 14, 2013 on The Kris Fade Show on Virgin Radio Dubai, Branson said,
"Yeah, I will be going up on the first flight which I hope will be about December 25th this year, so maybe I'll dress up as Father Christmas."
Virgin Galactic, owned by Branson's Virgin Group and UAE's Aabar Investments PJS, may still win the space wars and have the first space tourist flights available. It'll then be the first commercial spaceline.  Other billionaires have become space entrepreneurs in the race to space including Elon Musk who founded PayPal, Microsoft co-founder Paul Allen, and Amazon's Jeff Bezos.
Over 700 individuals have signed up to be on the first space tourist flights
By May 2013 about 580 'tourists' have put down deposits for space flights aboard the spacecraft SpaceShipTwo.  They paid $200,000 or put down a deposit starting at $20,000 to reserve a seat on board.
It's a suborbital spacecraft, meaning that the space tourists will go to the edge of space and then back. They'll have just under five minutes floating inside the spaceship and looking down at earth through the windows before heading back home. Take off will be from the new Spaceport America in the desert of New Mexico.
Special discount of 6 for the price of 5 to charter a space flight!
Each flight will have two pilots and six passengers.  If you have $1 million to spare you can charter an exclusive space flight.  You'll have pioneer status – meaning all the extra perks as part of the community of first space customers – and get 6 seats for the price of 5.
The private spaceship is designed to be carried on the mothership  –  transport aircraft WhiteKnightTwo – and then launched into space at around 50,000 feet. Virgin Galactic says it's safer to release the rocket powered space plane horizontally rather than blast it off from the ground. SpaceShipTwo then glides back down to earth.
On April 29th, 2013 the Virgin Galactic passenger spaceship made its first rocket-powered test flight and broke the speed of sound.  It flew back to earth after reaching an altitude of 56,000 feet.
Ashton Kutcher will be flying on one of the first space tourist flights
Hollywood star Ashton Kutcher signed up as the 500th future astronaut customer.  He has one of the "Pioneer Astronaut" tickets. This means not only does he star in Three and a Half Men but he may be one of the first 1,000 earth people who've travelled to space.  Until now just over 500 humans have made it to space including the NASA astronauts.
Not surprising that Kutcher and his partner Mila Kunis were seen drinking and partying with Princess Beatrice and her ex.  The Royal princess's former boyfriend, Dave Clark, is in charge of "Astronaut Relations" at Virgin Galactic.  This includes making sure all their future space tourists are taken care of and kept up to date on Galactic events and special trips.
If you're lucky and can pay for a flight then you can book a ticket on Virgin Galactic's website.  Otherwise, there are some cool videos on it to show your kids. They also have Galactic Unite.  It includes lesson plans, activities and resources for teachers and students 5-18 years old about the space flights and to encourage the rocket scientists of the future.
I know Theo and Luce would love the idea of flying to the moon or other planets. Luckily I don't have to worry yet about them being kids in outer space. But since they're little we've read them books and bought them toys to learn about space.
At least I have some time to get used to the idea they may be on space tourist flights in the future.
Note:
Photo shows SpaceShipTwo attached to MotherNightTwo on 22 October 2010 flying in New Mexico – photo credit: Jeff Foust via photopin cc
Ashton Kutcher – photo credit: david_shankbone via photopin cc