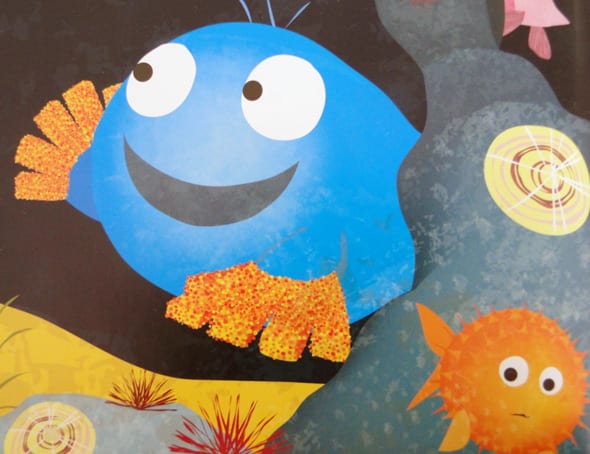 I'm a major scuba fanatic so I've wanted to instill underwater love in my children since they're itsy bitsy by reading them under the sea themed kids books. Actually I've rarely had the chance to scuba dive since they were born but I'm hoping when they're older we'll all spend quality time together under the sea!
Here are some of the fiction books we've been reading over the years with the aim of passing my passion for the sea and the creatures who live in it to my kids. (I've included my Amazon affiliate links.)
BARRY THE FISH WITH FINGERS by Sue Hendra.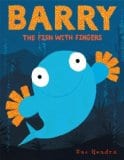 Down under the sea we go where Barry becomes hugely popular amongst the sea world because he's a fish with fingers.  In BARRY THE FISH WITH FINGERS by Sue Hendra, Barry can knit, finger paint and tickle because he has ten fingers. When my kids were younger, I'd make them count the fingers or the fish in the scenes. Now they've started reading the words.
Puffy, the puffer fish becomes upset, as the other fish lose interest in his amazing bubble-blowing skills.  Puffy and Barry learn to party together in the end after a rescue scene which delights kids. (I'll let you watch your kids' reaction to this).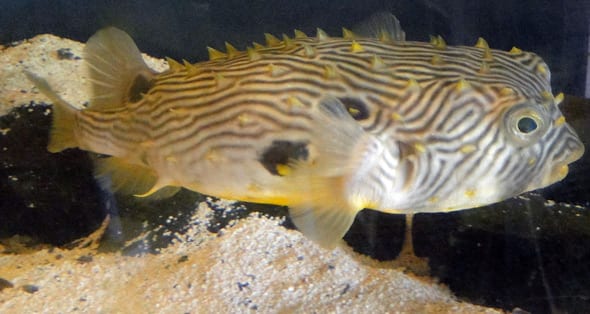 Funnily enough, although Barry is the hero in this under the sea kids book, my two children have been fascinated by puffer fish ever since.  Recently when we were visiting a nature museum that had a 'Puffy' in a fish tank, they kept asking if they could see it swell up.  I explained that puffer fish only swell up when they're frightened as a form of a defense.  I wanted to make sure they would not be like a group of divers I unfortunately was with once who thought it was amusing to shove around an inflated puffer fish like a ball. Not the sort of play I want my kids to have under the sea!
The British author Sue Hendra has illustrated over 90 children's books including MY MERMAID COUNTING BOOK.
COMMOTION IN THE OCEAN by Giles Andreae.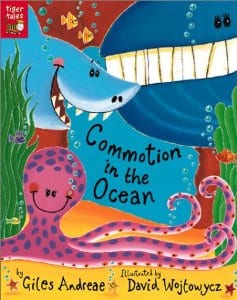 One of the earliest books I bought to read to them was COMMOTION IN THE OCEAN by Giles Andreae illustrated by David Wojtowycz.  Simple rhymes and colorful drawings entertain and teach your children about sea life.  From the angel fish that's 'The prettiest thing in the sea,' to the dolphin with his 'click-whistle-squeak' it's a great introduction to under the sea. There's something about these easy poems that just charms young children, making it a perfect bed time read.
The father of four Giles Andreae is not only known for his bestseller GIRAFFES CAN'T DANCE but also as one of British Prime Minister Dave Cameron's best friends at Eton. Despite suffering from Hodgkin's Lymphoma, a cancer of the lymph glands, he graduated from Oxford University and was the creator of the Purple Ronnie cartoon character.
GILBERT THE GREAT written by Jane Clarke and illustrated by Charles Fuge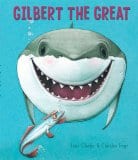 I also want my children to appreciate rather than fear sharks. Sharks are vital to our oceans' eco systems and need to be protected.  For me there is nothing more graceful and awesome than seeing a shark swimming under the sea when I'm scuba diving.
A young, friendly shark that kids can relate to is Gilbert. Gilbert is a Great White Shark and features in three books by English author Jane Clarke and illustrator Charles Fuge.  GILBERT THE GREAT is about the close bond between Gilbert and his best friend Raymond the remora. I explained to my kids that in real life remoras attach themselves to sharks for protection and eat left over scraps even though there's no special upside for the larger fish. It's a commensal relationship or, more easily understood by the English origin of the word, they eat at the same table. It's a story about friendship and loss – but it has a happy ending.
In GILBERT IN DEEP the young shark and his latest remora pal get in trouble when he doesn't listen to his Mum and wanders off alone into the deep.  And then Gilbert has to learn how to protect and take care of his baby brother in GILBERT THE HERO.
For more information on sharks and why we need to protect them have a look at Sharksavers.  My kids and I also are fascinated by the OCEARCH's Global Shark Tracker. There are some videos where great whites have been caught and released so that they can be tagged with satellite tracking technology. As part of their efforts in shark conservation you can watch and check where the sharks have been world wide.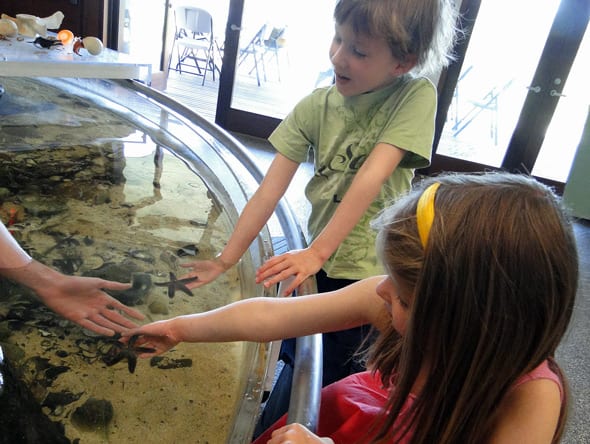 My ultimate aim is to teach my kids about marine conservation and the beauty of the sea world.  In the fiction range, these are my favorite under the sea kids books by British authors which are a fun way to pass on my underwater love to my kids.
Note:
These books are also available on UK Amazon.
Barry the Fish with Fingers by Sue Hendra
Commotion in the Ocean by Giles Andreae
Gilbert the Great, Gilbert in Deep and Gilbert the Hero by Jane Clarke and Charles Fuge
Of course, I also have bought my kids lots of non-fiction books on the world underwater.
Let me know if there are any other under the sea kids fiction books you recommend.