I used to be a Londoner, but what I adore about settling in the countryside is that I can just put on my wellies and take a walk on the wild side. Like yesterday morning's encounters with wildlife in our garden or near where I live in Sussex.
The sun was out so I decided to head down to the woods next to our house. No need for a car as it was just a short stroll away.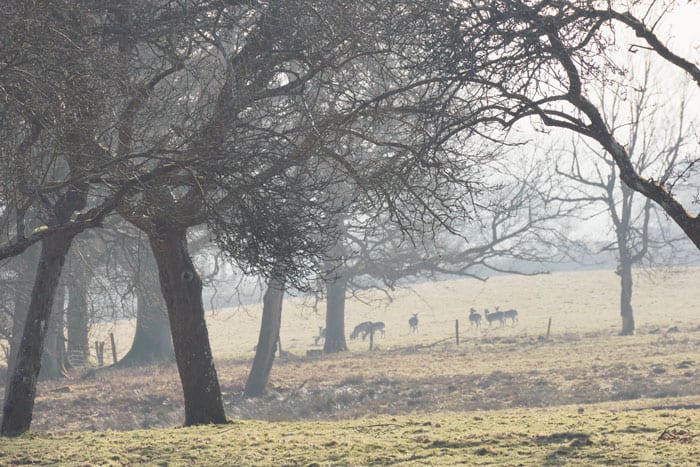 Wildlife around me had decided to do the same. A herd of fallow deer were grazing in a field just behind the trees. It took me a moment to realise there was a second herd nearby too, grazing and sitting in the grass.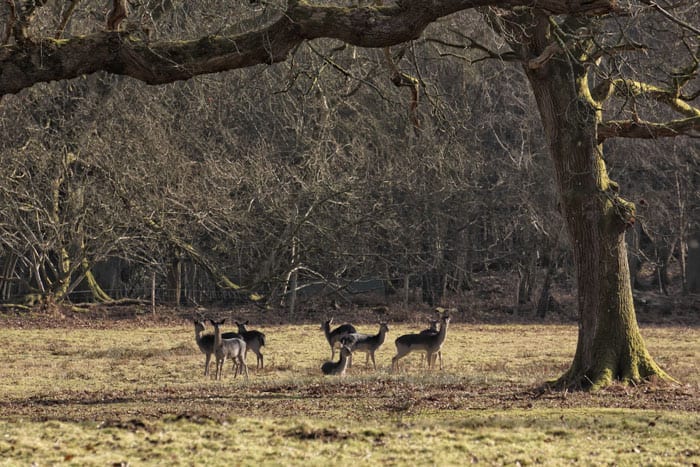 But they had caught my scent in the cool soft breeze. The stags in this herd were immediately on alert. Then within moments this group enjoying the sunshine on a winter's day were off over a fence and back into the woods.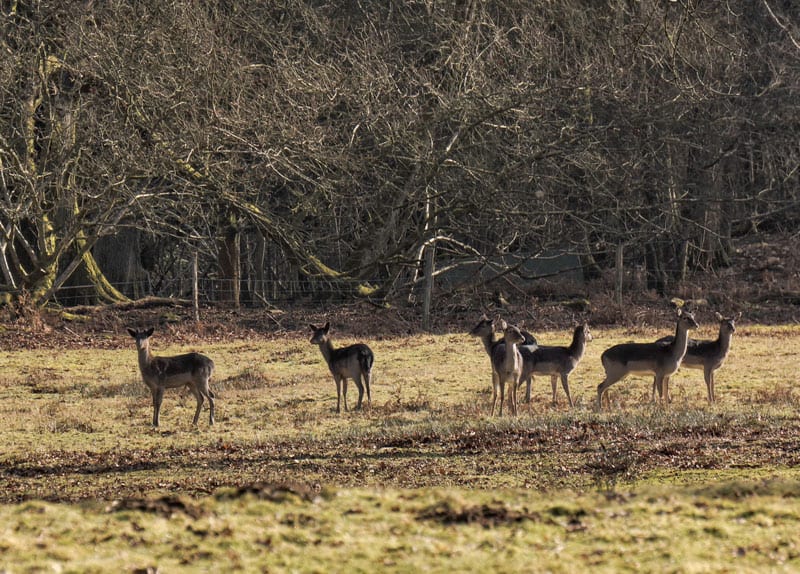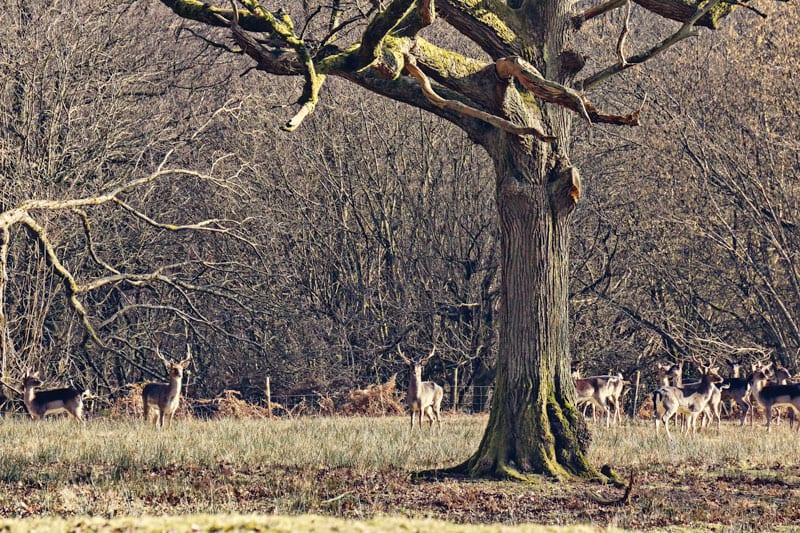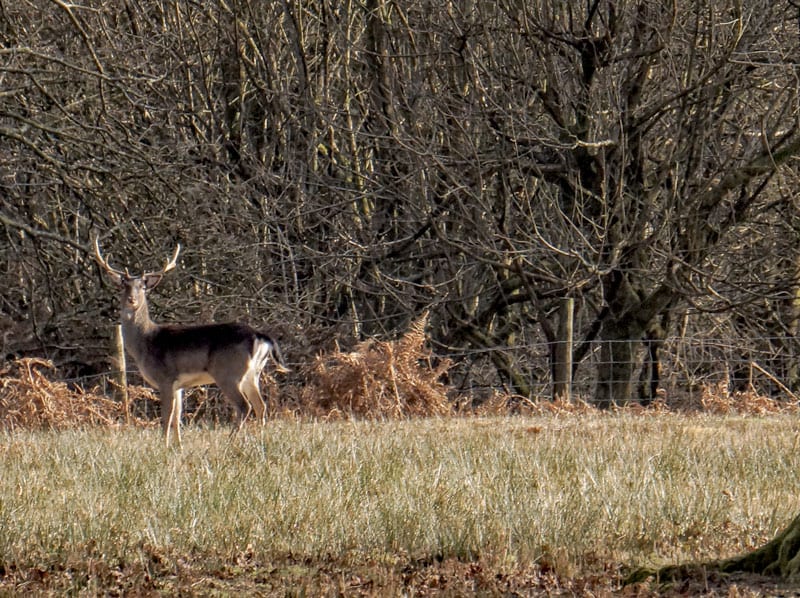 I quietly walked towards the other herd hoping they wouldn't see me as I entered the woods. No such luck. This herd too was off running across the field and into another part of the woods.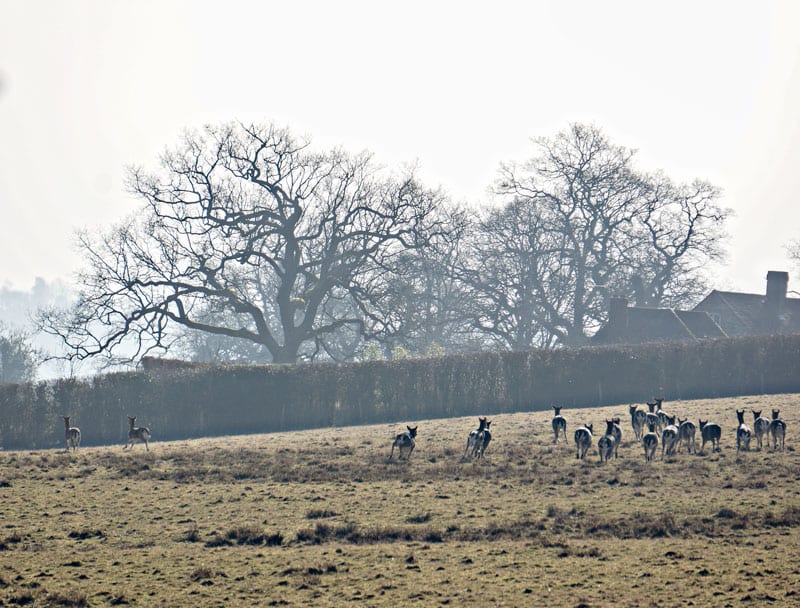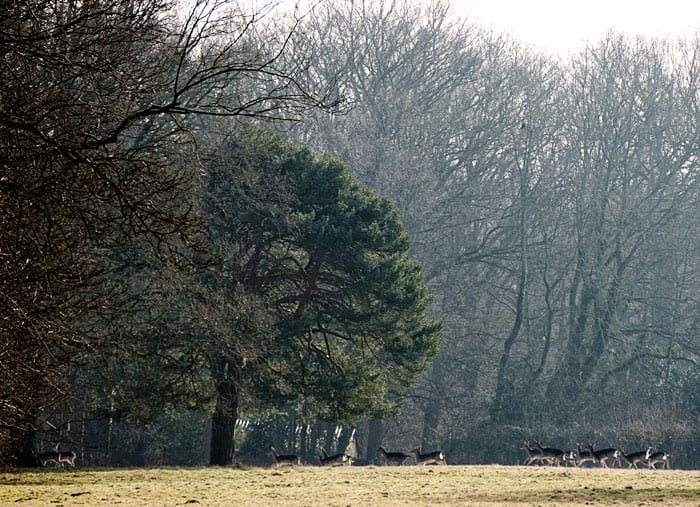 I took a different route on the way back to my garden and passed rabbits nibbling away in the grass. For the first time here I also saw a jay who was by the hedgerow near the rabbits.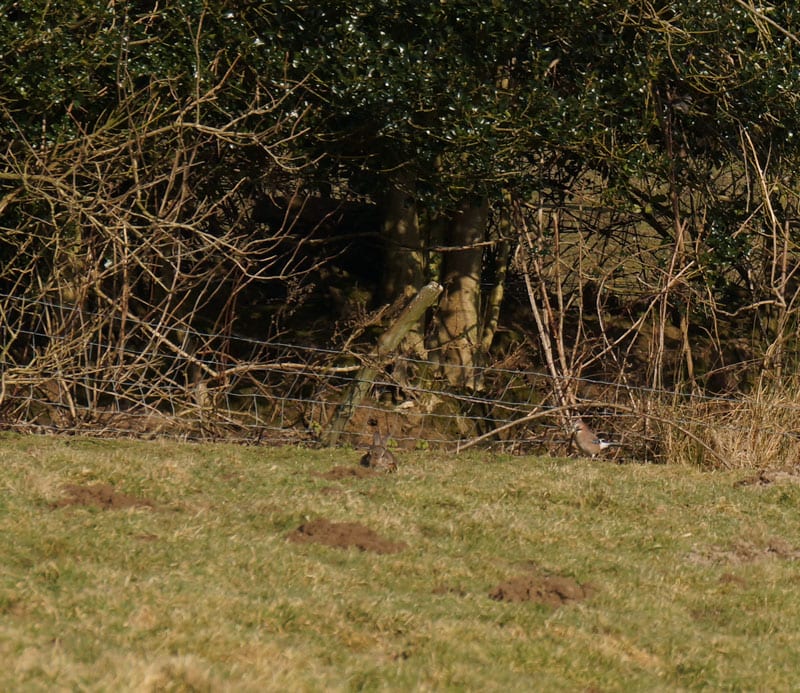 All the wildlife around me easily camouflaged themselves into their surroundings. You can just see the Jay sitting in a tree branch in the upper right (in the image below) while the rabbit flees to its warren near the hedgerow.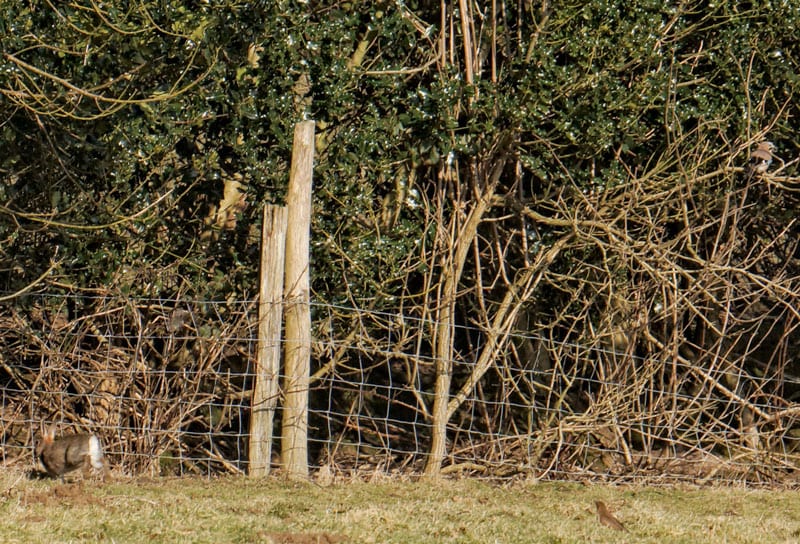 A rabbit stood completely still as I approached my garden – perhaps thinking I wouldn't notice it if it didn't flinch.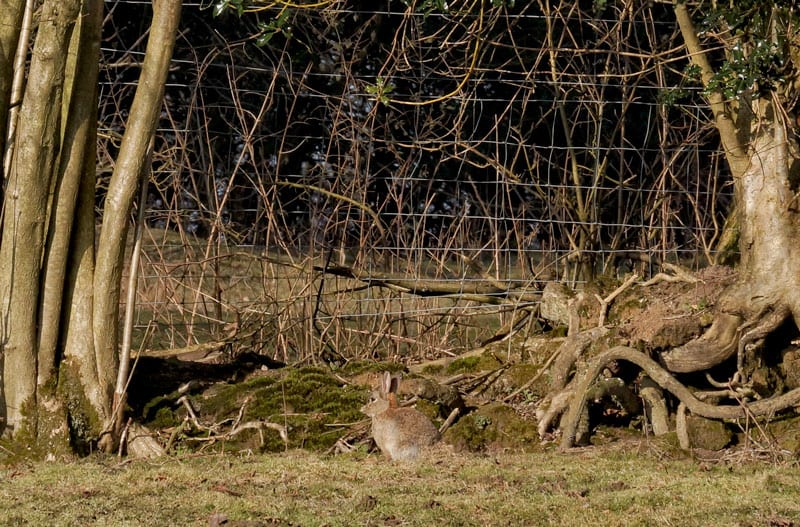 Wildlife were waiting for me in my garden. There were Great Tits singing in a tree until they caught sight of my neighbour's cat.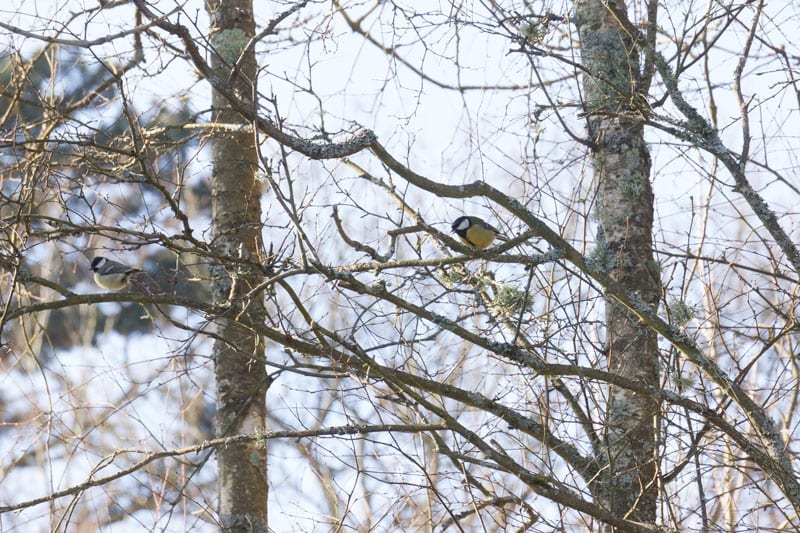 The cat didn't notice them as she had also been out for a walk seeking wildlife too – and had caught a vole.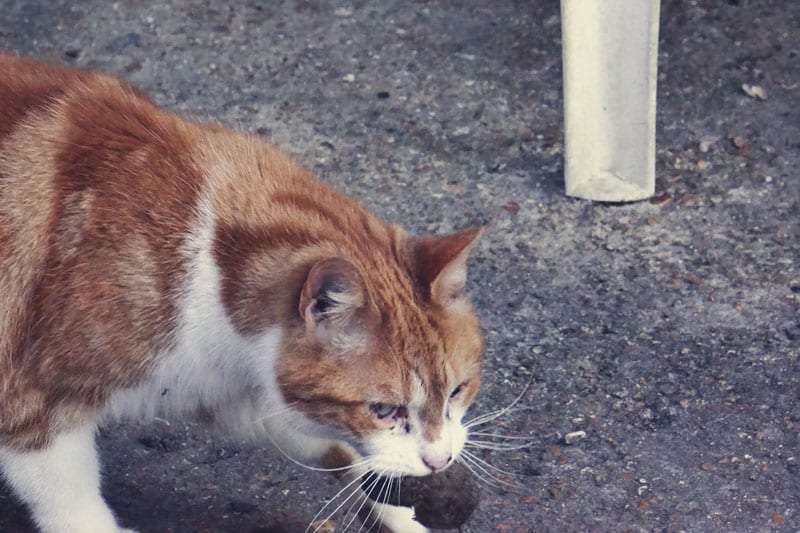 'Our' local wild pheasant wisely ran off at the sight of the ginger cat.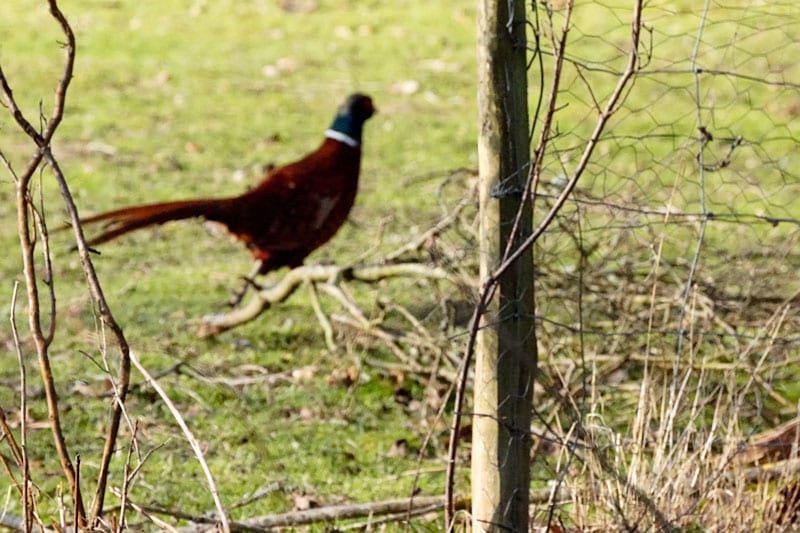 But, of course, he was back in our garden when the coast was clear. As indeed he was this morning.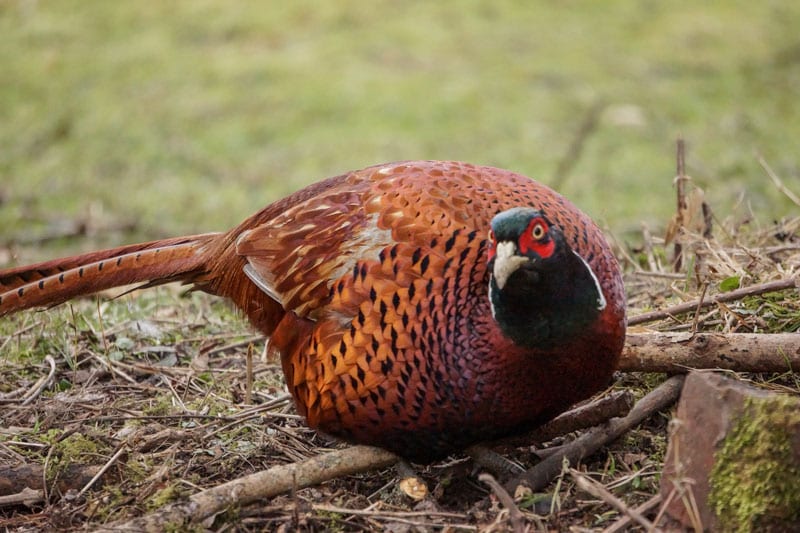 I don't think I could ever move back to London. When we left the 'Big Smoke' – as England's capital is sometimes called – and moved to the Hamptons in New York State I was mesmerised by the wildlife which came to our garden there. My kids didn't have to go to a park to feed the ducks, they came to us. As well as chipmunks, rabbits and all sorts of colourful wild birds. Even a pheasant too! Now we're spoilt again with an abundance of wildlife in our garden and in the neighbouring woods and fields in Sussex. It's rather magical going for a stroll and seeing animals in their natural habitats rather than as captives in a city zoo. I just wish they'd all stop fleeing when I go for a stroll in the sunshine too.