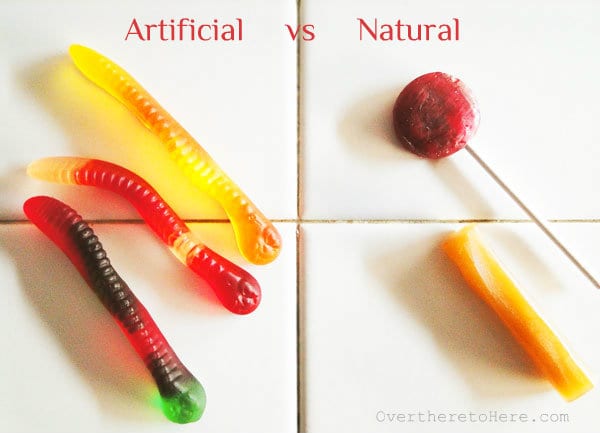 What do you think of artificial vs natural food colors in candy – or sweets as the British say?
Well, what would be your reaction if you bought a bag of candy and the packaging had this warning?
"may have an adverse effect on activity and attention in children."
Yes, most candy sold in the USA would by law have this warning if it was sold in Britain or in the European Union.
For me it's a nightmare every time I try to buy some sugary sweets in the States. It's bad enough trying to find food without High Fructose Corn Syrup (aaargh that's another ingredient that gets my blood boiling!) but I also have to avoid any treats, sweets, snacks or meals containing what in Britain are considered neurotoxic food dyes. Too often I look at the list of ingredients and what do I see:  RED 40, YELLOW 5, YELLOW 6 and so on.
Artificial vs Natural food colors? UK vs USA?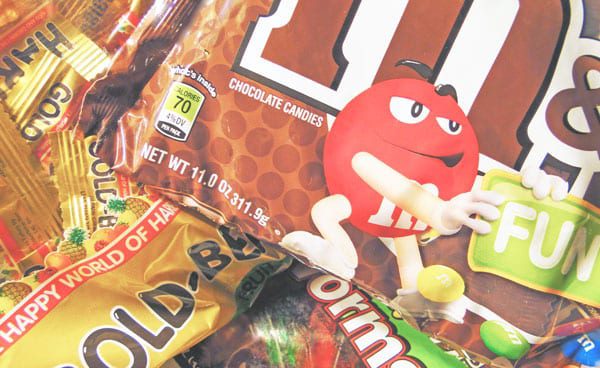 Britain is trying to encourage food manufacturers not to use common artificial food dyes but to find natural alternatives. They've put out a list of six artificial food colorings that should be avoided. In fact in the UK – and in the European Union – any food  that contains any of these six artificial colors must have that same warning label:
"may have an adverse effect on activity and attention in children."
The artificial food colors known in the States as Red 40, Yellow 5 and Yellow 6 are included in this UK and EU no-no list.
In the UK and EU the same rule applies to drinks unless they contain more than 1.2% alchohol.
Research funded by the FSA (Food Standards Agency) in the UK suggested that that there was a link between hyperactivity and food colors in some children. Findings from this University of Southampton study carried out between September 2004 and March 2007 indicated that artificial colors and petroleum based preservatives "had adverse effects on the hyperactive behavior of some children." And it wasn't just looking at children who had ADHD (Attention Deficit Hyperactivity Disorder). This study followed up earlier research which first started ringing warning bells about the effect of artificial vs natural food additives on kids.
The FDA (Food and Drug Administration) in the US had a look at the Southampton Study and decided the artificial dyes were okay. As far as they were concerned it didn't affect children in general but could be a problem for kids with ADHD or other "problem behaviors."
Oh and by the way, according to the CDC (Center for Disease Control and Prevention), the American Psychiatric Association says that 3 to 7% of school aged children in the US have ADHD but other studies indicate it could be higher. 

When it comes to artificial vs natural food colors, British supermarkets realized it wouldn't be a good idea and banned it from their own brand products. Wholefoods also does not sell any food containing artificial colors (nor High Fructose Corn Syrup) in any of their stores.
Candy should be a treat not a minefield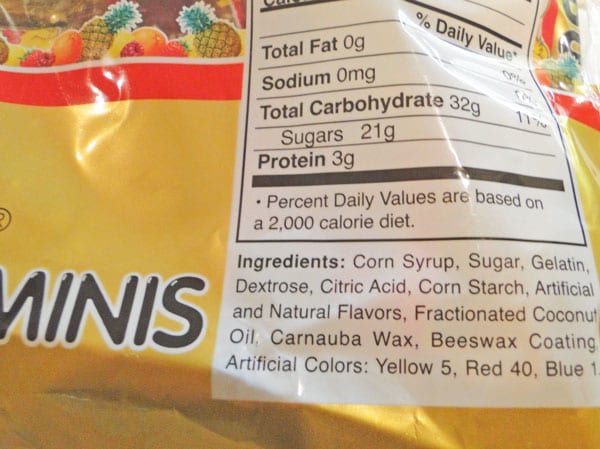 Haribo is a German company and their candy is hugely popular in Britain. Safe to buy here in the US? That's what I recently assumed. Foolish me. I looked at their ingredients when I came home and there they were: Yellow 5, Red 40, Blue 1. Naturally (actually unnaturally) the Haribo candy for the American market contains artificial food colorings.
But the Haribo European website proudly declares that the colors in their candy are made with pure natural products for more than two decades: "Since the end of the eighties, HARIBO products have obtained their colourful appearance as a result of the use of fruit and plant extract concentrates. Mixtures containing fruit preparations such as blackcurrants, oranges, lemons, elderberries, red currants, chokeberry, grape, spinach, nettle, passion fruit, mango, carrots, kiwi and apple produce the necessary colours." 

In UK my kids eat Smarties sometimes – they're just like M&Ms – orginally made by a British company and now owned by Nestle. They come in eight different colors but contain no artificial colors or flavors. M&Ms here in the US include Blue 1 Lake, Red 40 Lake, Yellow 6, Yellow 5, Red 40, Blue 1, Blue 2 Lake, Yellow 6 Lake, Yellow 5 Lake, and Blue 2. OMG!
The Center for Science in the Public Interest is campaigning in the US to eliminate color dyes in food. One of their targets is M&Ms.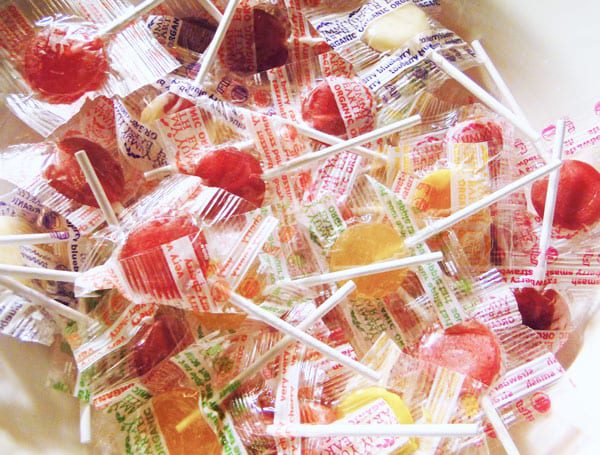 What makes me angry is that I find it so difficult buying any candy in the USA that contain natural ingredients. I don't buy candy – sweets – very often but I personally don't think you can deny kids candy completely. I try and teach my children why I won't let them touch most American candy. I get my husband to bring back British sweets when he goes to London on business. And luckily I did find a brand called YumEarth Organics which sells lollilops made with real fruit extracts. An Australian brand of licorice is also sold in American supermarkets that uses natural flavors and ingredients. They use a spinach extract as coloring in their green apple version. Some natural food stores also sell candy without the toxins but I find the choice limited and expensive.
So when it comes to the question artificial vs natural food colors, I think it's pretty clear what my answer is – what about you?