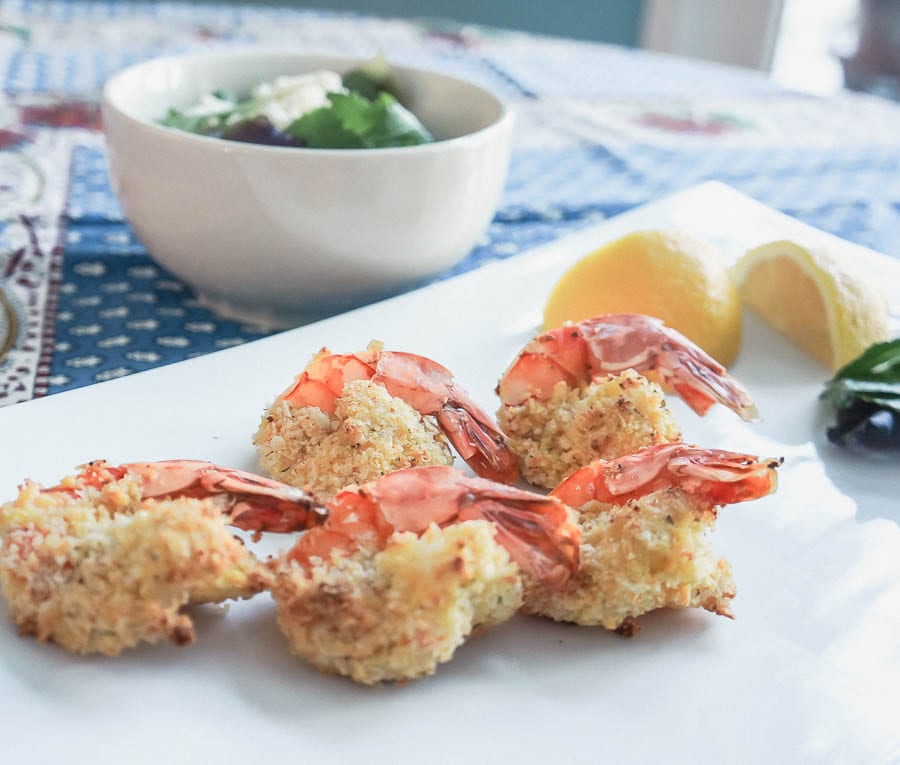 My son loves seafood so I regularly make baked butterflied prawns / shrimp. The breadcrumbs are subtly flavoured by adding oregano, grated lemon and Parmesan.
Now that we're living in the US my son has learnt to ask for shrimp whereas in the UK he called them prawns.
Not only is it healthier baking them in the oven but more tasty and less messy.
I've used all sorts of prawns / shrimp for this recipe whether smaller ones or larger King or Jumbo shrimp. For this recipe – as seen in the images – I've used Tiger prawns.
To butterfly the shrimp use a serrated knife and slice from the tail to the top along the edge where the vein was. Make sure you don't cut all the way through.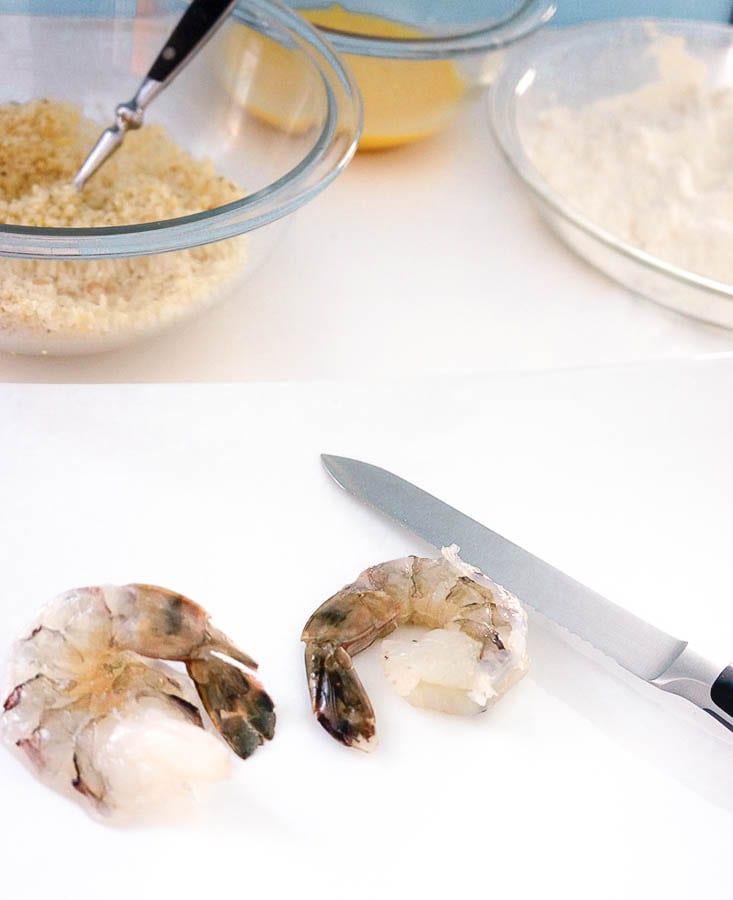 I buy Panko breadcrumbs unless I have leftover bread when I make my own. In this recipe I used my own breadcrumbs. I cut the crust off before chopping up the bread in a blender. I then spread the breadcrumbs across a baking sheet and toast them in the oven at a very low temperature (225 C / 110 F) for about 40 minutes, turning the crumbs over once.
FLAVOURED BREADCRUMBS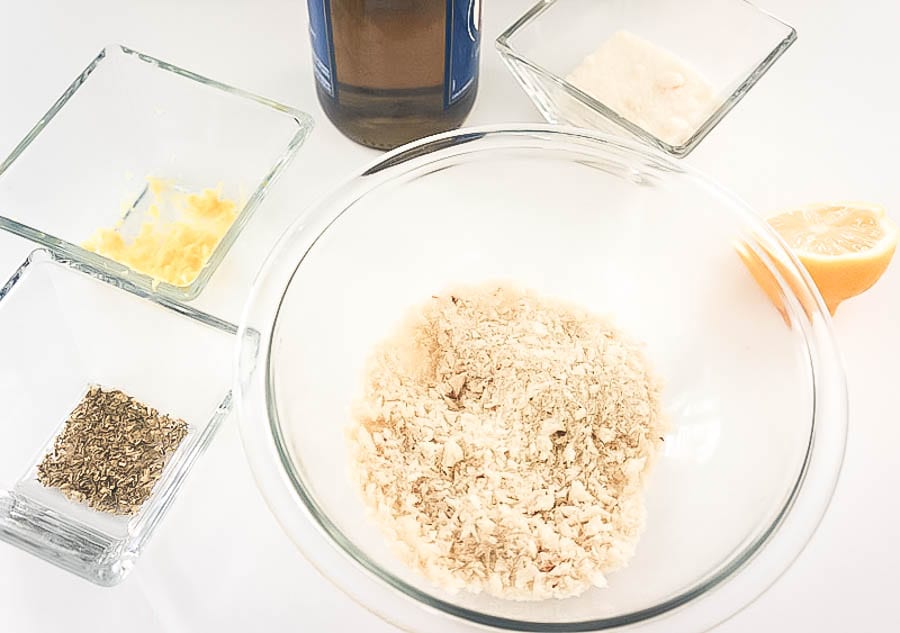 I add dried oregano, grated lemon and Parmesan to the breadcrumbs as well as just a touch of olive oil. If you add too much olive oil spread the breadcrumbs on a tray and let them dry out.
Baking depends on the size of the shrimp and can take from 8 to 18 minutes. If they're small don't overcook them as they'll be too chewy.
My kids eat the shrimp with corn on the cob or even buttered peas, whereas I like to have a side salad with feta cheese and light dressing. They're delicious just dipped in Aoili or plain mayonnaise with lemon squeezed on top.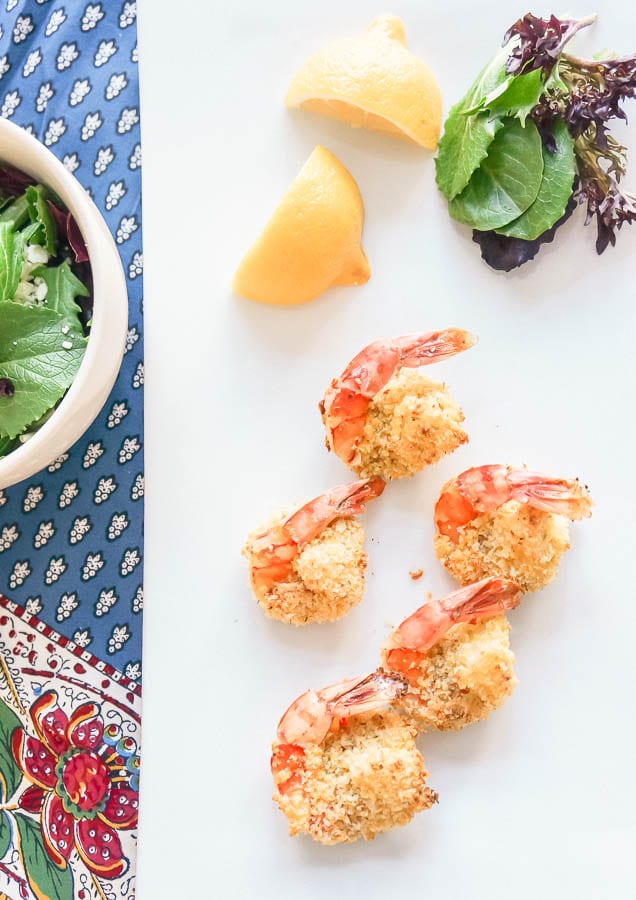 BAKED BUTTERFLY PRAWNS / SHRIMP
INGREDIENTS
1 LB jumbo shrimp / prawns
2 cups fresh breadcrumbs or Panko (300 gms)
2 tsps dried oregano
2 tsps olive oil
1/3 cup grated Parmesan cheese (30 g)
pepper and salt for seasoning
2 eggs (lightly beaten)
1 cup plain / all purpose flour (150 g)
2 lemons (finely grate one of the lemons)
DIRECTIONS
Preheat oven 220 C / 425 F
Add Parmesan, oregano, grated lemon to breadcrumbs. Season with pepper (and salt if desired). Stir in 2 teaspoons olive oil. Set aside to dry.
Peel shells off – leaving tail on – and devein prawns (UK) / shrimp (US). Using a serrated knife gently cut open to butterfly but be careful not to cut all the way through.
First dip shrimp /prawns lightly in flour then dip them in the beaten egg. Holding them by the tail, dunk them in the breadcrumbs and coat on either side of the butterflied flesh. Place tail up on oiled baking tray (or can place some non-stick foil on bottom of tray).
Bake in oven for 8 to 18 minutes – depending on the size of the prawns / shrimp – until crumbs are golden brown.
Serve the baked butterflied shrimp / prawns with lemon and dipping sauce of choice.
The lemon gratings, Parmesan and oregano just add a touch of flavor to the breadcrumbs in these lovely baked butterflied prawns – or perhaps you call them shrimp? I'm always keen on my kids eating seafood, so another easy and favourite family meal is steamed Salmon Pesto Spaghetti.