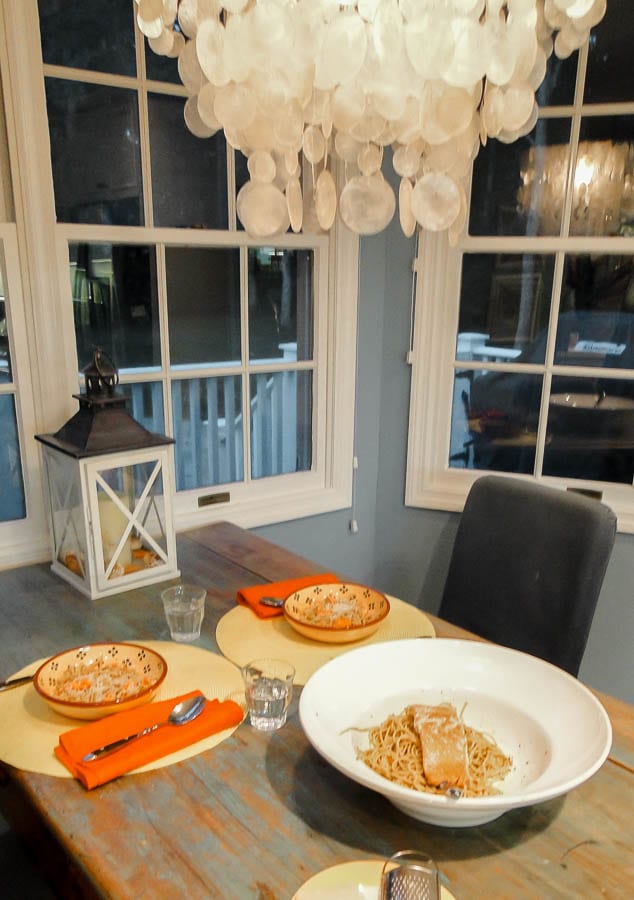 One of my kids' favorite meals is my salmon pesto spaghetti recipe. It's healthy and a great way to introduce salmon to a child's diet. The bonus for me is it's really easy to prepare and perfect for the whole family.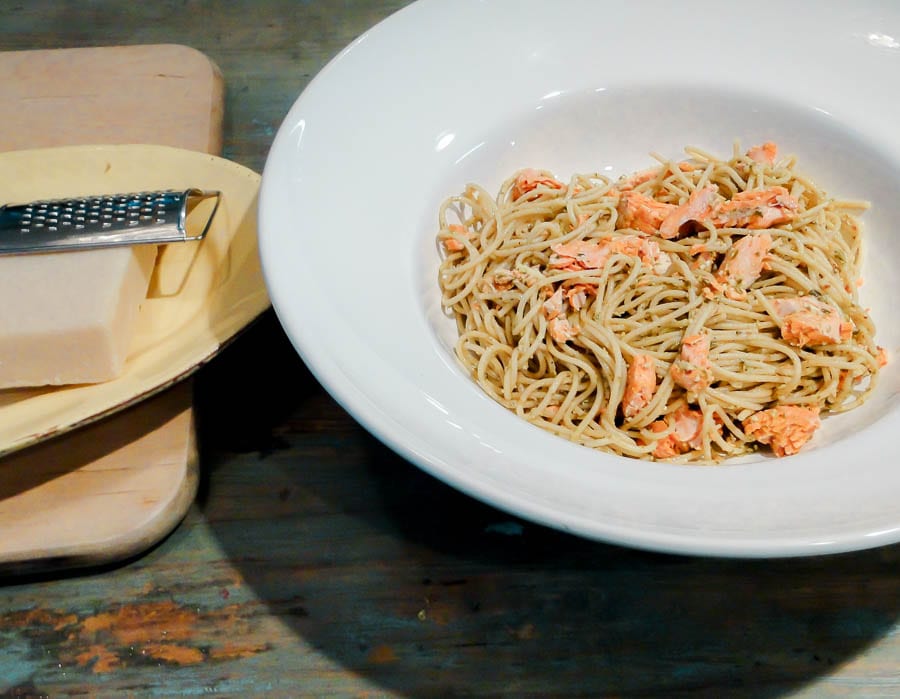 Talking about whole, I usually make it with whole wheat pasta but it's just as good with regular white spaghetti.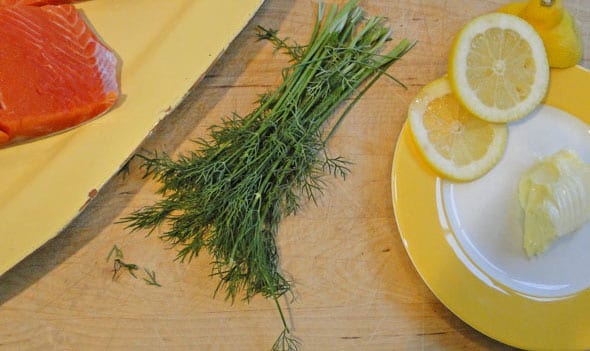 Preparation is simple and takes no time. The salmon parcels can even be prepared earlier in the day and then chilled in the fridge until you're ready to place them in the oven. You might need to add a couple minutes to the baking time if they've been chilled.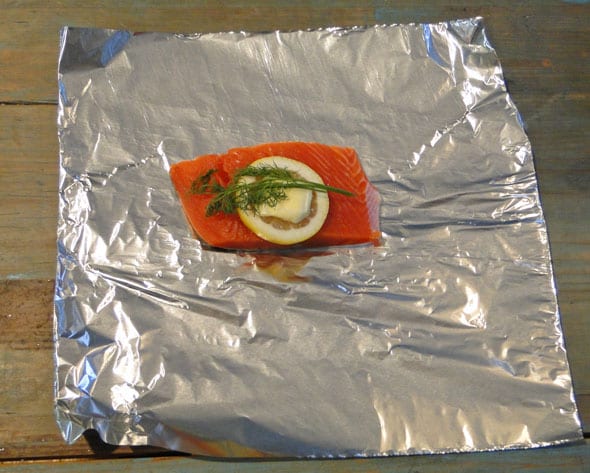 I prefer dill but you can add or replace it with other herbs such as parsley or tarragon. I use whole sprigs so that they're easy to remove when the salmon is served to kids.
I leave a small pocket above the fillets in order that they can steam in the melted lemon butter as they bake in the oven.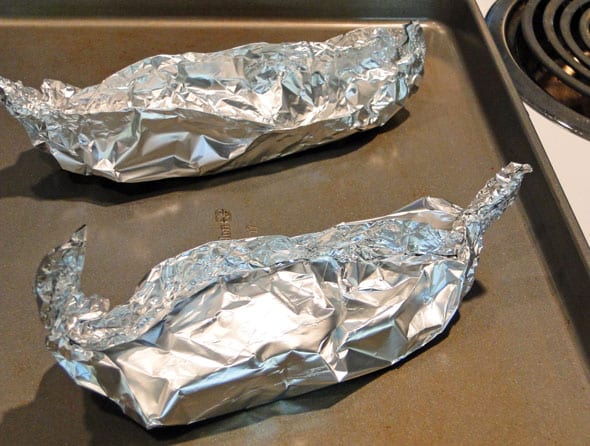 Kids can have fun helping you make the 'boat' shapes for the foil parcels. Make sure it's completely sealed so that no steam and liquids are released when you cook the parcels in the oven.
My son loves seafood to the extent he would be happy if I made nothing else for him. My daughter, however, is rather picky. Yet she adores this meal and eats every last bit of it. I discovered that my salmon spaghetti recipe was a fabulous way for her to discover salmon. As it's steamed and moist from the lemony butter it's really light and tasty.
STEAMED SALMON PESTO SPAGHETTI

INGREDIENTS
2 salmon fillets (with or without skin)
1 lemon
1/4 stick butter
fresh dill or tarragon
8 oz spaghetti
1/2 jar pesto (classic Pesto Genovese)
1/4 cup Parmesan (freshly grated)
aluminium/tin foil (cut two large sheets)
DIRECTIONS
Preheat oven to 400 F / 200 C.
Cut two large squares of foil. Place 1 salmon fillet in center of each foil.
Slice half of the lemon. Place one or two slices on top of salmon fillet (depending on size). Put knob of butter on top of each lemon slice. Lay a couple of sprigs of dill on top. With remaining half of lemon squeeze some lemon juice over each fillet.
Fold foil and seal over top leaving a pocket above salmon fillet. Seal ends so that salmon fillet is in a boat shape foil. Make sure foil is completely sealed so that no steam or liquid escapes.
Place salmon fillet foil 'boats' on baking tray and then put in oven. Cook 15 to 25 minutes depending on size of fillets.
Bring large pot of water to boil. Cook spaghetti pasta in the large pot of boiling until al dente. Drain pasta reserving 1/2 cup pasta cooking liquid.
Toss pasta in a large bowl with approximately 3 large tablespoons of pesto sauce until well coated. Add some of the reserved pasta cooking liquid to moisten if needed.
Take salmon parcels out of the oven and let sit for a few minutes. Then open up parcels carefully as the foil packages will be hot. (If you need to bake them for a few more minutes, reseal parcels and put back in the oven.)
Remove and discard cooked lemon rinds and dill sprigs from the top of the salmon. Spoon some of the melted lemon butter in the bottom of the foil packages over the fillets.
Lift salmon fillets from the foil parcels leaving the skin behind. Then place fillets on top of the pesto spaghetti. With a fork coarsely flake the salmon and mix into the noodles.
Serve salmon pesto spaghetti with freshly grated Parmesan. Add some salt or pepper as needed.
SERVING TIPS
Another plus is that this is really two recipes combined. You can serve the steamed salmon fillets with vegetables and new potatoes instead. Just save the lemony butter in the parcels and pour it over the salmon as sauce. When I make the steamed salmon for dinner parties, I chop up a mixture of herbs and leave them in the sauce. An elegant dessert to have afterwards is this amazing ripple cheesecake.
Another huge seafood hit with my family is these baked prawns.
The salmon pesto spaghetti is a win-win recipe as my kids scrape their bowls clean, my husband unsuccessfully hopes they won't have seconds…so he can have even more pasta, and the oily fish is good for them.