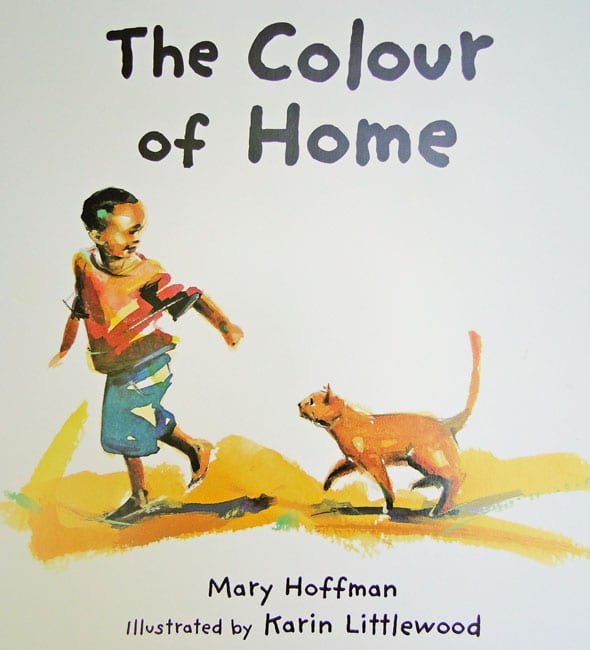 I cried the first time I read The Colour of Home by Mary Hoffman a couple of years ago. And I cried again when I decided to have another look at it last week. It's a heart wrenching story but it ends with a positive message.
The Colour of Home is about Hassan, a young immigrant boy from Somalia, who has just started school in Britain. It's a total culture shock for him. He doesn't speak English, he's not used to the damp cold weather or having classes indoors, he can't eat lunch as he doesn't recognize the food, and the country and their new home "seemed all cold and grey." When the teacher asks him to paint a picture he chooses bright warm colors to depict a scene from his former home in Somalia. Then he paints over it with violent dark splashes and images including a stick figure with a gun and bullets.
The next day a Somali translator and a teacher sit down with Hassan at school and ask him to explain his picture. The story of his life then enfolds. We learn that his family had to flee when soldiers came to his house, killing his uncle. For a long time they lived in a camp in Mombasa. But then The Colour of Home shows you Hassan adapting to his new environment with the help of his school. He also starts smiling again in the book's pictures as the story develops when he notices there are bright colors and hope in his new home.
I originally bought this book as it was on the recommended reading list at my children's school in London. As my kids – twins – were only 4 years old they didn't really understand the story line and were frightened by the "bad people" who made Hassan hide under his bed in his former Somali home. I put the book away to reread to them when they were much older. I still feel they're too young – six next month – but I'd like to read it to them some day in the future as I think it has a powerful message.
I thought about this book after the horrific and tragic events in the recent Kenyan mall massacre by the Somali extremist terror group Al-Shabaab. As a young journalist with NBC News I covered the US military led "Operation Restore Hope" in Mogadishu. Its aim was to create a secure environment for humanitarian relief operations in Somalia. I discovered a destroyed city divided by warlords. I had to use hired gunmen to transport me whenever I visited NGOs or the US military or even a warlord himself.
Militias and extremist groups continue to destroy this African country and its children. According to a May 2013 UN report about 133,000 children under five died in the latest famine in Somalia between October 2010 and April 2012. Another May 2013 UN report by the Secretary General documents thousands of violations against, killings and maiming of children in 2012, pointing at Al-Shabaab as "the main perpetrator." An Amnesty 2011 investigation also highlights the horrors that befall Somalia's children.
The Colour of Home would be an excellent book in the classroom to help children understand not only children from different cultural backgrounds but especially why some of them had to flee their former homes.
The Colour of Home was written by British bestselling author Mary Hoffman, who has written a hundred books so far but is especially known for her Grace series. It was originally published in Britain in 2001. It's illustrated by Karin Littlewood.
Interestingly enough many former reviews assume Hassan is an immigrant in the USA.  Within the book it mentions that his mother's jewelry was sold for "tickets to England" and he plays "football" – not soccer – with a new friend at the school. But it doesn't matter as the story in The Colour of Home is just as strong whether it's based in the USA or UK or elsewhere.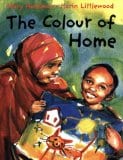 Available on USA Amazon.