When the sun said hello on Sunday morning, I immediately went out into the garden to greet it back. Little did I know that a photo I would take of the flowers I found in my garden would get over 12,000 likes on Instagram.
Actually Instagram was already playing a role that Sunday morning.
After gathering a basket of flowers, I brought them indoors to see what was growing in our English garden in February. A couple times of month I write a nature diary post recording the plants and wildlife I've observed. They're really visual stories as I'm an amateur naturalist and photographer, not an expert. I also share them with a wonderful group of bloggers in Annie Spratt's weekly How Does Your Garden Grow? 
I've also met amazing nature and flower lovers on Instagram. Many inspire me by their photography styles and many inspire me by their love and knowledge of nature – and many both. One book I've discovered is The New Concise British Flora by W. Keble Martin which I've added to my growing nature book collection. As I've begun posting on nature books – such as my last one on An Illustrated Country Year – I wanted to add this one to my series.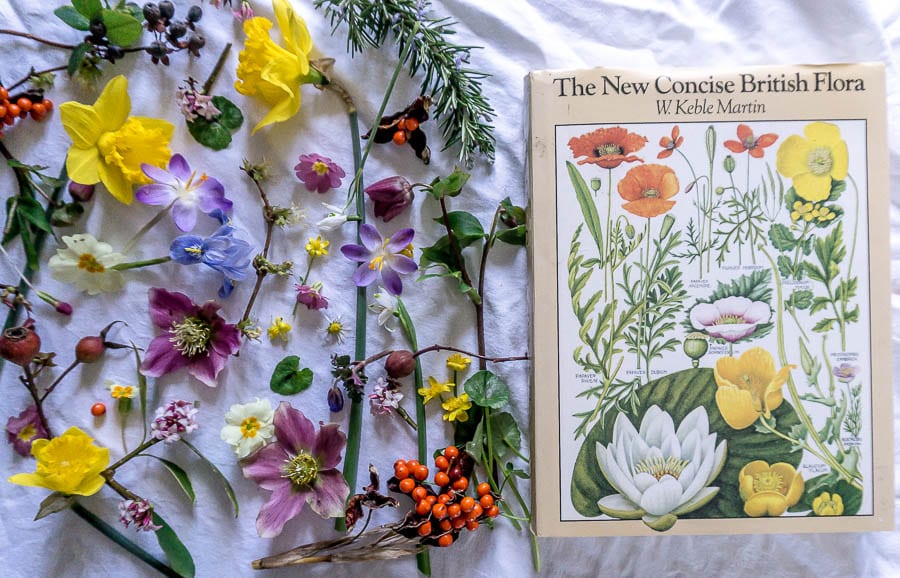 My copy is a newer version – The New Concise British Flora by W. Keble Martin. He was a priest, botanist and botanical illustrator. The original book was published in 1965 when the author was 88. It contained over 1400 illustrations that he carefully painted over 60 years. It was a bestseller resulting in 558,000 copies printed. My 1982 version contains updates on the native flora, for example flowers that had become rare or new hybrids, and English names according to the new standardisation. (By the way second-hand versions like mine are incredibly cheap on UK Amazon as you can see here.)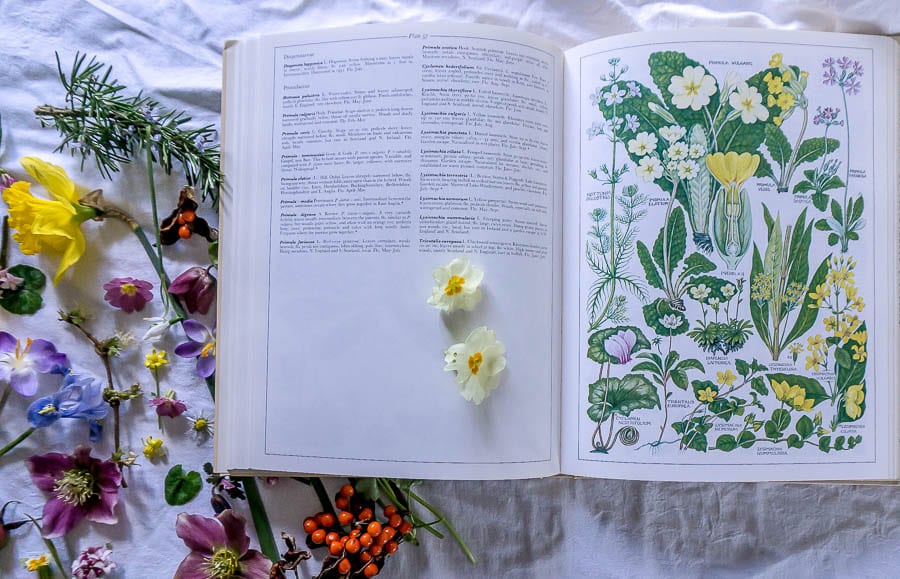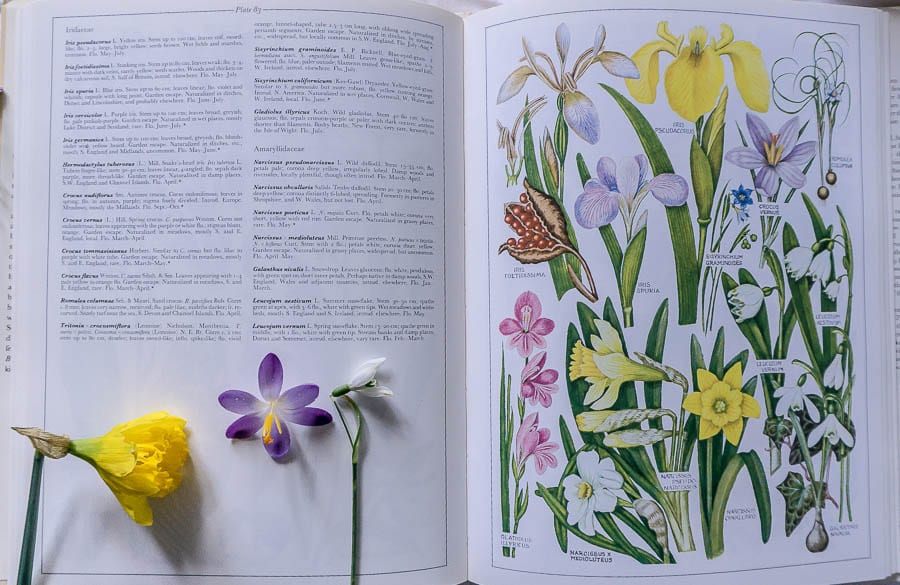 Meanwhile I was rather astounded by how many flowers and colours I had found in my garden in early February including daffodils, crocuses, irises, hellabores, snowdrops, and primroses. While my twins, Luce and Theo, nagged me to hurry up as we were meant to be leaving for Nymans, a nearby National Trust garden in Sussex, I took some photos of the flowers spread out on the table cloth as well as the book. Luce and Theo became even more impatient when I told them I was going to post one of the images to Instagram before we left.
My Instagram account  – @krissmacd – focuses mainly on the incredible nature and wildlife around our home in the West Sussex countryside as well as my twins and places we visit. Hashtags have been the way I've found all the Instagrammers that I like to follow and engage with on this visual platform. On Sunday morning I included the hashtag #dsfloral. The next day I was very pleasantly surprised that it had been shared and featured by Design Sponge where it received over 11,000 likes. Plus a lovely response on my feed as well. Actually I'm very chuffed as that means this image received over 12,000 likes on Instagram!

So there you have it…my February  garden, flower joy, a book review, and hashtags all connected to Instagram.