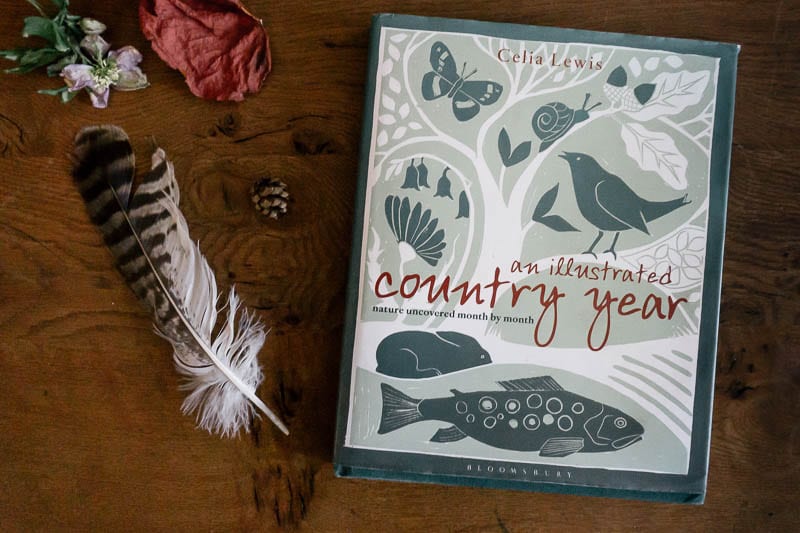 At the start of each month there's one book that without fail I need to look at – An Illustrated Country Year by Celia Lewis. Each chapter is an anthology of nature topics for that month. It gives me ideas of what to look out for in the countryside when I go on walks or I'm watching the wildlife in the rural valley where we live.
As I write this we've had a very mild winter with daffodils already appearing in my garden. The first line in the January chapter is "Grass and all other growing plants are geared up to rest during the winter so an unusual warm spell this is actually a bad thing if it lasts long enough to fool them into thinking it's spring." Last January I looked out for mosses and lichens to photograph during a wander in the woods after reading about them in this same chapter. Whether writing about flowers, trees or wildlife what makes this nature book extra special is the watercolour drawings or linocuts on every page. The author and illustrator Celia Lewis even manages to make beetles look beautiful. Not surprisingly she has exhibited and won art prizes for her watercolours.
There are also seasonal recipes and crafts to make with nature for every month. Because of An Illustrated Country Year I now know what to do with the oak apples I found and collected last winter! It's an informative, sometimes even lighthearted, month by month capture of the countryside and its wildlife. It helps an amateur naturalist like myself be a nature detective outdoors and brew some sloe gin indoors.
An Illustrated Country Year: Nature uncovered month by month
 (UK Amazon)
Disclosure: As an Amazon Associate I earn from qualifying purchases. This nature book I bought, use regularly and wanted to share with you.