Down down down the dark dark street they came…. And so the story begins about girl pirates who take the front of a house to disguise their pirate ship. And they welcome aboard a young boy called Tom on their adventure. After all it's his house they're using.
This is The Night Pirates by British author Peter Harris and illustrated by Deborah Allwright.
This is a story that is fun to read out loud to your children.
This is a children's book story where the grown-up pirates are baddies.
This is a picture book with illustrations that delight even though set at night.
This is a book where alliteration goes hand in hand with illustration.
And the heroes are "rough, tough little girl pirates with their own pirate ship."
My daughter declared as a toddler that she was a pirate princess and not a 'Disney' princess so I immediately wanted this book after finding out about it on the Story Snug.
But it also focuses on brave little Tom who's taken along on this pirate adventure. Which meant my daughter's twin brother also was lured into the story. On the other hand it was good for me to read to him how the leaders in this pirate tale were girls. It is after all the 21st century.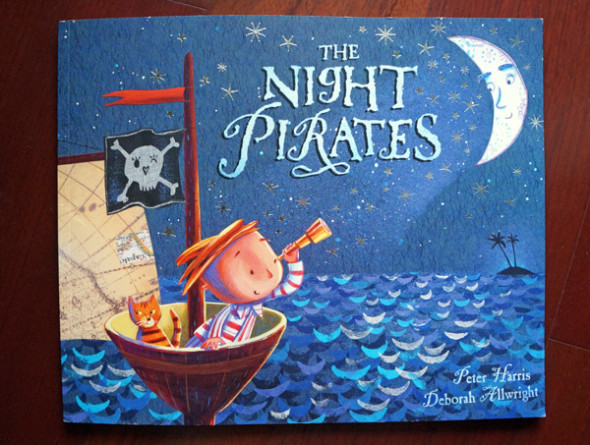 The Night Pirates not surprisingly has reminded some readers of Maurice Sendak's Where the Wild Things Are.
Find it on US Amazon and UK Amazon.
This is a pirate children's story for boys and girls. Since my daughter loves being a pirate any other suggestions for kids books about girl pirates that she will want to read are more than welcome!