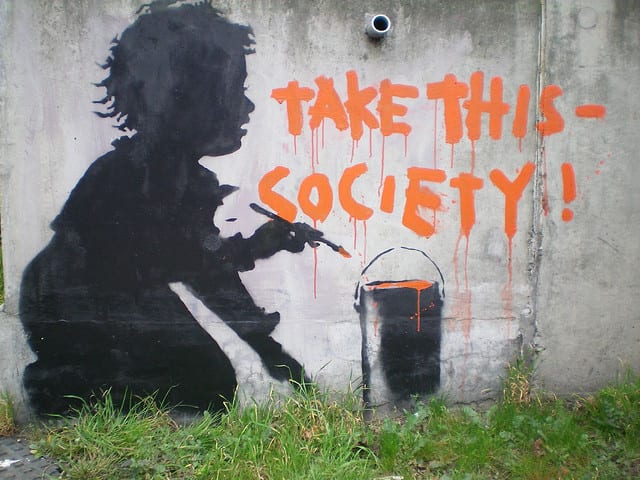 "Take this society" – photo credit: eddiedangerous via photopin cc
Banksy's street art is feted in Britain. If you see one – then quickly take a photo. It might be painted over by local authorities. Or even other graffiti artists.
'Take this society' was painted on a roundabout in west London in 2008. Within days it no longer existed. At the time Councillor Greg Smith of Hammersmith and Fulham Council told a London newspaper: "This sort of graffiti vandalism is not art."
A work of art – allegedly by Banksy – sold for over one million dollars in London. It was cut out of the street wall and sold in a private auction. The sale caused a public uproar. Not because of the price. This time the 'authorities,' or in this case a member of parliament said: "You have deprived a community of an asset that was given to us for free and greatly enhanced an area that needed it."
Would you pay over one million dollars to own a Banksy at home? Even if he refused to confirm if it's authentic?  What if instead, you could just go for a walk and see his latest works?
Banksy is a British street artist whose identity is a secret.  He's from Bristol, white and male. Some reports claim they know his name and background, but there is still an element of doubt.  As a street artist he needs to remain anonymous, after all his works of art are mainly illegal.  Graffiti paintings on public walls.
We teach our children from young not to paint on walls. To put their hand marks and signatures on paper and not on our furniture or wallpaper.  But Banksy and street and graffiti artists turn these rules upside down.  The concrete jungle turns vivid as they use it as their canvases.  Angry or joyful or just bored expressions.
Bansky is adored, even revered, by the general populace as a sort of Scarlet Pimpernel who appears quietly during the night and adorns street walls, towers, railway bridges, tunnels and other public surfaces with his art. The spray painted stenciled images are often satirical, comical, playful and even political.
This populist aspect of Banksy's street art is not admired by many art critics. Jonathan Jones of The Guardian newspaper practically spat with contempt when he wrote, "But Banksy is a national treasure – or so we are told by pundits and politicians desperate to sound down with the kids."  I imagined him twitching with disdain as he continued, "His images are trite, his politics callow, his manipulation of fame just another third-rate bit of marketing."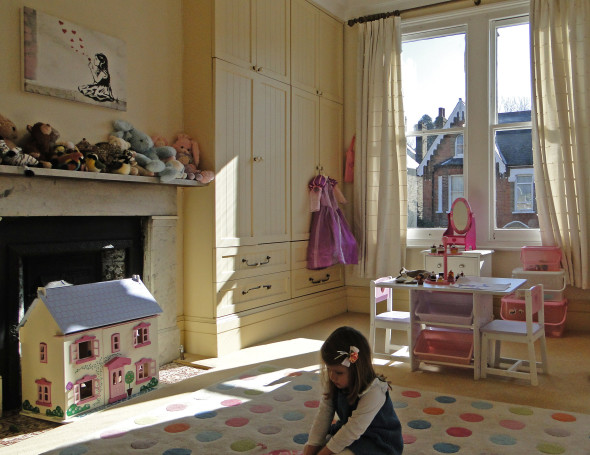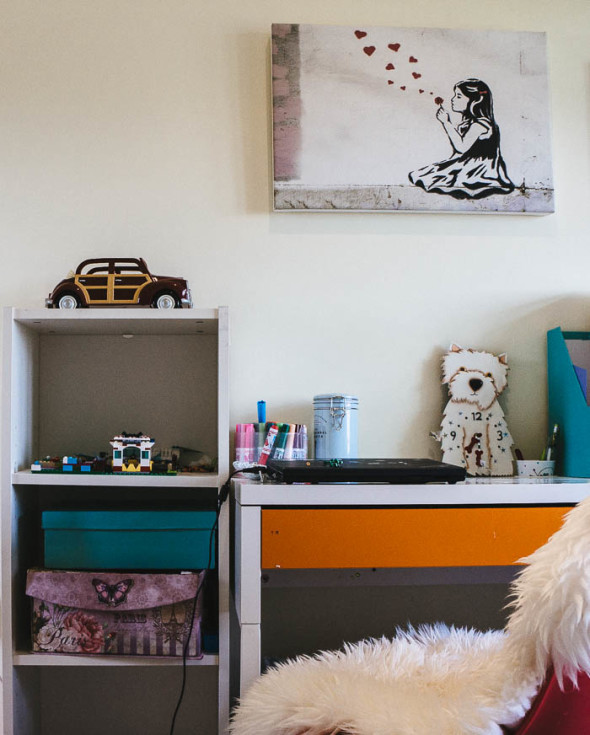 At our former London home, a reproduction of one of Banksy's "trite" images hung over my young daughter's fireplace in her bedroom.  She kept telling me how much she loved the picture of the girl blowing hearts off a flower. It still is the favourite picture in her bedroom.
If my daughter was much older I'd tell her to give two fingers to Jonathan Jones.
I think about how Marcel Duchamp in 1917 bought a urinal, signed it and put it on display. Caused quite a stir. In 2004  Duchamp's urinal, known as the Fountain, was deemed by art experts as the most influential modern art work of all time.  Andy Warhol was pretty good at marketing too.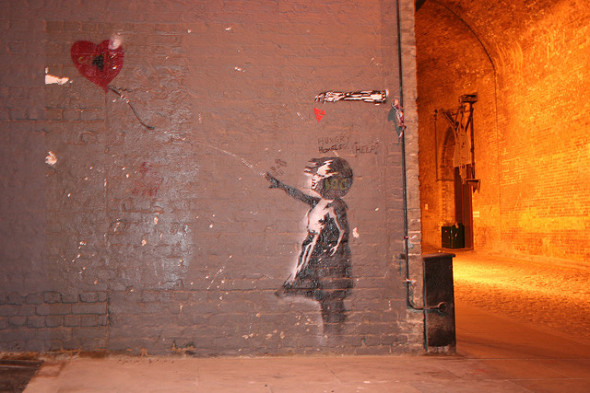 "Girl with a red balloon" – photo credit: David Singleton dps via photopin cc
The image of the girl blowing hearts reminded me of Banksy's 'Girl with a Balloon.'
But I wanted to know more about it. As my daughter's print on canvas is just a commercial rip off of Banksy's mural, I scoured through street art websites and YouTube videos to see where it originated.
In May 2008 Banksy hosted a street art exhibition in a depressing tunnel by London's Waterloo station, inviting over 38 street artists from across the world to join him. Tens of thousands packed the tunnel during the weekend exhibition called CANS FESTIVAL.
I discovered the girl with the petals of hearts in a video of the tunnel  shot in August 2008.
I wish I could afford one of Banksy's prints or paintings that have been officially sold or sanctioned by the artist. If you own one, the only way it can be authenticated is via his website PEST CONTROL. But be warned, on this site he says: "Please be aware that because many Banksy pieces are created in an advanced state of intoxication the authentication process can be lengthy and challenging. Pest Control deals only with legitimate works of art and has no involvement with any kind of illegal activity."
The artist also is known to donate to charities. A couple of his works were in a charity auction for a yoga center specialising in children with special needs. I was recently alerted about Artsy, an art resource with the mission "to make all the world's art accessible to anyone with an Internet connection." Artsy's Banksy page includes a biography and articles on this enigmatic street artist as well as lists of official exhibitions of his works.
For five weeks in 2015 over 150,000 visitors showed up at Banksy's pop up 'Dismaland' in Weston-super-Mare. It included art works and installations by Banksy and other artists. But, Banksy told the Sunday Times: "This is not a street art show. It's modelled on those failed Christmas parks that pop up every December – where they stick some antlers on an Alsatian dog and spray fake snow on a skip."
I'm no street art expert. I actually have an academic background in art and have family involved in the 'high' end of the art world. But due to the hype about Banksy I have started looking afresh at the art sprawled across our street walls. Now I'd like my children to be aware of these voices in our streets.
Part of the reasoning for not authenticating his works is it could lose blow his cover. His works are counterculture – or subculture art – that have become popular, even more so because of his secretive persona.
Graffiti is illegal despite his frequent stencils with the slogans "Designated graffiti area." Street art is viewed as vandalism although now the calls in Britain are getting louder, even from local authorities whose job it is to paint over them, for Banksy's works to be preserved in situ. Sometimes they are painted over by other graffiti artists.
I want my children to look around the streets looking for art. I want them to discover creativity on their urban walls. Yes, I'll still need to teach them they can't paint on the walls inside or outside of our house. But they should appreciate the works of the 'Outsiders' as well as the 'Insiders' I take them to see in museums. The wonderful thing about street art is it's open for interpretation by all beholders. It's also stories on the walls of the voices of youth in our streets.
These works are free to the public, not works only afforded by art collectors with big pockets.  Banksy's street art has shown up in British cities and suburbs, even in a Bristol museum exhibition, in a Los Angeles gallery gawped at by famous stars, snuck into Paris Hilton CDs, on the walls of the West Bank, in Cuba, Berlin and elsewhere.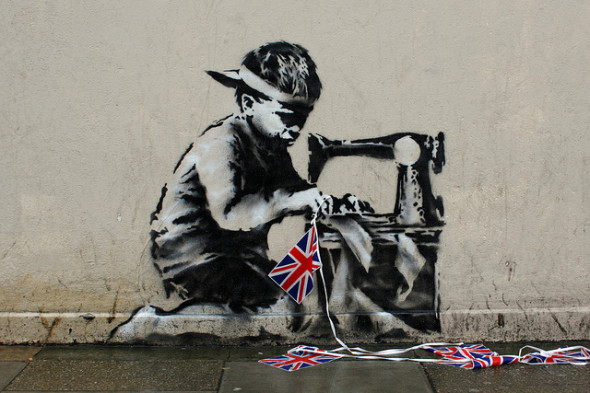 "Slave Labour" – photo credit: DeptfordJon via photopin cc
According to The Sun newspaper, six identical copies of "Slave Labour" appeared in the street when the removed piece was put up for auction. No one is sure if they were by Banksy or someone else to devalue the original mural which sold for a million dollars.
At least we can wander around our streets and admire them for free.  I personally would say that Banksy's street art is cool for kids, do you?
Creative Commons Note:
If you click the links by the photo credits you will find the photographer credit as well as details of their Creative Commons licenses for the use of these pictures.
"Take this society" – photo credit: eddiedangerous via photopin cc
"Girl with a red balloon" – photo credit: David Singleton dps via photopin cc
"Slave Labour" – photo credit: DeptfordJon via photopin cc
Apart from the photos of my daughter's picture in the bedroom, I found all of these alleged works by Banksy on Flickr.  These photos of Banksy's street art are shared by the public so please check and respect the Creative Common rights and attributions.