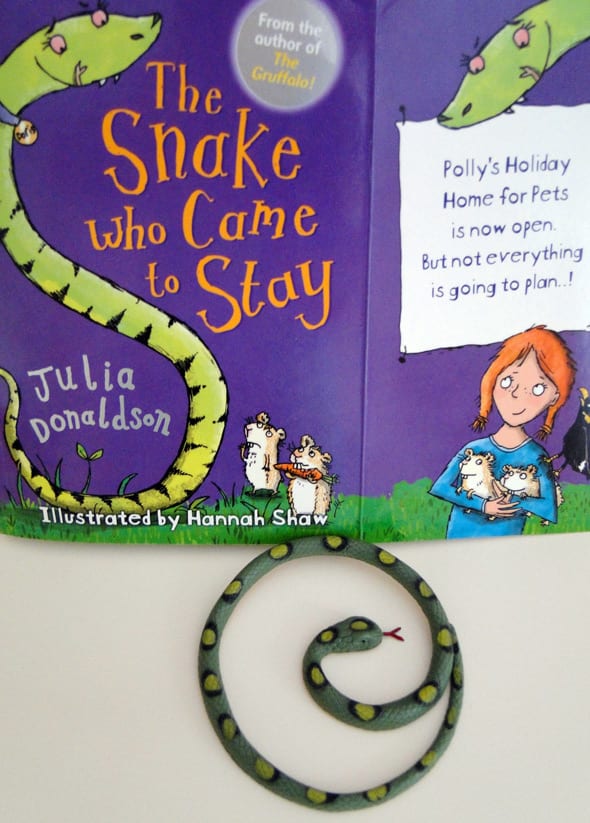 Two guinea pigs, one black mynah bird and a snake come to stay when Polly sets up a holiday home for pets in The Snake who Came to Stay written by Julia Donaldson and illustrated by Hannah Shaw.
The opening line is:
"A snake?" said Mum. "A snake? No, you're not looking after a snake."
The reaction of Polly's Mum mimics my own every time my son begs to have a snake as a pet. But in this book Polly persuades her Mum that the snake won't cause any trouble.
Mayhem and a disappearing snake – Eeek!
The children's book is quite comical as it follows the escapades of the visiting menagerie. There is a clever use of onomatopoeic sounds throughout the book which also tie the story together.
First of all there is the constant noise of "Oooeek! Oooeek!" by the hungry guinea pigs kept in the garden. The furry duo is called Bill and Ben, presumably in reference to BBC's famous children's TV series Bill and Ben the Flower Pot Men. At the end we discover that Jen is a more appropriate name for Ben. Then a black mynah (myna) bird arrives. This Asian songbird is renowned for imitating sounds and human speech especially when caged.
Soon Polly and her Mum don't know if it's Charlie the mynah bird or real sounds when they hear "Ding dong" or "Bbring-bbring" or "Oooeek! Oooeek!" The noisy confusion then is made worse when Doris the snake disappears. Every time Polly hears "Hissssss. Hissssss" she discovers it's actually Charlie the bird.
(I've included US Amazon affialite links in the post. See UK Amazon at the bottom)
The Snake who Came to Stay is written by Julia Donaldson and illustrated by Hannah Shaw
The Snake who Came to Stay is written by Julia Donaldson, the British author of over 100 children's books including The Gruffalo and Room on the Broom.  The former UK Children's Laureate wrote this short children's novel as well as a second book – Mr Birdsnest and the House Next Door – especially for the Little Gems series commissioned by Barrington Stoke, an independent publisher.
Both are illustrated by Hannah Shaw. Although she only graduated in 2004 from the University of Brighton, where she studied Illustration, she has collaborated on many award winning kid's books. A particular favorite of my kids illustrated by Shaw was The Sleep Sheep written by Anna McQuinn.
LITTLE GEMS series by famous children's authors
The books in the Little Gems series of early readers are aimed at young children first learning to read independently. All six are written especially for Barrington Stoke by top children's authors. The series includes:
The Snake who Came to Stay by Julia Donaldson and illustrated by Hannah Shaw.
Mr Birdsnest and the House Next Door by Julia Donaldson and illustrated by Hannah Shaw.
Mary's Hair by Eoin Colfer, the Irish author of the Artemis Fowl science fantasy series.
Cheesemares written and illustrated by Scottish writer Ross Collins who's won a series of awards for his kids books.
Stars of Mine by Kevin Crossley-Holland critically acclaimed for his Arthur Trilogy: The Seeing Stone.
Go! Go! Chichico! by award-winning British children's novelist Geraldine McCaughrean whose works include the authorized sequel to Peter Pan.
Books aimed to build reading confidence including children with dyslexia
Barrington Stoke has attracted award winning authors because their titles also focus on helping children with dyslexia or who need some extra support or motivation as readers. Rather than feeling stigmatized or even put off reading, children gain confidence and learn to enjoy reading by having access to titles appropriate for their age group.
As Barrington Stoke's website explains: "Our books are high-low, which means that the content is appropriate to the actual age of readers but the text has been edited to suit a lower reading age." Moreover, they're reading books by the same authors favored by their peer groups. Reluctant readers can find themselves turning into happy bookworms.
So The Snake who Came to Stay is a fun novel both for 5-8s, as well as for 7-10 year olds whose reading may be below their age group's average level.
In order to help young readers the children's novel is intentionally divided into short chapters. Understanding of the story line is helped with lots of illustrations. It's also printed on cream colored paper which minimizes glare with a special dyslexic-friendly font.
The Edinburgh-based publishing company, established by a mother and her daughter-in-law, aims to have titles which help children make the leap from learning to read to loving to read. Their books on purpose are accessible to those with dyslexia or reading difficulties. With the help of experts and developing the type and tinted paper, Barrington Stoke has succeeded in their mission to have a great choice of books for kids who "couldn't or wouldn't read."
I discovered the Little Gems series because I was searching for – and found! – a kid's fiction book on snakes for my son. (I've written previously how Theo is wild about snakes.) It's a lovely stepping stone for my children who will soon be in First Grade (Year One).  But I also think it's fantastic that the comical tale of musical pets in The Snake who Came to Stay can help transform children from struggling to enthusiastic readers.
Little Gems also available on UK Amazon:
Mary's Hair by Eoin Colfer
Cheesemares by Ross Collins
Stars of Mine by Kevin Crossley-Holland
Go! Go! Chichico! by Geraldine McCaughrean
Mr Birdsnest and the House Next Door by Julia Donaldson
The Snake who Came to Stay by Julia Donaldson